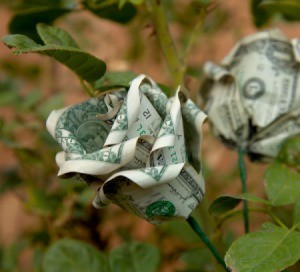 Giving money as a gift is even more fun if you know how to fold money into interesting shapes. This is a guide about making a dollar bill rose.
Ad
---
Solutions: Making a Dollar Bill Rose
Read and rate the best solutions below by giving them a "thumbs up".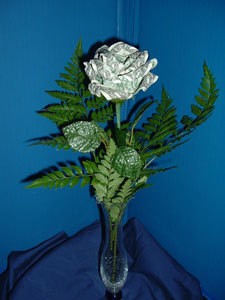 A single rose is an elegant gift, no matter what the occasion. I have been making these since the early '70s.
Materials
5 or 6 new dollar bills (depending on how full you want the rose to appear)
24 gauge wire
wire cutters
short length of 1/4 inch dowel
floral tape
rose stem
rose calyx from an artificial rose
Instructions
Fold all bills in half.
Assemble the center of the rose. Fold each half of the dollar bill over 1/4 towards the middle of the bill. (See photos 1-3). Pinch the bill from the outer edges in an accordion style. (See photo 4). The bill should look like a bowtie. Secure the center by twisting a 4 inch piece of wire around the center. (See photo 5). Gently bend fanned bill edges towards the center. (See Photo 6). Gently roll corners towards the center of one side to form a fluffy cone shape. (See photo 6-7). Shape other side of bill around cone to form a rose center. The rose center is now completed. (See photo 8).
Create the rose petals. For the rose petals, hold the corners of the GREEN side of the bill. Tightly roll each of the corners around a 1/4 inch dowel. (See photo 9). Roll each of the 4 corners of the dollar towards the dollar center, crimping each corner as you go. (See photos 10-13). Pinch the center of the bill into an accordion style, then secure with a 4 inch piece of wire. (See photos 13-15). You'll need to cup each of the rose petals, and keep them very tightly secured. (See photo 16). Begin with the center and add petals around the center. Make sure that the base of each dollar is very close to each of the other twisted wires. (See photo 17). Make 4 or 5 more petals, depending on how full you would like the rose to be.
Making the rose stem. Place the rose calyx over the wire into an upright position. Place the artificial rose stem alongside the wire and wrap with floral tape. Your rose is finished.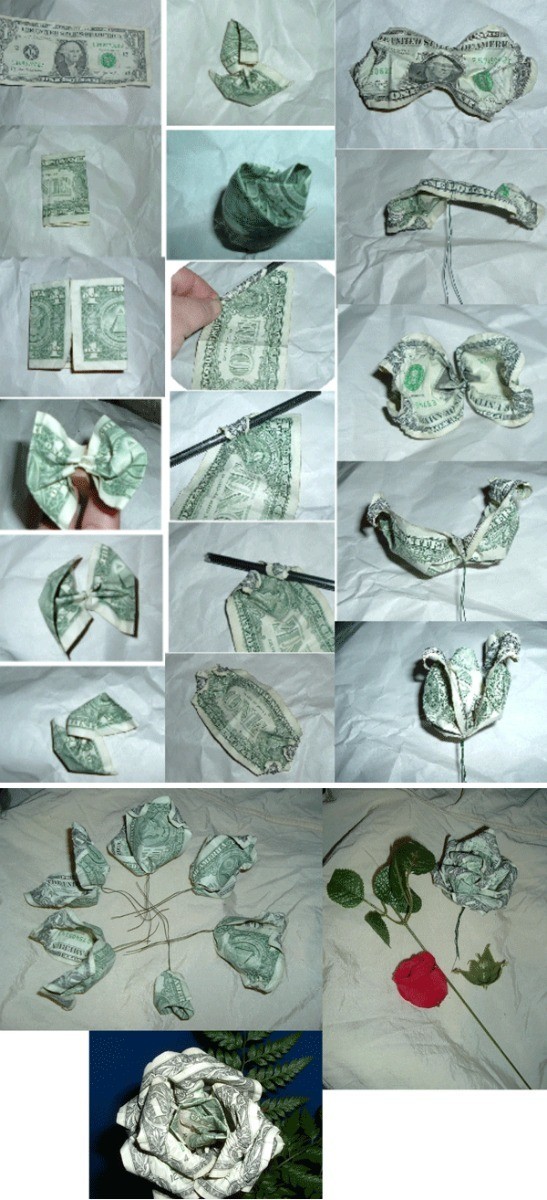 By Babbie from Lemon Grove, CA
Give a "thumbs up" to the solution that worked the best! Do you have a better solution? Click here to share it!