Making a Pirate Map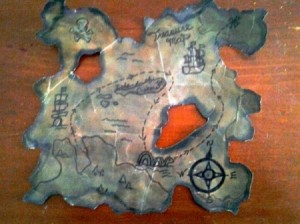 Making a pirate map has never been so easy! Perfect for your little pirate's next party.
Approximate Time: 30 min
Supplies:
scrapbook sheet
black marker
scissors
lighter
clean rag or washcloth
Instructions:
There are so many wonderful scrapbook pages to choose from at the stores! I chose one that already looked like a pirate map, but if you can't find one you can choose one something else and draw on what you want.
Mine didn't have a compass so I drew mine on with the N, S, E, W on it. You can also add the X marking the spot of the treasure or any other details.
To make it look authentic roll, fold, bend, and crinkle your paper a bit.
Burn your edges with the flame from a lighter. Have a clean rag or washcloth handy to stop or redirect the burnt edges as needed. To make holes in the center you may need to use scissors to start the hole, then burn the edges.
By Kelly L. from Ann Arbor, MI
Feedback
Post Feedback
Add your voice to the conversation.