Making a Plastic Bag Holder
Rather than buy a plastic bag holder for your recycled bags, make one. This is a guide about making a plastic bag holder.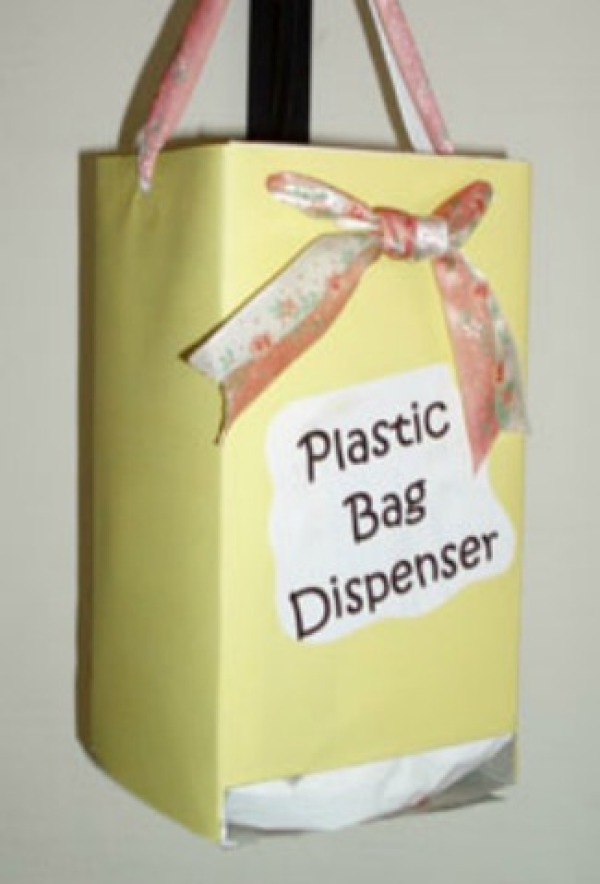 Filter

: All Articles
Sort

: Relevance
Take an old doll and recycle into a cute plastic bag holder.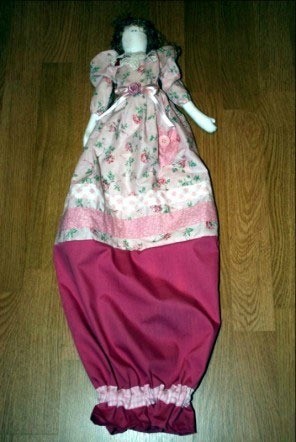 Approximate Time: one hour
Supplies:
doll
scrap material
12 inches of elastic
one plastic ring or a piece of string or yarn
Instructions:
To the doll dress hem, add enough material to make the length from the shoulder of the doll to the new hem twenty-seven inches long. (I do not remove the doll legs.)
Three inches from the bottom hem, add one inch of seam binding. This is where you can really get creative by making your own contrasting binding. Sometimes I put the seam binding on the outside, other times on the inside. Insert the elastic.
To the head of the doll (generally they have a hat), hand sew a round plastic ring or add a piece of yarn to hang the doll.
I have the dolls on several doors in the house. It makes it so easy to always have a plastic bag when you need one.
I have been able to find dolls with themes to give to match my friends hobbies and personalities. We all know the joy in making is as much fun as the giving.
By Tedebear from San Jose, CA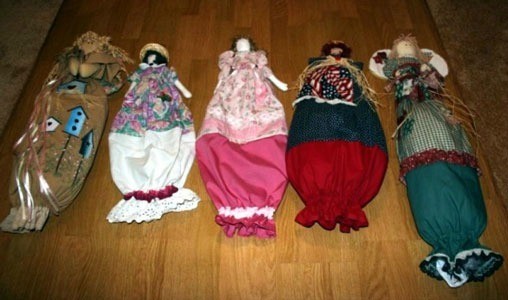 Rela Ann
1

found this helpful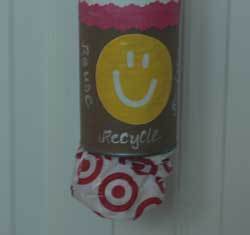 Ever figure out where to put those tons of plastic bags you get when you go to the groceries? Here's a cheap way to do it while teaching your young ones the value of recycling!
Ingredients:
4-5 cans. (Milk can size recommended so that your hand and the plastic bag just fits. Remove paper labels. Open both sides. Make sure there are no sharp edges. File sharp edge if necessary.)
paper clips
alligator clips
glue
Magic tape
kraft paper, gift wrapper, and ribbon remnant pieces, other decors
scissors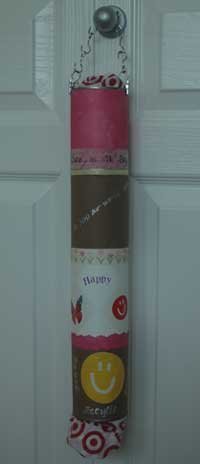 Method/Instructions
Align the cans on top of each other. Tape one end to another so that it forms a long tube.
Measure the height of the can between the upper and lower tab. Cut 4.5 rectangular pieces (depending on how many cans you have) of gift wrappers or Kraft paper with a height equal to the measured height. Do not worry about the lenth - you can cut it down later.
Decide which paper goes on which can so that the paper design on them will look well. Paste the rectangular paper pieces around the cans, making sure that it is all covered. Cut the length where appropriate (for example, the design becomes concealed because of the length.)
Decorate the cans with various stickers, ribbons, and other decors. Key point is to place recycling-related phrases that you can point out to the kids in teaching a lesson on this subject.
Place the alligator clips on the tube top side, as far away from each other.
Tread the paper clips so that it forms a hoker. The plastic bag dispenser is now ready to be hung - on kitchen cabinet knobs, on pantry door knobs or just about anywhere. Just make sure they are low enough for the young ones to reach - so they can do the stuffing in or pulling out of the plastic bags!
One last tip: Segregate plastic bags that have holes in them versus those that do not have holes. Place them in different dispensers. Label your dispensers as appropriate so there will be no guessing needed which one is which.

Oh, how I enjoy shopping for bargains. During the warmer months, DH and I love to go to all kinds of garage sales. At one of the sales, I saw something hanging on a nail which was stuffed full of plastic shopping bags. So I just had to find a free sewing pattern to make one for myself. I made several for friends who lived out of state, then the very last one I made for myself. If you look closely at the photo, you might find the mistake that I made. The palm trees are upside down, I had sewn the hanging loop on the wrong end of the bag and it was too much work to correct the mistake. I hang my plastic bag holder on a hook leading down to our basement. Now whenever I need a trash bag, I know where to find one.
This pattern was created by Diane DeArmond
By MCW from NY

View This Page
This page is not on ThriftyFun, but we had to share it. Be sure to come back and rate it.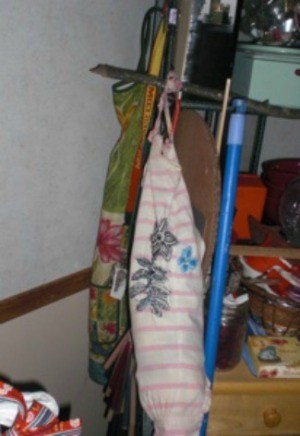 Make a plastic shopping bag holder from a shirt sleeve. This one was my mom's (gee! she would be so proud of me!)
From other items of her clothing, I cut designs and stitched them on. I used part of the blouse for the hanger cord and attached it with 2 mini fabric yoyo's. (Near the bottom you can see it is a sleeve).
Now we have even more fond memories in the kitchen of mom. Thanks Mom!
By melody_yesterday from Otterville, MO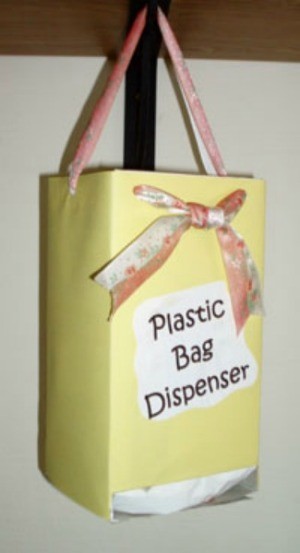 To organize your plastic bags, try making a plastic bag dispenser. With the plastic bag dispenser, you can now store your plastic bags nicely. Simply fold each plastic bag and drop it into the dispenser and retrieve it at the bottom of the box when you need it.
Materials
a tissue box
wrapping papers
glue
scissors
ribbon or decorative materials
Directions:
Make an opening on one side of the tissue box for you to drop in your plastic bags.
Cut a rectangular opening at the bottom of the tissue box for you to retrieve a plastic bag.
Wrap the tissue box with coloured or wrapping paper.
Tie a nice little ribbon to decorate the box.
Print the words "Plastic Bag Dispenser" and paste it on the box.
Punch a hole at the side of the dispenser and thread a nice ribbon into the holes and tie a knot at the top. Now your plastic bag dispenser is ready for use.
By Jasmine from Singapore
Making a Plastic Grocery Bag Holder. I found a stretchy short sleeve shirt with 3 buttons at neckline that was stained and planned to throw out as material not good for cleaning. . .
Take a piece of flexible aluminum dryer vent duct and make sure you put something on the edges like duct tape as it may be sharp. Cut it about 38 inches or how long you want it to be, curl it so it makes 1/2 of a circle, and stuff your store bags in it.
A sleeve that zips out of a jacket makes a good plastic bag dispenser.
***
***
I know these have been made before, but I have not seen them here. This is a bag holder, for, in this case, grocery size bags, which we reuse in our small trash containers throughout the house. We are aware of the push to go "green" but that is quite expensive, and not in our income ability at this time. We do have need of liners for the small trash cans, and our rural garbage carrier asks that the trash, is put in bags for their convenience in loading.

These are made of scraps of fabric, or can be made of worn out pants legs, or sleeves, use your imagination.

Close a seam down the side, and enclose the top with an opening on each end to run a tie through for attaching over a hook on the back of a door, or a hook in a closet. Put a strip of elastic on the bottom, drawing it just tight enough so that the size bags you are using can be pulled through, but do not fall out easily. When you stitch the hem up over the elastic, make sure you secure each end to the tightness you want.

We have these in the garage for reusing large leaf bags, and the uses are endless. Hope you enjoy making, even sharing them.

By <a
href="http://www.thriftyfun.com//profile/index.lasso?profile=thr156866">Loretta from Theodore, AL
Related
© 1997-2016 by Cumuli, Inc. All Rights Reserved. Published by
ThriftyFun
.
Page
generated on August 24, 2016 at 12:03:33 AM on 10.0.2.136 in 3 seconds. Use of this web site constitutes acceptance of ThriftyFun's
Disclaimer
and
Privacy Policy
. If you have any problems or suggestions feel free to
Contact Us
.