I don't know about you but I hate having to unload 20 bags of groceries that only hold a few items each. seems like it takes forever to haul them all in. I love using my own handmade fabric grocery bags. I keep material that is from clothing or scraps from fabric and make my own shopping bags. This way I am using my resources instead of the plastic bags that end up in the dump. You can make original bags that are gorgeous or just plain bags.
I also love the versatility of them. It makes me very happy to put my recycled material bags on the conveyor belt at the grocery store before I unload the groceries. I always ask them to pack the bags full. Also I find it so much easier to handle the groceries once I get home and have to unload.
So don't pitch that material. Make up some one of a kind grocery bags for your next shopping trip. It will make your experience so much easier.
I also use handles from discarded items or ties from clothing to make the handles. It is a breeze just to sew it onto the inside of the bag once it is finished.
By gem from Gordonsville, VA
January 6, 2013
0

found this helpful
Can you send instructions or a picture on how to make these bags? It would be a big help. Thanks.
Read More Comments
Here is a homemade reusable grocery bag with matching coupon holder.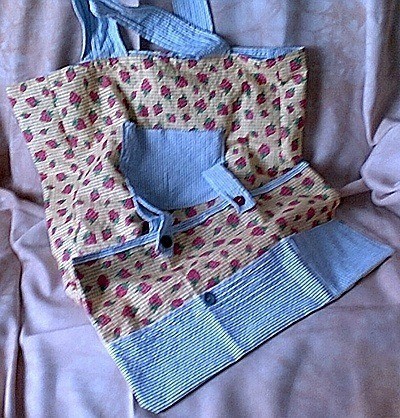 Approximate Time: 2 Hours
Supplies:
one yard material
matching thread
any decorations
applique'
sewing machine
Instructions:
Cut out body of grocery bag: 23x15 inches.
lining: 23x15 inches
strap: 15x4 inches
pocket (if desired) 5x5 inches square
Lay out material and cut out body of bag. With contrasting material cut out lining and straps.
Fold bag, right sides together, sew sides, at bottom of bag, sew corners, 1 inch, cut off access.
Sew lining the same as the body of the bag.
Fold the cut straps of contrasting material, in half, sew along one short end, and along side, turn right side out, press, sew other strap the same.
Leaving body of bag wrong side out, insert into lining, making sure the seams are together.
Insert straps, 5 inches from side of bag. Sew along top of bag, leaving 5 inch opening for turning.
Turn bag, hand sew or machine sew the opening.
The bag is now done.

For the coupon holder

Using 1/2 yard of material, cut 23x20 inch piece of fabric, if desired, use contrasting material.
Sew the front and back together, fold 1/4 way up the front of the piece.
Sew each end, turn, sew up the middle of the pocket.
You have 2 pockets for holding your coupons.

By Barbara from Spring Hill, FL

August 28, 2010

0

found this helpful

Now these are smart! Great idea.

I just love when folks use common-sense to come up with a great idea for most everyone to use.

Everyone needs to use reusable grocery bags and the coupons are smart anyway. Having them in front of you while you shop ensures us, we will pay more attention.

Yeah!