Making a Ripple Crochet Purse
This is a guide about
making a ripple crochet purse
. A bold, traditional afghan crochet pattern can make an attractive shoulder bag.
Solutions
Share on ThriftyFunThis guide contains the following solutions. Have something to add? Please share your solution!
This pattern re-invents the old classic afghan ripple stitch to give you a useful shoulder-bag. Have fun! :)
Total Time: 5 hours?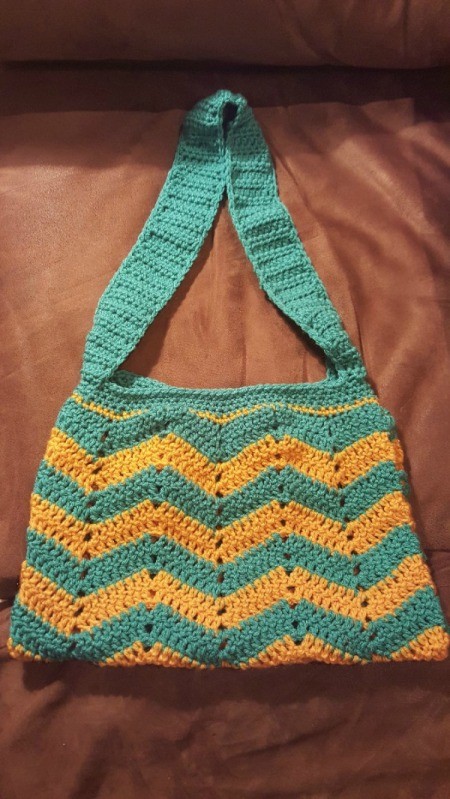 Supplies:
"H" crochet hook
approximately 360 yards total #4 worsted weight yarn
scissors
embroidery needle for weaving in ends
Steps:
Ch 51.
1 dc in the 4th ch from your hook and in the next 5 ch.
Dc, ch 2, dc in the next ch.
1 dc in each of the next 7 ch.
* Skip 2 ch, 1 dc in each of the next 7 ch, dc, ch 2, dc in the next ch, 1 dc in each of the next 7 ch,* Repeat steps between ** until end of row.
Ch 3, turn, dc decrease over the next 2 stitches.
1 dc in each of the next 5 stitches.
Dc, ch 2, dc in the ch 2 space.
* Dc in the next 7 stitches, skip 2 stitches, 1 dc in each of the next 7 stitches, dc, ch 2, dc in the next space,* Repeat steps between **once.
1 dc in each of the next 5 stitches, dc decrease over the next 2 stitches, dc here, see?
Done.
You will now drop your green color and add your gold, ch 3.
Turn, dc decrease over the next 2 stitches, 1 dc in each of the next 5, dc, ch 2, dc in the next ch 2 space, *1 dc in each of the next 7 stitches, skip next 2 stitches, 1 dc in each of the next 7 stitches, dc, ch 2, dc in the next ch 2 space,* Repeat steps between ** until you have 8 stitches left. 1 dc in each of the next 5 stitches, dc decrease over the next 2 stitches, 1 dc in the top of the last ch 3.
Repeat last row once more with your gold, you now have 2 rows of gold.
You will now drop your gold and pick up your original green. The reason you are "running" your yarn along the side is because this will save you a great deal of time weaving in ends. When you stitch the sides up at the end, this will cover your yarn.
Now repeat row 13, 2 more times with your green. Remembering of course to ch 3 at the beginning.
You will continue repeating row 13 for 24 more rows. You will alternate your colors every third row, for a grand total of 30 rows.
You will now fasten off your green for good, pull up your gold yarn. Fold the bottom of the "purse" towards you.
Ch 1, 30 sc evenly down the side.
End off your yarn, join with a sc to the other side and make 30 sc evenly down that side as well.* You will join your yarn at the bottom, where your fold is*
You will now turn your purse right side out.
Ch 1 and begin to sc around the top.
You will have a total of 97 sc around the top of your purse.
Finish off your gold and join with a sc in the same space with your green.
Work 1 sc in each of the next 2 sc, sc decrease over the next 2 stitches. * 1 sc in each of the next 3 sc, sc decrease over the next 2 sc,* Repeat steps between ** until you have 2 stitches left. Work 1 sc in each of the next 2 stitches, join with a slip stitch to the first sc.
Ch 1, sc in the same space as your ch and in each stitch around. Join with a slip stitch to your first sc.
Repeat last row once, end off.
You will now be making your strap. This strap is meant to just be long enough for a shoulder style bag. Ch 8.
Work 1 hdc in the 3rd ch from your hook and in each across.
Ch 2, turn. 1 hdc in the same space as your ch 2, and in next 6 stitches.
Ch 2, turn. 1 hdc in the same space as your ch 2, and in next 6 stitches.
Repeat the last row until you have a total of 81 rows. Or you may choose to make your strap even longer for a cross-body style.
Lay your purse flat. Simply line up one end of your strap evenly centered on the side of your bag.
Now have the inside of your purse facing you, ch 1, work 8 slip stitch through your purse and strap to attach the 2. Repeat the same process with the other end of your strap. *Do not finish off after joining the second end*
Ch 1, 113 sc evenly around the edge of the straps and purse top. You are doing this to reinforce your strap and make it stronger. Otherwise your strap will begin to stretch out of shape after much use. Finish off, join with a sc to the other side, repeat by making another 113 sc. Finish off. Weave in all of your ends.
You may choose to add a flower to the front bottom corner of your purse. You may choose to line it with fabric. Or, you can call it good and start using it.
Enjoy! :)
Related Content