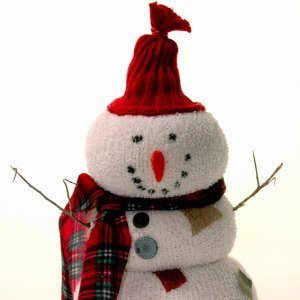 With some simple accessories, you can turn a plain sock into an adorable snowman. They are cute decorations for around the house and make great gifts too. This is a guide about making a sock snowman.
Ad
---
Solutions: Making a Sock Snowman
Read and rate the best solutions below by giving them a "thumbs up".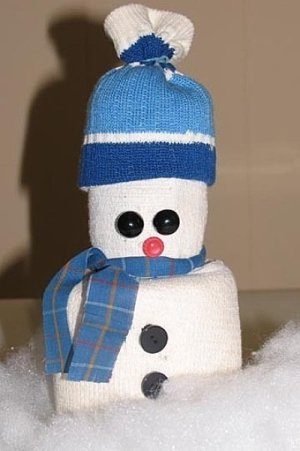 This is a novel way to give sports socks at Christmas time, using a pair of socks and a roll of toilet tissue.
Approximate Time: 20 minutes or less
Supplies:
1 pair white tube socks, either plain or with stripe around top
1 roll toilet tissue
2 black buttons with shanks for eyes
red, pink, or orange button for nose
3 buttons for vest
scrap of ribbon for scarf
thread and needle
Instructions:
Slip roll of toilet tissue down into very end of one of the tube socks.
Roll up other sock and insert into first sock so that it sits on toilet tissue, forming snowman's head.
Fold down top of tube sock to form stocking cap.
Make "pompom" by tightening top using an elastic band or thread.
Sew on eyes and nose, also three buttons down the front.
Tie on a scrap of material or ribbon for the scarf. (If using plain white socks, a tiny sprig of holly fastened to the side of the stocking cap looks nice.)
By Preserver from Manitoba, Canada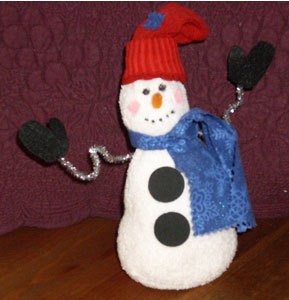 Supplies
1 men's white athletic tube sock
rice
yarn or rubber bands
black permanent marker
red baby sock
decorative holiday fabric and felt
scissors
craft glue or a hot glue gun
assorted bits and pieces (buttons, bows, pipe cleaners, sticks, etc.) from around the house
Instructions
To start the snowman's body, take the sock and make sure it is actually a "tube" sock (it should be straight with no bend for the heel and foot). Most socks have a smooth surface on the outside and a textured, rough, loop surface on the inside. If you prefer the snowman to have a textured body, turn the sock inside out.
Hold the top of the sock open and fill the sock roughly two-thirds full of rice (this will form the body of the snowman, give him weight so he remains stationary, and enable him to have a flat bottom so he can sit solidly on a table, desk, or mantel).
Tie a piece of yarn or secure with a rubber band to form the snowman's body and head. A large ball for the body and a slightly smaller ball for the head. Divide the sock accordingly with slightly more than half of the rice toward the bottom and the smaller amount above, forming the head. Leave about one inch or so of the sock above the head to secure the hat and tie off with yarn or rubber band.
Stretch a red baby sock over head to form a hat. (I could not find red baby socks so I purchased white ones and died them with Rit fabric dye.) Of course, any color will do.
Decorate the snowman and give it some personality. Make decorating the snowman a "treasure hunt" of things found around the house and outdoors. Pieces of felt, colorful material, holiday gift-wrap ribbon, buttons (matched and mismatched), fabric pom-poms for facial features, and clothing accessories.
Where the yarn divides the snowman head and body, cut a length of decorative felt or plaid/holiday-print material and wrap it around his neck to form a scarf. A brightly colored pom-pom might make a fun addition to the top of the hat. Be sure to add eyes (either "googly" eyes, buttons, or painted with a permanent marker), a nose (an orange "carrot" cut from felt or a piece of pipe cleaner will do the trick), and a line of buttons (I cut circles from craft foam) down the snowman's front to complete his ensemble! Small sticks or pipe cleaners may also be inserted into the snowman's body to form arms. Craft glue will hold the decorative bits in place or a hot glue gun may also be used to attach the pieces.
By Melanie from Wilkesboro, NC
Give a "thumbs up" to the solution that worked the best! Do you have a better solution? Click here to share it!
Questions
Here are questions related to Making a Sock Snowman.
Does anyone have the poem for the snow man filled with baking soda you use in the fridge?
By Diane from NY
AnswerWas this interesting? Yes No
Ad
---
---
Most Recent Answer
By Deonne Williams W. 1 08/05/20140 people found this helpful
"My belly is filled with baking soda, I was made with love too, if you place me in your fridge, I will keep it fresh for you."
Archives
Thrifty Fun has been around so long that many of our pages have been reset several times. Archives are older versions of the page and the comments that were provided then.
For a fun and simple craft, make sock snowmen. You will need white socks with a colorful, striped upper cuff, two rubber bands or pieces of string per sock, white rice, and choice of the following craft supplies--permanent markers, google eyes, embroidery thread, sequins, buttons, ribbon.

Fill the sock halfway full of rice. Tie off with rubber band or string. Add more rice to the sock up to the bottom of the cuff and tie off again.

You now have your snowman's body and head. Turn the cuff down to create the snowman's cap. Decorate face and body as desired. Have fun!

By Sandi from Stoughton, WI
Feedback:
RE: Sock Snowman
I have done a craft very similar to this one. I did use child size socks without the colored stripe, and poly beads that you can find at most craft stores. One year, I was so excited to make them that I went into work with about 20! I gave them out to all of my co-workers. To this day, they still have and display them. (the poly beads won't break down like the rice does). (12/19/2006)

By Pat
RE: Sock Snowman
I like the poly beads idea.
(12/19/2006)

By Sandi
RE: Sock Snowman
Does anyone have the poem for the tube socks filled with birdseed? After using as a holiday decoration, you sprinkle the birdseed in the lawn to feed the birds. (08/14/2008)

By gogovance
RE: Sock Snowman
The poem goes something like:

Inside your warm house
I want to stay
Til you feed me to the birds
On Christmas Day (12/21/2008)

By Debbie