Read and rate the best solutions below by giving them a "thumbs up".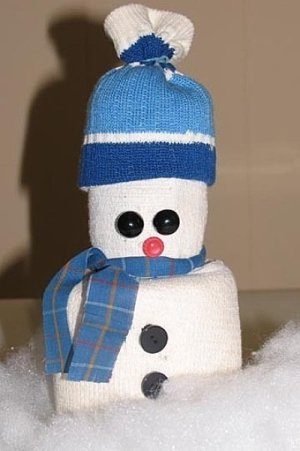 This is a novel way to give sports socks at Christmas time, using a pair of socks and a roll of toilet tissue.
Approximate Time: 20 minutes or less
Supplies:
1 pair white tube socks, either plain or with stripe around top
1 roll toilet tissue
2 black buttons with shanks for eyes
red, pink, or orange button for nose
3 buttons for vest
scrap of ribbon for scarf
thread and needle
Instructions:
Slip roll of toilet tissue down into very end of one of the tube socks.
Roll up other sock and insert into first sock so that it sits on toilet tissue, forming snowman's head.
Fold down top of tube sock to form stocking cap.
Make "pompom" by tightening top using an elastic band or thread.
Sew on eyes and nose, also three buttons down the front.
Tie on a scrap of material or ribbon for the scarf. (If using plain white socks, a tiny sprig of holly fastened to the side of the stocking cap looks nice.)
By Preserver from Manitoba, Canada
Give a "thumbs up" to the solution that worked the best! Do you have a better solution? Click here to share it!
For a fun and simple craft, make sock snowmen. You will need white socks with a colorful, striped upper cuff, two rubber bands or pieces of string per sock, white rice, and choice of the following craft supplies--permanent markers, google eyes, embroidery thread, sequins, buttons, ribbon.
Fill the sock halfway full of rice. Tie off with rubber band or string. Add more rice to the sock up to the bottom of the cuff and tie off again.
You now have your snowman's body and head. Turn the cuff down to create the snowman's cap. Decorate face and body as desired. Have fun!
By Sandi from Stoughton, WI
---
RE: Sock Snowman
I have done a craft very similar to this one. I did use child size socks without the colored stripe, and poly beads that you can find at most craft stores. One year, I was so excited to make them that I went into work with about 20! I gave them out to all of my co-workers. To this day, they still have and display them. (the poly beads won't break down like the rice does). (12/19/2006)
By Pat
RE: Sock Snowman
I like the poly beads idea. (12/19/2006)
By Sandi
RE: Sock Snowman
Does anyone have the poem for the tube socks filled with birdseed? After using as a holiday decoration, you sprinkle the birdseed in the lawn to feed the birds. (08/14/2008)
By gogovance
RE: Sock Snowman
The poem goes something like:
Inside your warm house
I want to stay
Til you feed me to the birds
On Christmas Day (12/21/2008)
By Debbie