Making an Earring Box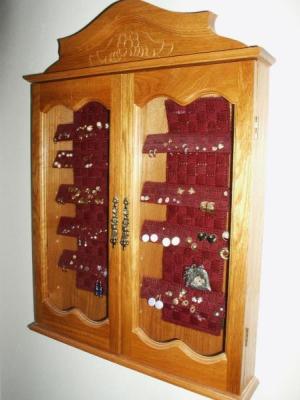 I made my earrings easier to see by putting them on plastic canvas and displaying in a cabinet that once was used for displaying thimbles or miniatures that I purchased for $2 from the thrift store. Now that I see what I have, I wear them more often.
Approximate Time: 2 days or less
Supplies:
used cabinet
plastic canvas
yarn
glue
Instructions:
Remove shelves and pegs, if it has any.
Clean up.
Cut plastic canvas pieces to go on each side of cabinet.
Use yarn to fill in canvas, or leave it plain.
I just did a simple stitch using burgundy yarn. This took longer than anything. If I made another, I believe I'd just leave the plastic canvas plain.
Attach plastic canvas to inside of cabinet using Gorilla Glue or staple gun. Hot glue won't hold.
Put earrings on it. Hoops or long earrings hang better at the edges.
Hang on wall.
By Denise from GA
Feedback
Read feedback for this post below. Click here to post feedback.

By
08/28/2012
That's also a good idea, hadn't thought about using a cabinet like that. You're so right about the valuables. Fortunately, my "jewels" have little or no value, except sentimental. But you really can't trust anyone,like you said. Thanks for your feedback!

By
08/27/2012
That is a great idea. However, if you have a lot of valuable earrings and/or jewelry, for instance real gold/silver with genuine gems, it would be a good idea to put a lock on it. You can't trust anyone now days!

I keep my earrings in a small cabinat with 9 drawers in it. The cabinet was intended to hold small things like screws. I lined the drawers with tarnish proof felt to keep the sterling things fresh looking.
Post Feedback
Add your voice to the conversation.
Related Guides
Related Posts