I created an indoor greenhouse in my bedroom during the winter by our big windows facing south. I have been using grow lights, but the house barely gets over 70 in the winter. The plants and dwarf trees are growing OK, but I am wondering if light, water, and fertilizer are enough? Do I need more heat on them, like the summer outdoors?

Hardiness Zone: 5b


Selah from IN
Answers:
Making an Indoor Greenhouse
Keep in mind that except for the equatorial zone, there are seasons, and most plants need a cool rest period to be able to bloom in spring. Their spring. For example, South American cacti bloom in our fall, and need a cool rest period afterward. Have a look at my dad's cacti at http://dawna.com and see what can be done without grow lights or heat even in the snowy alps.
Have FUN!
DearWebby (01/23/2009)
By DearWebby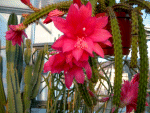 Making an Indoor Greenhouse
I have a similar set up in my bedroom which is well below 70 degrees and my African Violets are blooming and thriving. (01/30/2009)

By Karen