Making an Oil Bottle Drip Cover
Videos
Watch and rate the videos below.
Making an Oil Bottle Cover
This video shows you the simple steps to making an oil bottle cover. With this cover you prevent the bottle from getting slippery when oil drips down the side of the bottle. View the full project here:
Oil Bottle Cover
Solutions: Making an Oil Bottle Drip Cover
Read and rate the best solutions below by giving them a "thumbs up".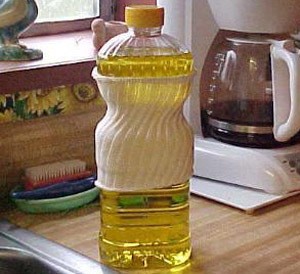 If, like me, you are tired of your bottle of canola oil dripping down the sides of the bottle every time you pour out of it, just cut the ribbed cuff off of one of your husband's old stocking and slide it over the bottle. It will catch all the drips and keep your cupboard shelf clean. When it gets soiled, either launder it or replace it.
By Harlean Hot Springs, AR
Whether I use the bottles that the oil comes in or I transfer it to a fancy bottle, it always seems like the oil drips down the sides after each use. To solve this problem, I decided to make drip catchers out of my daughter's old tights.
Approximate Time: 10 minutes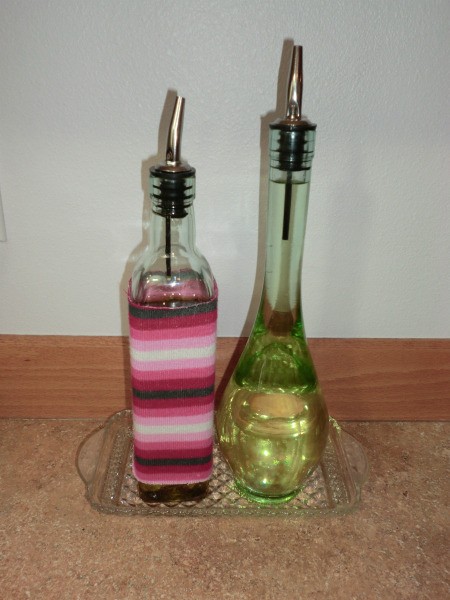 Supplies:
1 pair of children's tights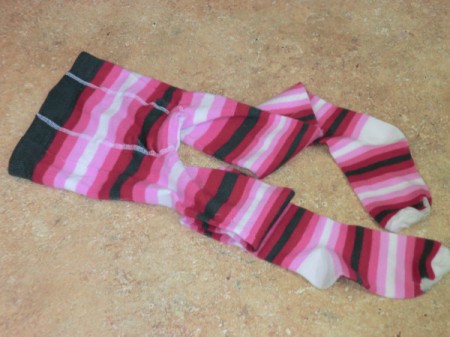 Steps:
Take a pair of cleans children's sized tights. Using a pair of scissors, cut off the feet.
Determine how long your cover need to be. Then cut a piece off of one leg to make your cover.
Slide your cover over your bottle. I have found that they will stretch to fit many shapes and sizes of bottles. There is no need to sew the edges as most tights done seem to fray. I can typically get 4-6 covers out of a pair of tights. They can also be used to disguise other cans and bottles.
By lalala...
Share Your Feedback:
Once you try any of the above solutions, be sure to come back and give a "thumbs up" to the solution that worked the best for you. Do you have a better solution? Click "Share a Solution" above!
Questions
Do you have a question related to this page?
Archives
Here are archived discussions related to this page.
Catch Drips on Oil Bottles
You can prevent oil stains on cabinet shelves by wrapping the oil bottle with a band of paper towel, secured with a rubber band. The band of paper towel will prevent drips from running down the sides of the bottle and can be tossed when dirty and replaced.
By Marie from West Dundee, IL

---
RE: Catch Drips on Oil Bottles
Oh my gosh, this is such a simple idea! I can't believe I've never thought of this already, thanks for the info! (04/27/2007)