I noticed a mallard duck nesting next to my front door. I went to put up some signs to tell people not to use the front door and she got up and she flew away. She has seven eggs in her nest. She left yesterday at 3 o'clock and now it is the next day at 7 AM and she still not back. What can I do for the eggs and who can I call to help? And will she come back?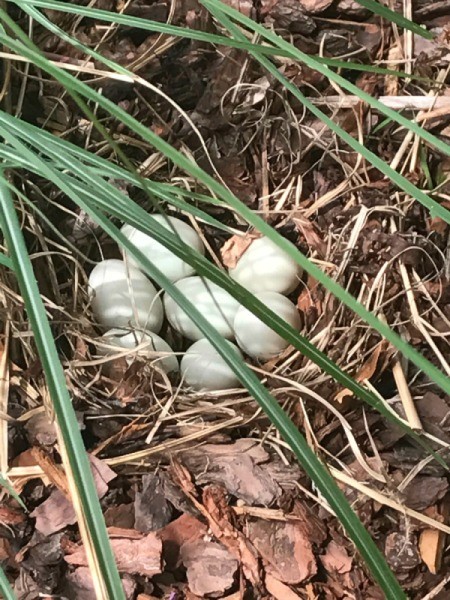 May 24, 2017
0

found this helpful
She may come back and sit on them after she has laid her last egg. You will have to wait and see.
May 24, 2017
0

found this helpful
She will probably come back :)
May 29, 2017
0

found this helpful
This is normal, most likely she will return.
A mallard hen laid eggs in my yard. She seems to be sitting on them and incubating them now. Should I provide anything for her? She already has my little dog trained to stay away :-)
April 26, 2017
0

found this helpful
You are a lucky one! Be careful about the dog and make sure he/she does not aggravate the mom or she might abandon her nest and that would be sad.
Here is a site that tells about your duck:
April 26, 2017
0

found this helpful
That is what my husband says
April 26, 2017
0

found this helpful
Thank you for the site. Our concern is how to get them to the water when they hatch. They are in a block walked fence and a row of houses away from where we believe her water is ( pond on a gulf course) We live in the desert so there are not many options for water around here.
April 27, 2017
1

found this helpful
I can understand your concern especially since water may be that far away. If you read from the site that I gave you will find some instructions on maybe how to handle this problem.
Find this article on that site and it may give you something to think about:
If a mom and ducklings are already on the move and are headed for imminent danger.
Here is some information from one animal protection site:
If you go near the nest the ducks may abandon the nest or be afraid to properly incubate the eggs. Wait at least 45 days before approaching the nest. If you approach while the eggs are being incubated they may be abandoned. It may take a duck 10-14 days to lay all her eggs. They will all hatch within a couple days. The female doesn't start incubating the eggs until they are all laid.
If you feel you need more help you can contact someone from the US Department of Agriculture. here is their national web site and also a contact site but you can also contact your local office and ask for help.
https://www.aph a.gov/aphis/home
https://www.aph wildlife_damage/
Read More Answers
My mallard hen decided to come into my home; she followed my chicken hen inside. I was running bath water and she jumped in the tub with me after I bathed. She decided to stay and chose my bathroom closet to lay her nest of eggs. She is now brooding her eggs. Is this strange that ducks come into the house to make their nests? Has anyone else had this problem? Please help.

May 3, 2017
0

found this helpful
If you move them now, she may not stay broody. If you do, it has to be in a secure area, where she can't get out--and even then she may not sit on them.
But, they only lay 1 per day, and then they don't sit until they are done laying. So, evidently you have been allowing her to do this for quite some time to be in this situation.
May 3, 2017
0

found this helpful
She probably likes the warmth of the house. I don't think you can do anything now, unless you don't care if the eggs hatch or not.
May 24, 2017
0

found this helpful
We have a female duck and 12 eggs and she was moved with the eggs only one hatched and the other she won't sit on
A duck built a nest in the bush by my front door. I had someone come over and aerate my lawn. The machine was loud, and scared the duck away. I just found out 10 minutes prior that the duck was in the bush. My intention was not to have her scared from her eggs, will she return?
I hope so.


April 17, 2017
0

found this helpful
She probably will. The noise isn't bound to come back and she is probably nearby. Keep us updated.
April 17, 2017
0

found this helpful
From a cooperative extension website:
The incubation length on duck eggs is 28 days. At times, ducks will abandon their nests to re-nest in other areas. Other predators will feed on the eggs, so fox & other birds may have already cleaned out the nest. The eggs could be under the mulch, and can survive for 12 hours or more until she returns. I suggest you wait and see what happens.
April 19, 2017
0

found this helpful
Most likely she will come back--our farm equipment scares them and they come back. Keep us posted. (same with geese)
Mallard ducks have laid 2 eggs but the female and male both just left them there. What do I do?

Chris
March 21, 2007
0

found this helpful
Best Answer
Hi, Chris. I believe that the ducks will lay their eggs one at a time & then when there is about a dozen they will set on them to begin the incubation process, this way they will all hatch at the same time.
I have hand raised mallard chicks a few time, the kids incubated them in school, and then they came to my house. They are great fun, as they will imprint on you, follow you all over the yard, like you are the mama. They would even come down the street with me when I brought the kids to the bus stop in the fall. lol Then in the fall they fly away with the rest of the ducks. I have a female who has been coming back for years to my yard to lay her eggs each spring.
Trish in CT
By guest (Guest Post)
May 10, 2007
0

found this helpful
Best Answer
A duck has laid at least 6 eggs at the base of a boxwood bush that is elevated in a planter. She didn't appear to be sitting on the nest for the last 2 days, but suddenly this morning she is sitting on the nest. I thought she'd abandoned the nest, but now I realize she wants to all hatch at the same time. Glad I didn't touch any of the eggs!
May 10, 2015
0

found this helpful
My mom and siblings found 9 duck eggs today & my younger sister went and touched the 9 eggs and now the mom didn't come back, I currently have them under a light (where you usually put baby chick's under) and now I don't not know how to care for them...Help!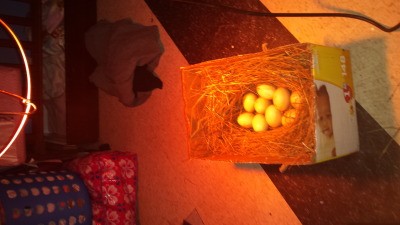 May 11, 2015
0

found this helpful
People mistakenly think that keeping eggs warm is all that must be done for them - not true at all. The duck (or hen if you're talking about chickens) also regularly turns the eggs, and keeps them moist by pulling feathers from her breast so they have contact with her skin.
I have found that a lot of ducks make "lousy" mothers in that they don't want to sit on the nest. That said, even the good mothers will lay a lot of eggs before they finally settle down to incubate them. It's like they're collecting a whole bunch before they are willing to go to the trouble of brooding.
The only semi-reliable way to hatch duck, chicken, quail, or any other eggs is with an incubator. That way the heat is kept even and the humidity can be adjusted as the eggs develop.
One last thing - even a good mother who is brooding her nest of eggs well will take a break for 10-15 minutes a day if the weather is warm. She will stretch her legs for a few minutes and maybe dabble for some bugs or preen herself, wandering off from the nest briefly. That doesn't mean she has abandoned the nest.
Hope this information helps - you need to get these eggs to an incubator or slip them under a broody chicken (at night when she's sleepy and it's dark - seriously! This works! A broody chicken will hatch duck eggs!) or barring that give them to the conservation department or a farmer who has experience with this kind of thing and is willing to help you.
Read More Answers
March 29, 2012
0

found this helpful
If a predator got the first eggs in nest (8) will mother return to lay more?
By Barbara
April 1, 2012
0

found this helpful
Yes, but the predator remembers where it found the eggs and will return. It is most likely a raccoon or an opossum or possibly a big rat!
March 19, 2007
0

found this helpful
I have been feeding two mallard ducks (male and female) for a long time, and my female (named Peepers) just laid eggs. She has six so far, but I'm worried because she only goes to the nest to lay a new egg every night. She and the male (Beepers) still come to me 3 times a day to be fed. Otherwise, they're swimming in a nearby pond. It's getting cold now, and Peepers still doesn't sit on them at all. What should I do?

Lexi
Answers:
Mallard Duck Layed Eggs
Not sure about ducks, but turkey eggs can be kept up to 2 weeks before 'setting' and as long as they do not freeze they can be kept in a cool room. So I would just leave Peepers alone. She wants them to hatch at the same time. (08/15/2005)

By Randiann
Mallard Duck Layed Eggs
Mallards hens will lay between 8-12 eggs one a day she will not sit on them until the last egg is laid, this way they all incubate at about the same time smart huh? (09/03/2005)

By duck man.
Mallard Duck Layed Eggs
We found a Mallard duck nest in our front landscaping right outside our front door. I found it by scaring the hen away by accident! She flew away as I was opening the door. As of yesterday morning, there were only 4 eggs. This morning they were all covered up so we couldn't see them. I have learned that mallards will lay 8-12 one day at a time, so my question is, what are we supposed to do when she begins incubating the nest? We can't stop using our front door? I hope she doesn't abandon them, but I'm a little concerned about that happening. Can someone give me some advice please?
(04/02/2006)

By Alyssa