Max (Cocker Spaniel)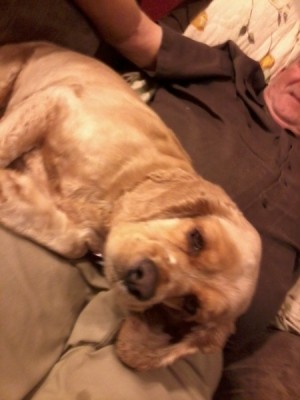 Maxis a 2 year old Cocker Spaniel. Our little darling doggie was found wandering in a subdivision, had on a rabies tag, and they could not locate the people who had it. We think they simply moved away and left him. He was scared silly, dirty, matted, but with a few weeks of loving he has turned into "The Perfect Pet"! Max's only pastime we have found so far is playing with squeaky toys. He will grab one and come to us, but if we try to get it to throw for him, he runs like a mad dog, squeaking away on that toy. We took Max camping a few weeks ago, and he is a pro at stopping at every person for petting, already. He doesn't bark at people passing by. He is really good with out other dogs. His one vice is that he is death on chipmunks. He proudly trotted to the door with one hanging limply in his mouth, the other day. Oh, boy.
By Jacketbacker from Greer, SC
Feedback
Read feedback for this post below. Click here to post feedback.

By
06/08/2012
So far, so good. No more caught chipmunks or squirrels. Max is getting a second lesson in camping soon.

By
06/07/2012
Max looks like a real sweetie & you're sweeties for giving this little boy a loving new home! Best wishes to you & Max! Hopefully the rest of the squirrels will learn to stay away.
Post Feedback
Add your voice to the conversation.
Related Guides
Related Posts