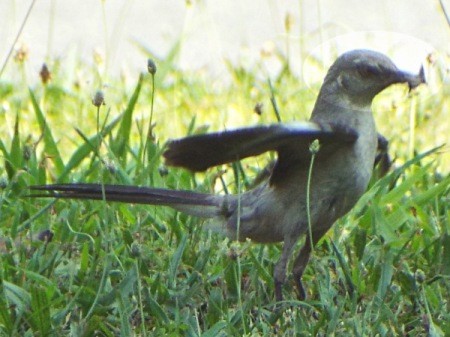 Photo Description
Please make allowances for the picture. It was taken by an amatuer at 100 feet and of a fast moving object.
Have you ever noticed mockingbirds scurrying about on the ground while intermittently raising their wings? After submitting this post, I'm going to do a little research and see just how correct my thinking is on this matter.
I do know that the underside of a mockingbird's wings has broad white bands. I believe when the bird lifts its wings and exposes the white bands to the very close ground, the white bands disturb and frighten insects in the immediate area, causing them to move quickly to avoid danger.
With the insects moving quickly, they are much more visible to the bird, insuring more prey being taken with less expenditure of energy. I believe this method of 'scaring up supper' is unique to this bird.
Now, I'm off to see how I scored. (Shouldn't take long. I'm already a little bit off).
Add your voice! Click below to comment. ThriftyFun is powered by your wisdom!