Moses and Zippy (Cockatiels)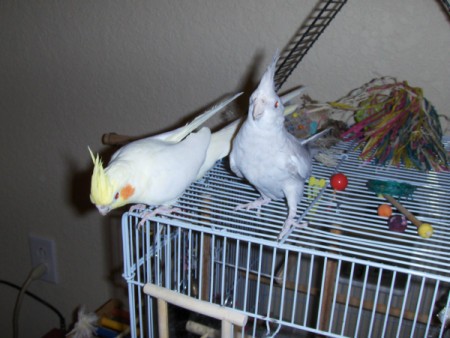 Your Pet's Age
Moses is 3 years old and Zippy is 6 months old.
Your Pet's Breed
Cockatiels
How and when did you get your pet?
I have had Moe since she was 7 weeks old. I bird sat for her parents and realized what great pets birds make.

Zippy was a gift from a dear friend to keep Moses company. He is a real sweet little fellow. He sings and talks to me all day long.
What does your pet like to do for fun?
They both love to shred paper, toys, and cardboard. They like to climb up the ladder on top of their cage and play with birdie toys.
Do you have anything else to share about your pet?
Both of my birds adore attention and enjoy being petted on the head and their sweet little cheeks.
Feedback
Read feedback for this post below. Click here to post feedback.

By
11/13/2012
Such beautiful birds! I love them! I used to have a grey cockatiel a long time ago~ He was hand raised and so friendly!

These two are simply gorgeous!
Post Feedback
Add your voice to the conversation.