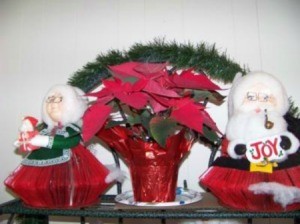 Cute decorations can be made by folding the pages of magazines. This is a guide about Mr. and Mrs. Santa made from Reader's Digest magazines.
Solutions
Share a solution for this guide today!
Questions
Here are questions related to Mr. and Mrs. Santa Made from Reader's Digest Magazines.
A few years back I made Mr. and Mrs. Santa out of Reader's Digest. I would like to make them again, but can't find the heads or faces I used. Does anyone know where I can purchase them? I think they were made of rubber, but plastic would do. They should be around 3-4 inches. Thanks.
By Janet from Minooka, IL
---
Most Recent Answer

By Susan M. F.10/08/2011
My aunt and uncle had a set of these made for me about thirty years ago. Because of moving several times over the years, they came-up missing. My set looked a lot like these but with a couple of added features. Mrs Claus had a red felt dress and Santa had his signature coat that was also made of red felt. Both of mine also had white curly hair made with white fiber stuff that can be purchased at any craft store.

If anyone has the pattern for these, could you please forward it on to me at LilMouse2U@hotmail.com? I would greatly appreciate it.

Remember, "Jesus is the reason for the season."
God bless, Susan
Archives
Thrifty Fun has been around so long that many of our pages have been reset several times. Archives are older versions of the page and the feedback that was provided then.
Does anyone have the pattern for Mr. and Mrs. Santa Claus made from old Readers Digest books? My great aunt made them years ago, and I'd like to make some now. I'm sorry, but I don't have a picture to post. I know you folded the pages somehow, then painted them, added red felt, a black belt (felt I think), belt buckle, cotton for the beard and hair. Any help is appreciated.
Paula from Kosciusko, MS
---
RE: Mr. and Mrs. Santa - Made from Reader's Digest Magazines
I found these directions, with no picture, on the Santa Claus Museum site:
santamuseum.org
. Perhaps you can take a picture and post it when you've made one. It would seem that photos of this project are scarce. Since you remember your aunt's Santas, you can probably figure out the directions easily. I look forward to seeing the finished Santa. (11/01/2008)
By Luvyabye
RE: Mr. and Mrs. Santa - Made from Reader's Digest Magazines
allfreecrafts.com
This site offered instructions and a picture. (11/01/2008)
By kghsave
RE: Mr. and Mrs. Santa - Made from Reader's Digest Magazines
Here's another good site. It also has directions for a snowman.
santalady.com
(11/03/2008)
By starxmn
RE: Mr. and Mrs. Santa - Made from Reader's Digest Magazines
I received these as a gift from my mother back in the 70s. It's nice that the pattern is available online. Mine were stored for a few years and had some damage to the bunting which I removed and will replace. It was nice having them as my centerpiece again. (01/04/2009)
By CissyD