Why isn't my puppy eating or drinking? it was her first real day home.
Carol from San Diego, CA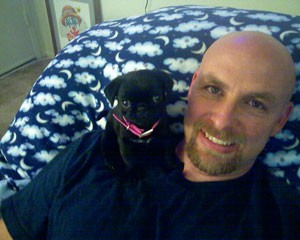 Answers:
My New Puppy Won't Eat
When your puppy first gets home don't let them explore the whole house. Give them one room to call their own while they get used to their new home and new owner. Your puppy's food, potty place (if paper training) and bed should all be in this one room. You can introduce them to the rest of the house after they get more comforable with you and their new surroundings. After they have explored their new room and you offer them food with no distractions they should eat.
Good Luck
(01/22/2007)

By Erika
My New Puppy Won't Eat
Oh my gosh, your pup is sooo cute! Is he a pug? What a little sweetheart! I don't have any advice for you, but I sure want to know how Erica taught her Shih Tzu how to read! (01/22/2007)

By Kendy
My New Puppy Won't Eat
First, has this pup been weaned and is she already used to eating dog food. If so, start he off by feeding what she is used to ea=ting. You can change her food gradually to the puppy food of your choice. She is probably feeling shy and a little scared. Give her some time, see that she knows where her food and water and her bed are, and don't overwhelm her with lots of strangers and people handling. Remember, she is just a baby. (01/23/2007)

By Linda
My New Puppy Won't Eat
Your puppy is so darn cute! What an adorable baby! Don't worry about her not eating right away. She is in a new environment and away from her doggie mommy and litter mates so she's a little stressed.
A dog can go weeks without food but needs water available all the time.
Give her a little time to settle down and she will eat.
Good luck with that baby! (03/20/2007)