This popular decoration for the Christmas holiday can be created at home. This guide is about nativity scene crafts.
By Dorothy 3
Here is my nativity stable my husband put together. He made it out of skids sitting up on end and put wafer board around the sides.
Below is a daytime shot of it.
By Dorothy from Friedens, PA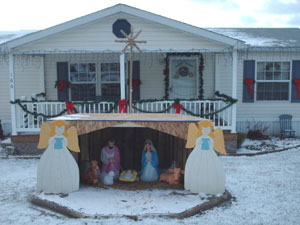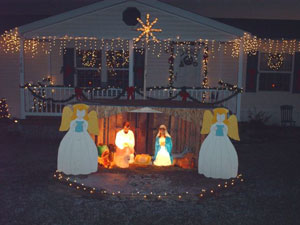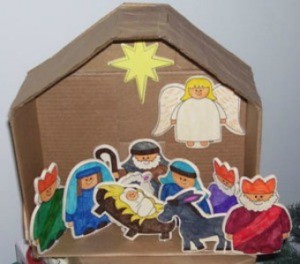 I got these little wooden nativity scene cutouts from Oriental Trading last season after Christmas. I re-found them this year, and decided to paint them up. Well, I didn't have enough paint colors, so I switched to markers and finished them up. They were originally ornaments, so I cut off the strings on top, and made this little diorama because we don't have a nativity scene to put under the tree.
I took a smallish cardboard box, cut the top and pieced it together to make it arched at the top. I then used a glue gun to arrange all the little figures in a scene, and made sure to cover up any logos or mailing info on the box. I did that by cutting up a small paper lunch bag and gluing it on top of the logos and such.
I'm really proud of the way this turned out! I might add a bit of raffia to make it look more "barn-like", but I'm really happy with the way it looks now as well!
By Jackie from Feasterville, PA
By Willie Q 9 2
To make this train station and town with a nativity set, you will need a sheet of plywood (4 x 8 feet) placed on two carpentry horses and covered with green felt cloth. Do your train set and add the houses and stores that you wish, like I did. Add roads by using sand in and out of the train set. Add ornaments, light posts, greenery, and place cars on the road. Now place the the nativity set wherever you wish, and finally add Christmas lights around. I did this for my grand-kids and they love it.
By WILLIEQ from Richmond, VA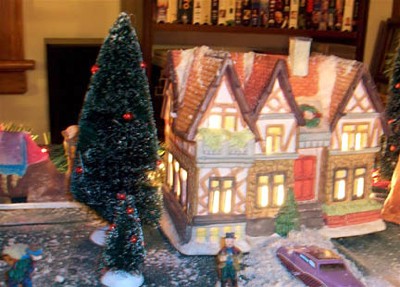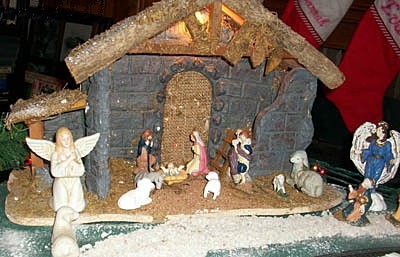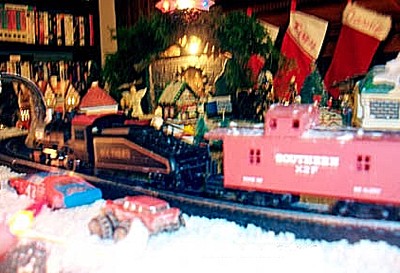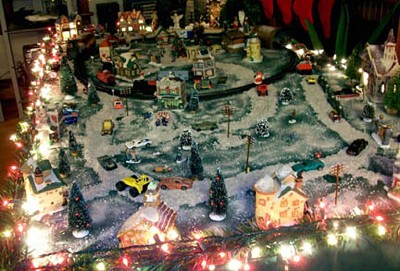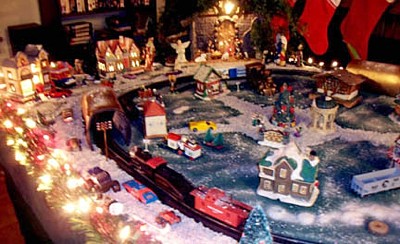 By melissa 13 25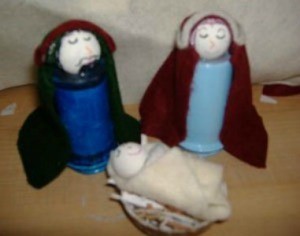 I was thinking I wanted to make a nativity when I saw my husband's empty medicine bottles. I thought these would make neat people. Then the idea came to me.
Approximate Time: 1 hour
Supplies
2 medicine bottles
1 larger lid
paint
glue
3 wooden balls
scrap fabrics
shredded paper
pens
cotton ball
Instructions
First paint the bottles desired color. Let dry. Paint the wooden balls flesh color. Let dry. Paint the lid.
Draw faces on balls. Turn bottles upside down. Glue a ball to each bottle. Glue the other ball to a cotton ball.
Make a garment for the figures. Make a swaddling blanket for the baby. Put shredded paper in lid. Glue baby to lid.
By Melissa from Bessemer City, NC
I used to make the nativity snow globes with my Sunday school class. Do you know where I can find those mini nativity scenes? The craft store where I bought them has closed. The pic below is one made into a clear glass ornament.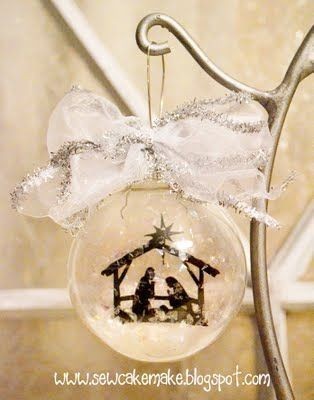 By Laura C. 1 2
Does anyone have any ideas for simple Nativity scene crafts to make and sell for a church bazaar? I work better in fabric, yarn, and felt materials. Other religious craft ideas would be appreciated, also.
By Laura J.