Does anyone have ideas for an office Christmas decorating contest? I can't find much information at all on the internet. I'm in an office with 4 women and one man. We'd like to do something fun and unique. Thanks for any ideas you might have!

Kathy from SD
November 30, 2008
0

found this helpful
Best Answer
My office has a decorating contest as well. This is my first year in this office too. I had not idea what to expect. So, in my usual ways, I went all out! I took a few photos, however they are not high quality due to my camera phone. My normal camera is broken. Maybe this will give you some ideas! (By the way, the sign on the front reads "FOR SALE BY OWNER 1(800)GUM-DROP". I thought it was fitting since I am a Realtor.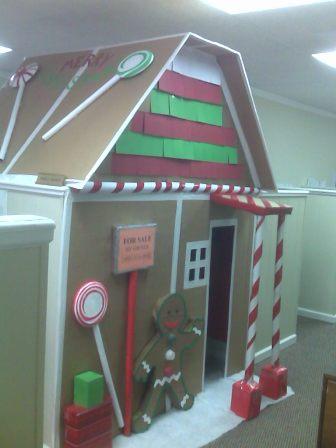 December 15, 2010
0

found this helpful
Best Answer
We won the "Winterfest" contest at our office by using the Gingerbread House theme. We had a gum drop roof, gingerbread men/women, a light post (making use of the light on the wall outside of our door), lots of fun!
December 15, 2010
0

found this helpful
Best Answer
Here is another view of our contest winner.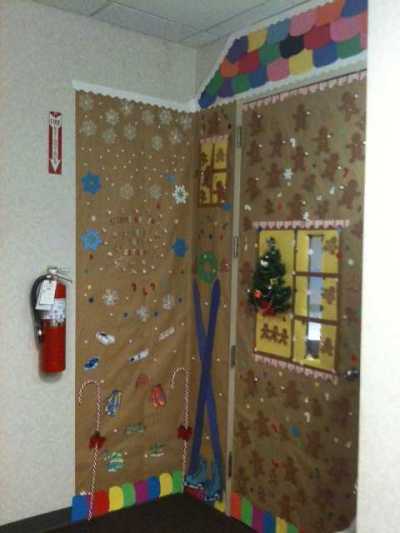 November 24, 2007
0

found this helpful
What about having everybody decorate an office door and give a prize out for the best decorated door? All of those doors that are not to an office are fair game, such as boardroom door, bathroom door, utility room door, for those who do not have offices! Then have 3 people not from your business come in and judge. We did this at my last place of employment and we had a blast!
November 26, 2007
0

found this helpful
I agree with Susan. At my husband's place of employment they have had a door decorating contest for the last three years. My husband won 1st prize the first year and Honorable Mention the second year. Last year he was sick for several weeks and didn't participate. This year they are having a "theme". All the doors have to represent a Christmas song. There are about 20 people that participate so there is a good selection of very lovely doors. The judges are not affilated with the company at all so no one can cry "fowl" or complain that the competition is "fixed". They have a lot of fun. The prizes are cash or gift cards. If you decide to do this let us know how it turned out.
Related Content
(article continues below)
November 27, 2007
0

found this helpful
Could anyone give me some great Christmas office door decoration ideas?
November 27, 2007
0

found this helpful
We have a grand contest in my office. I won last year...I did "A Charlie Brown Christmas", and the year before did "Winter Wonderland". People do many different types of decorations including traditional garland around the cube/office, battery operated candles, ornaments; another one that was cute for a girl getting married was "Wedding Winter Wonderland"; another person wrapped the wall of entire cube inside/out in wrapping paper. Finally, I remember someone did "Christmas from my dog's view" and he took pictures of different scenes downtown from about a foot off the ground and photocopied them in black/white and hung them up around their office. I need an idea for this year so if you can think of something else cute, please post.
November 29, 2007
0

found this helpful
A Charlie Brown Christmas....how absolutely priceless!Being in the South, we were able to bring in animals for a live manger scene one year---cute, but I would not recommend again as the sheep were quite messy, not to mention having to keep my office door closed and the background noises on conference calls! WHEW! Have you thought about using glitter? It sticks really well to post-it notes and adds such an elegant glow to office décor without the fire hazard of candles.
I am considering bringing in my 150 Snowbabies, but not sure if I can trust my coworkers and janitors with this precious collection. As an alternative, maybe I should bring in my grandmother's Precious Moments collection--this is the only thing the crazy old lady left me out of her estate, so I am quite bitter and would not miss them at all. Good luck with this year's competition!
December 1, 2007
0

found this helpful
Help! Its that time of the year again! :) and I am running out of ideas on how to decorate my patio. I live in an apartment on the second floor and I have rails, so its not a privacy patio. Any ideas on how to make it pretty with lights, theme, etc? Thanks
November 26, 2008
0

found this helpful
Could anyone give me some ideas for Christmas decoration for office? My office has a big warehouse, we are doing logistics and there is a theme using any 1 of the 7 wonders in world and make it a 8 wonders? Please help.
Read More Answers
I am entering a contest for decorating a Christmas tree. I work in a clinic with two doctors, one a OB/GYN and the other one a surgeon. Please give some ideas, we would like a theme reflecting our office.
By Jan from Mt. Pleasant, IA
November 19, 2009
0

found this helpful
Cut out several photos of females pregnant bellies, and glue on the back of a Xmas card. Punch a hole at the top, add some yarn and hang on the tree.
Correction to my post: Just their pregnant stomachs!
November 19, 2009
0

found this helpful
Why don't you mix regular ornaments/lights with the samples you get from the drug companies and pix from their brochures + pix of the staff. Even some plastic packaging? And cute pix of babies!
November 19, 2009
0

found this helpful
I like the idea of pamphyila's to hang office staff pictures or baby pics. I like small bows, lights and pine cones edged in white depending on size of tree.
November 20, 2009
0

found this helpful
Since it is a combo office, use items that fit both doctors. Perhaps baby items and maybe some baby pictures for the ob/gyn and maybe some instruments (toy or real) for the surgeon. Make it fun!
November 21, 2009
0

found this helpful
This seems cute
www.tamponcrafts.com/angel.html
November 23, 2009
0

found this helpful
When our kids were little, their pediatrician had the tree in his waiting room decorated every year with handmade paper ornaments with pictures of his patients; his staff saved them from year to year, and the kids loved finding their faces from Christmases past on them--maybe a take on something like this would be fun-- (Momma & new baby photos? Mommy -to-be- side views? Non-pregnant patients' head shots)?
December 7, 2012
0

found this helpful
Use the pregnant Barbie under the tree depending on how graphic you want it she can look like she is delivering, or in bed holding her newborn. Hang baby dolls on the tree. For the surgeon glitter wooden letters a cut above the rest with a small saw hanging near by.
We are going for the Grinch theme for office decorations this year. How would you go about decorating?

Missy from Alamogordo, NM
November 10, 2008
0

found this helpful
Is it going to be Dr. Seuss grinch or grinch as in real life grinch?
November 10, 2008
0

found this helpful
I would look to Whoville for inspiration. Bright colors, lots of texture. Think neon blue, neon green, bright pinks, shiny golds - I would use a lot of crepe paper garlands, lots of lights. You could spray paint twigs in bright colors to adjoin any garland going around the office. You could also use plastic bouncy balls to make oversize "ornaments" that were non-breakable.
November 10, 2008
0

found this helpful
definitely hang up some knitted xmas stockings on the walls with red and white stripes , nothing says xmas faster than xmas stockings, in the dr zeuss books there are a lot of stripy stuff,
i would also cut out large paper candy cane shapes and colour them in red & white i agree with the other poster about whoville and maybe watch the movie the grinch again for inspiration
November 10, 2008
0

found this helpful
I used this on my classroom door when I taught; a plain background, with maybe a few rips, and a simple hand drawn sign stating " Bah! Humbug! The Grinch stole my decorations!" Have fun!
November 10, 2008
0

found this helpful
Get some paper cups and label them "Grinch Poop" and fill them with green candies! You can find green candies at the local dollar trees, the stores that sell candy in bulk, or if you are really in a pinch...serve them as after dinner "poop mints" and use Green Tic Tacs!!
You can also visit this site. It's for teachers, and you can copy and paste and print this cute poem about how the grinch turned all the red and white candycanes to green and white!
http://www.teac .net/grinch.html
Enjoy!!

November 11, 2008
0

found this helpful
Reading your comments made me flash back to my childhood. We lived in an airbase in Charleston, S.C., and they gave out prizes to the best decorated houses. One year, for a family that wasn't around at Christmastime, the owners draped their exterior with Spanish Moss and had a 2x4 ft sign posted at the door, its letters done in drippy black paint, spelling out GRINCH. The won second place.