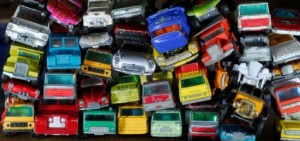 To keep those cars and trucks from getting scratched, it helps to keep them separated. This guide is about organizing toy cars.
Ad
---
Solutions: Organizing Toy Cars
Read and rate the best solutions below by giving them a "thumbs up".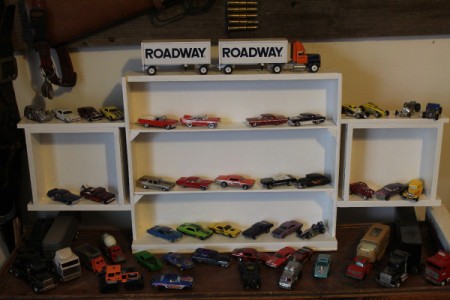 My wife is the queen of bringing home items from garage sales then having no idea what she will do with them, as is the case with these old desk drawers. I found them in a pile of stuff on her side of the garage. I remembered seeing somewhere that someone took old drawers and repurposed them into knicknack shelves. All I did was take three old drawers (one large and two small) and painted them. Then I attached them to each other and added a couple of shelves to the large one. Now I have a attractive display shelf for some of my Hot-Wheels die cast cars.
Approximate Time: 3 hours
By John [11]
My daughter just loves little cars. So instead of stepping on them each and everyday. I saved a bunch of the apple juice containers. Cleaned them out, cut a hole in the front of them and made her some "garages" to park her cars in when she is done playing with them. We have 6 "garages" of parked cars on her play shelf.

By Tracey
First go to any discount store and purchase see through fishing tackle type boxes of various sizes and place your child's toy trains, or hot wheel cars in them. Most of these have removable slots so you can easily customize yours if you are like me and have small trains and larger ones with tenders.
It is so neat and easy for your little one to find and put away and so much cheaper than a train carrying case or cars carrying case. I even drew my son's name on the front of the case and used Thomas stickers on his to personalize it. The trains are put away when he is not playing with them but yet he can easily find which one he wants if you are like me and have way too many trains. They are perfect stackables for shelves or under the bed storage but easy to find when your child wants that favorite car or train!
By Karen from Union, SC
Give a "thumbs up" to the solution that worked the best! Do you have a better solution? Click here to share it!