Organizing a Storage Building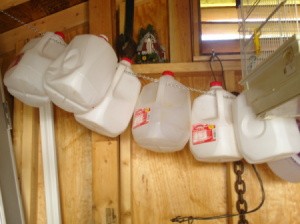 My husband has me save milk cartons and ice cream containers for him to use for various things. In order to keep them from cluttering his storage building, he threads them through a chain that runs from one end of the building to the other. Whenever he needs one of them, he just unhooks the chain, removes whatever he needs and hooks the chain back. He also uses hooks to hang items such as an unused birdcage and an assortment of baskets so that they do not consume valuable shelf or floor space in the building.
By VeronicaHB
Feedback
Post Feedback
Add your voice to the conversation.