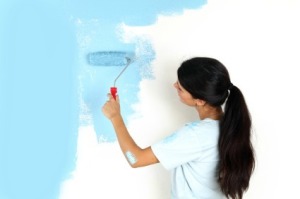 Painting walls stained with nicotine from smoking can be frustrating because it tends to bleed through the paint. This is a guide about painting over smoke stained walls.
Ad
---
Solutions: Painting Over Smoke Stained Walls
Read and rate the best solutions below by giving them a "thumbs up".
I have tried most of the solutions posted on different websites, and none have worked. I was convinced that I would have to use a stain blocker and then repaint the whole room. Then, while cleaning the bathroom with Kaboom foaming bathroom cleaner (the one that starts out purple then changes to white), I wondered if this might work.
I sprayed it on a small section of the wall, waited for it to change color then used a kitchen sponge mop to wipe down the section I had sprayed. Well to my surprise, it worked. Since it's a foam, you don't have to worry about it running down the wall. I then wiped down the wall with a water, dish soap (Dawn), and lemon juice mixture to remove any residue and odor that was left behind. I used two buckets, one with the cleaning mixture and one with just water to rinse out the mop head.
Give it a try, it just might save you the time removing furniture and the expense of the paint.
Give a "thumbs up" to the solution that worked the best! Do you have a better solution? Click here to share it!
Questions
Here are questions related to Painting Over Smoke Stained Walls.
Can I use the oil based Kilz and omit washing the nicotine stained walls?

Karen
AnswerWas this interesting? Yes No
Ad
---
---
Most Recent Answer
By Spacecase [11] 02/04/20120 people found this helpful
No mam you can not. Those walls have to be washed or even the oil based Kilz will not stick to it. If you don't, expect it to start crackling or start peeling with in one months time. Yes, oil base will stick to oil base, but it will not stick to oily dirt and grime from cigarette smoke.
---
How do I paint over nicotine stained walls?

Karen from Fayetteville, TN
AnswerWas this interesting? Yes No
Ad
---
---
Most Recent Answer
By Polly Levesque [28] 03/04/20090 people found this helpful
I've found that using microfiber cloths work beautifully using just plain water! Naturally, you'll need to change the water frequently, and do have more than a couple of cloths ready for the job. If you want, you can use them on a "Swiffer" handle. Just tuck the edge in as you would a wet Swiffer and you'll get plenty of power behind it. If you want, I remember a previous post which said that using "Scrubbing Bubbles" works great, so you can probably try that too.
---
I am painting a room which has been smoked in for 15 years. I have washed all the walls down, however, it keeps coming back even though I have put on 5/6 coats of paint.
By Kevin
AnswerWas this interesting? Yes No
---
Most Recent Answer
By Grandma J [54] 06/02/20120 people found this helpful
A smoking house hold can give many problems, that don't stop with the first could washings. We had our home professionally painted for the ceilings. The problem was there with the first room. Thank heavens they recognized it. Asked if there had been smokers in it. Yeah, the guy died because of his smoking habits. Special paints had to be applied. And then they continued to redo all the ceilings.

This is a 100 year old house where walls were plaster as well. No sheet rock. That could be another issue. Wall substance.

All my beautiful woodwork had to be cared for....nicotine still keeps coming out. Washing woodwork will give your rag the color of nicotine as well as the smell of it. Sealing it ever couple years helps. We have owned this house for 26 years and it still seeps out. Good luck.
---
I need to remove the smoke from my walls. I smoke cigarettes.
By Eleanor