Painting Over Smoke Stained Walls
Painting walls stained with nicotine from smoking can be frustrating because it tends to bleed through the paint. This is a guide about painting over smoke stained walls.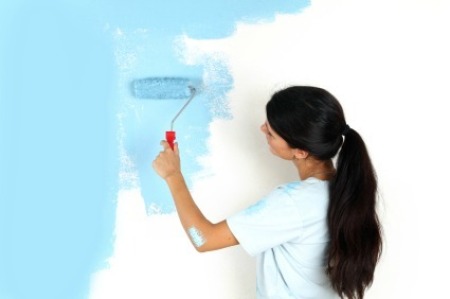 If you're planning on painting the interior of your home, consider adding ionic paint additive to the paint. It turns the walls into a permanent air purification system. The ionic additive will keep your home free of smoke odors and toxins. One treatment will remain effective as long as the paint on the wall surface is intact.
Source: Ion Effect
Link: http://ionicpaint.com
I have tried most of the solutions posted on different websites, and none have worked. I was convinced that I would have to use a stain blocker and then repaint the whole room. Then, while cleaning the bathroom with Kaboom foaming bathroom cleaner (the one that starts out purple then changes to white), I wondered if this might work.
I sprayed it on a small section of the wall, waited for it to change color then used a kitchen sponge mop to wipe down the section I had sprayed. Well to my surprise, it worked. Since it's a foam, you don't have to worry about it running down the wall. I then wiped down the wall with a water, dish soap (Dawn), and lemon juice mixture to remove any residue and odor that was left behind. I used two buckets, one with the cleaning mixture and one with just water to rinse out the mop head.
Give it a try, it just might save you the time removing furniture and the expense of the paint.
Can I use the oil based Kilz and omit washing the nicotine stained walls?

Karen
March 6, 2009
0

found this helpful
The house we moved into was completely covered with nicotine stains/smoke smells. I found that lightly spraying Scrubbing Bubbles would make the nicotine run off in streaks also as the first person stated with the TSP, and I could just wipe off easily. We went through many bottles of it, but saved a lot of extra elbow grease compared to other cleaners we tried at first.
March 7, 2009
0

found this helpful
Karen,
I just got done painting my kitchen cabinets. I sanded, cleaned them with "totally awsome" then primed them with Kilz. I had a horrible time covering the nicotine stains that kept coming through. I eventually had to primer, let it cure for 2 days then spray it down with green works All Purpose Cleaner (to avoid removing the fresh primer) and then repeat that process again before moving on to the painting process which I had to do the same thing... paint, let cure for a couple days, spray it, wipe of the nicotine that would surface and then repeat the paint process. It did end up looking good, but what should have taken 2 days ended up taking 14. I wish I would have been informed about TSP, I hear it works wonders... don't make the same mistake as me... CLEAN it first :)
March 7, 2009
0

found this helpful
No matter what you clean with, clean from the bottom up to prevent streaking. It really makes a difference!
March 12, 2009
0

found this helpful
Kilz is great. Oil based products will stink you out of the house, use latex instead. I did not know about TSP when I was dealing with the nicotine stained walls, but have used it since to help remove mold from my basement walls (concrete block) and prepare them for water-proofing. Also great stuff. I like the powder form over the liquid.
My grandparent's house is 50+ years old and has seen very heaving smoking. The walls were solid brown and I just could not deal with washing them. I applied one coat of Kilz and then painted. Looks great one year later with no bleed through.
I know ammonia is frowned on by some, but it was the only thing I found that would cut through the brown residue that was on everything in the house. I used it to clean the sealed brick fireplace as well as the cabinets (test first). I filled a trash bag (compactor variety is best) with ammonia and placed dishes and Tupperware inside and closed it up. Let it sit several hours or overnight in a kid/pet free location. I use this method to clean the racks and drip pans from my stove.
February 4, 2012
0

found this helpful
How do I paint over nicotine stained walls?

Karen from Fayetteville, TN
March 2, 2009
0

found this helpful
TSP is Tri Sodium Phosphate and will dilute the nicotine and clean it before you paint. If you don't, it will bleed through just like they said.
It not only cleans nicotine, but grease, and oils, food stains and more.
Doing this extra step will keep you from painting, then doing this and painting again.
March 4, 2009
0

found this helpful
The walls were so soaked with nictoine in my house when I bought it that when I tried to wash them the rag wouldn't slide on the wall but rather kept rolling up on itself!
But I persevered and I'm sorry, but so will you have to. If you don't get them clean first, it will always bleed through.
March 4, 2009
0

found this helpful
I had the same problem on my porch and I tried BORAX. I bought a box for under $5 and divided it between 2 large empty jars (1 for the kitchen, 1 for the laundry room). I added some BORAX to a bucket of warm water and also put some DRY BORAX in a small container. Wet the sponge/cloth in the warm water dip it in the DRY BORAX and scrub. I swear it was like magic - the nicotine stains disappeared.
March 4, 2009
0

found this helpful
I've found that using microfiber cloths work beautifully using just plain water! Naturally, you'll need to change the water frequently, and do have more than a couple of cloths ready for the job. If you want, you can use them on a "Swiffer" handle. Just tuck the edge in as you would a wet Swiffer and you'll get plenty of power behind it. If you want, I remember a previous post which said that using "Scrubbing Bubbles" works great, so you can probably try that too.
September 14, 2016
0

found this helpful
I am painting a room which has been smoked in for 15 years. I have washed all the walls down, however, it keeps coming back even though I have put on 5/6 coats of paint.
By Kevin
June 1, 2012
0

found this helpful
You say you washed the walls before painting. What did you wash them with? The best thing to use would have been a weak bleach solution or a cleaner such as Spic-n-Span mixed with hot water. You also should have sealed the walls with a coat of Kilz before putting on the first coat of paint.
June 2, 2012
0

found this helpful
A smoking house hold can give many problems, that don't stop with the first could washings. We had our home professionally painted for the ceilings. The problem was there with the first room. Thank heavens they recognized it. Asked if there had been smokers in it. Yeah, the guy died because of his smoking habits. Special paints had to be applied. And then they continued to redo all the ceilings.
This is a 100 year old house where walls were plaster as well. No sheet rock. That could be another issue. Wall substance.
All my beautiful woodwork had to be cared for....nicotine still keeps coming out. Washing woodwork will give your rag the color of nicotine as well as the smell of it. Sealing it ever couple years helps. We have owned this house for 26 years and it still seeps out. Good luck.
Related
You are viewing the desktop version of this page:
View Mobile Site
© 1997-2016 by Cumuli, Inc. All Rights Reserved. Published by
ThriftyFun
.
Page
generated on October 21, 2016 at 11:20:55 AM on 10.0.0.42 in 4 seconds. Use of this web site constitutes acceptance of ThriftyFun's
Disclaimer
and
Privacy Policy
. If you have any problems or suggestions feel free to
Contact Us
.