Perm Tips and Tricks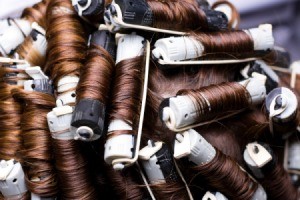 When you do permanents at home, you want to make sure you do it correctly to get just the amount of curl you want. This is a guide about
perm tips and tricks
.
Questions
Ask a QuestionHere are the questions asked by community members. Read on to see the answers provided by the ThriftyFun community or ask a new question.
I permed my hair last night. I have really long hair and used medium sized rollers. We followed all the directions as told. It didn't hold well though. I woke up to it being wavy and some parts even looking straight. My mom says she should've left it longer, but my grandmother thinks she should've used 2 boxes and left it on longer since my hair is so long. I'm wanting to redo it tonight. What do I do?
By Hali L
June 20, 2016
0

found this helpful
straightning with perm or curling with perm is still using the product so what youre saying is wrong ...her hair will break abit either way as shes still putting product on straight after a perm...
July 7, 2016
0

found this helpful
i recently went to get a perm professionally and i have the same results you have. it's a bad perm, i think you should try to find the best professionals
July 7, 2016
0

found this helpful
Your hair is just too long... cut it
Read More Answers
I am wondering how to perm just the ends of long hair?
January 15, 2017
0

found this helpful
Just don't roll your hair all the way
I got my first perm about 4 weeks ago. It looked fine when I left the salon, but when my hair started drying I was standing at the mirror watching my hair straighten right before my eyes. I have long hair so I thought maybe it was the weight of my hair that was straightening the perm out, so I laid down with my hair fanned out to lighten the weight. The next morning my hair was almost completely straight.
Related Content
(article continues below)
My hair dresser then redid my perm the next week and it looked awesome while it was wet, but once again I am not happy with curls. My hair is a lot more curlier than the first time, but not the spiral I was asking for. On some small areas of my hair it looks almost straight. Also, I lose the spiral to a limp crimp look after my hair completely air dries.
I was wondering how long would I have to wait to try again for another perm with a more experienced stylist? My hair stylist actually told me only after she rinsed my hair out, that I was her first long haired perm client. Please help me!
By Laur-el Dan
September 23, 2015
0

found this helpful
@ Laur-el Dan: OMG I was really hoping someone would have an answer for you, I am having virtually the same problem. I got a perm last night with my regular hairdresser at a salon, and this morning it is almost straight. I have had perms before, and they hold well in my hair. My wedding is two weeks away, now I am frustrated and clueless. I was counting on having curls Does anyone have any suggestions?
October 30, 2015
0

found this helpful
Strand test.Test curls.Taking smaller sections to fit rod size.Making sure the timing of activator <20 min. max>and neutralizer <7-8 mins>are followed there shouldn't be a problem. Do not wash style comb brush anything to pull on that curl during the first 3-4 days. As for planning and getting hair done before a major event try at least 1 month in advance. Good luck.
October 23, 2016
0

found this helpful
What happened to you was your hair dresser didn't use a strong enough perm she probably used a acid when she should of used a alkaline perm but if you have dye or highlights in your hair they was should of used the perm meant for treated hair but a way to bring up your curl get it trimed not much and you will see a difference it always comes back to life a few other things you can do is put your curl cream in and flip head over and blow dry it on cold it will close up your cuticle in our hair and stay
I got a flash wave perm yesterday and the hair dresser brushed my hair straight so she could trim it. It dried in the mean time. Will my hair not be as wavy as I wanted it since it will be like this until I can wash it?
July 5, 2015
0

found this helpful
Why not use a spray bottle filled with water, spray your hair and find out just how wavy it's going to be? And next time, perhaps ask your stylist to trim before perming?
July 6, 2015
0

found this helpful
If you are not happy with the result, you should return to your stylist. It is their responsibility to provide the result that you requested. If the stylist does not comply, take your complaint to the manager.
You paid for this service and should expect a good result.
I had a perm done late night two nights ago. We got done with it at about 2am. It looked great. I went home and went to sleep. When I got up I spritzed it with cool water put a little product in it and went about my day.
Then this morning I had to take a shower so I took a cool one so I didn't ruin the perm. I did rinse it. I was told that it was OK to rinse it as long as it was cool water. When I got out I ran my fingers through it to get most the tangles out. Then I used a wide tooth comb just like I was told to. As I combed it, it started going straight.
I thought maybe it was just because it was wet. I put a little curl creme through it and used a diffuser to dry it, exactly how I was told to. I flipped my head upside down and everything. Once it was pretty much dry it looked curly. Then when I was trying to style it and was using the wide tooth comb to pick out some of the tangles it just started flattening. Now most the curl is gone, it just looks like a frizzy mess.
I work at Sally beauty supply so I know about how perms work, but not a lot. We used a Quantum perm in the red box, just in case anyone knows that perm and how well it works.
So I was wondering a few things. Even though my hair was so curly the first night is it possible that the perm just didn't take? And if so, how can I get it to take? Can I even do another perm? My hair is pretty dried out. It's not falling out or anything, just very dry. Also we sell deep conditioners and things at my work, but if anyone knows any better way to also get more moisture in my hair that would be awesome.
By Julieanne from Asheville, NC
February 28, 2011
0

found this helpful
pmlparrott, just remined me of a situation a couple decades ago. I was working in a large upscale salon and one particular evening three perms were being done by three different stylists. The clients were all regulars and the same solutions for each were used as had been done for each before. Anyway, it was an extemely humid summer evening. All three of those perms had to be re-done. I am wondering if there were humid conditions in your environment the night you had your perm done? It wasn't humid inside the salon but it was very humid outside and one has to go outside to get home. Was it raining or moist snow conditions outside? Even with an umbrella the moisture in the air could have possibly affected your hair. Come to think of it, even alot of steam from the shower could affect the perm if not wearing a shower cap.
February 26, 2013
0

found this helpful
I just got a perm on Saturday 2:30pm. Conditioned only with hot water Monday morning 6:30am. Shampooed and conditioned this morning. I was told that I could condition and put product in, just not shampoo for 48 hours. And the only thing shampooing does is make it frizzy, my hair stylist said, it doesn't remove the perm. I made the mistake, I guess, of combing it this morning (I always towel dry my hair and then let it air dry before I comb it) which I wasn't told NOT to do, and it's frizzy and flat. :/ Guess we'll try again tomorrow! I'll try taming it while it's still wet, finger combing.
December 10, 2013
0

found this helpful
I'm a licensed cos. If the perm is that weak so soon then the first step was rinsed off too early, the curl wasn't fully formed. As for washing hair for a couple of days why would anyone want to do that after all the hair went through for the perm? Of course you can get it wet right afterward. I wouldn't shampoo it but wet should not be a problem that's what neutralizer is for. It re-hardens the hair that would normally take 2 days to neutralize naturally.
Other than that I have given plenty of perms, and then applied a little conditioner, blown the hair out, and hot ironed all in the same day. Older ladies have their hair done this way all the time with a semi permanent tint plus a lot of backcombing and hairspray same day too. When that hair gets washed again the curl and/or body will be there, if the perm was done right. Kids are different. They have immature hair and sometimes the perm does not take no matter or even worse it takes on one side of the head only. Better to wait.
Read More Answers
I got a body perm last week, but have no body at all. I have very fine hair and it's thin on top. I would like to get a regular perm right away. Is it too soon after the body perm? I use a semi-permanent color from Sally's. I need advise.
By Mary E
November 12, 2014
1

found this helpful
Talk to you beautician, providing you have one, otherwise my advice according to what different hair stylists have told me over the years you should wait quite awhile.
November 14, 2014
0

found this helpful
If you over-perm fine or thinning hair it can be disaster. Look for a beauty school in area if you cannot afford a regular salon, this needs professional advice. What wrong with giving your hair a rest, it gets tired just like the rest of your body. Think about it.
I recently got my hair permed, like literally about 10 or so hours ago. When we finished I noticed my left side of the hair didn't take the curl shape as much, it looked more like a wavy curl. But I didn't mind I thought it's wet maybe in the morning it'll look curlier. The rest of my hair looked good to me. I left went home and fell asleep. When I woke up I wasn't sure what to feel about my hair. It looks like if I left it braided at night and woke up with frizzy poofy braided curls, if you guys know what I mean. This is the first time I have gotten a perm and I was a little nervous because my hair normally doesn't hold regular curls so I was hoping this would do the trick. Guess not. Now I don't know what to do.
By Emily A. from Los Angeles, CA
October 29, 2014
0

found this helpful
I had a perm like that once. They had used a "cold wave" on it. The cold wave also left my head with a bad rash. Now, for the past 20 years when I get a perm, I have gotten a "heat wave". They are much gentler on your hair and scalp and work great every time.
October 29, 2014
0

found this helpful
Go back to your hair stylist, they can reverse the perm and your hair will be straight again. Do not have another perm for a few weeks.
I permed my hair like a month ago. It was a home perm where my mom helped me perm it. She did something wrong, but my hair had a little bit of wave. I'm planning to get it repermed, but I'm not sure if my hair will be okay with it. I mean I don't want to be bald or anything. Should I reperm it and take the risk or should I just let my hair grow out and lose the perm from the first time?
By Lauren M.
April 23, 2014
0

found this helpful
I have a sister that is a retired hair stylist and she always told her customers, myself included that you should only perm every three months. You wouldn't end up completely bald, you might lose some hair and I don't know about that, but perming more often is hard on the hair.
April 25, 2014
0

found this helpful
I had a similar situation awhile back at a beauty salon. The perm fell out in about a day, so I went back and talked with the stylist. She redid it the following week and there were no problems. Good luck to you!
I just had my hair permed. I searched for some tips already and it says that I need to use shampoos and conditioners that are suitable for permed hair (or something like that). I am actually from the Philippines and some of the products that I've searched are not found here. Is Sunsilk, both shampoo and conditioner a suitable hair care product for permed hair? Also, is Vitress a good moisturizer for permed hair?
By Singing97
April 1, 2015
0

found this helpful
Just go to your local store and read the labels on the products. You will likely find many choices - for colour treated hair, for permed hair, for oily hair, for curly hair, etc. If you can't find anything specifically for permed hair, get a product that is relatively gentle and also a creme rinse.
I have found that things such as Head and Shoulders (a famous brand of dandruff shampoo) are harsher on my coloured hair than other brands. On the other hand, if my hair colour is a bit brash, I find that it tones it down! But I digress! Just read the labels in your local stores.
I recently permed my hair and had a couple of mishaps. First my friend started the winding heat thing, before she wound my hair. The second mishap was I didn't leave the solution in long enough, so my tips are still straight. So I was wondering, if I could reperm my hair so I can do it the proper way? I'm scared that it can ruin my hair. Can I re-perm it now or should I wait for a week?
By Nicole
December 9, 2014
0

found this helpful
Actually you should wait a lot longer than one week. More like a couple months. Being your perm was a home perm that went bad, because nobody knew what they were doing, your best bet would be to go to a beauty salon and get their advice. I have a sister that is retired hair stylist and she instructed me real good on what to do and how long to wait between chemical processes and that is what a perm is. I used to do my own home perms back in the day when I lived in towns that didn't have a hair stylist anywhere near by. As a whole most home perms don't turn out anywhere near as well as going to a styling salon.
I got my hair cold permed yesterday and it went straight a day after. Can I get hot perm, digital perm, instead? How many days should I wait if that is possible? And what can I do or product to use before I get another perm?
I just watched a tutorial on Bantu Knot Outs, which caught my attention, but I wonder if there are other ways out there that could do the same and last as long? I already have a "curly" perm, but I want to maintain it. What are the best products, tips, ways, that you can use to maintain the curl and bounce of your hair without damaging it or making it excessively frizzy?
By Mrita
© 1997-2017 by Cumuli, Inc. All Rights Reserved. Published by
ThriftyFun
.
Page
generated on January 19, 2017 at 5:26:50 AM on 10.0.0.16 in 3 seconds. Use of this web site constitutes acceptance of ThriftyFun's
Disclaimer
and
Privacy Policy
. If you have any problems or suggestions feel free to
Contact Us
.