Plastic Bottle Top Container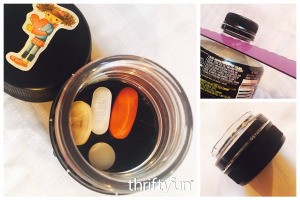 This is a guide about
making a plastic bottle top container
. Reuse a bottle top and 2 caps to make a handy pocket container.
Solutions
Share on ThriftyFunThis guide contains the following solutions. Have something to add? Please share your solution!
I love making these containers. I store everything in them, big and small, depending on the size of the bottles and caps I use. You can just stick them in your pocket or drop them in your purse and feel safe knowing the contents of the container won't fall out. All you need for this craft is an empty plastic bottle with cap, a matching cap from another bottle, a knife, and hot glue.
Total Time: 15 minutes
Yield: 1 container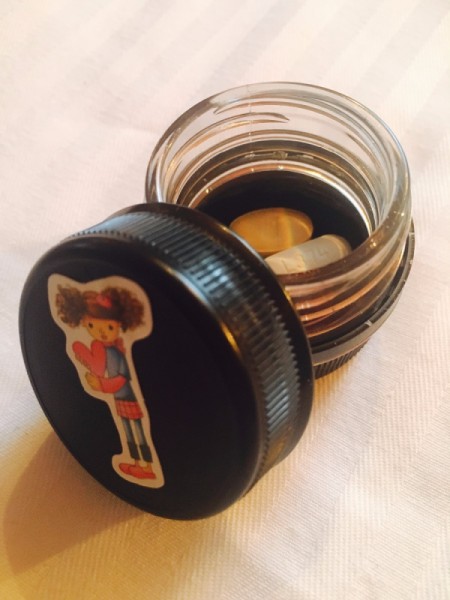 Supplies:
1 empty plastic drink bottle
1 matching bottle cap (could be a different colour, needs to be the same size)
serrated knife or scissors
hot glue gun with glue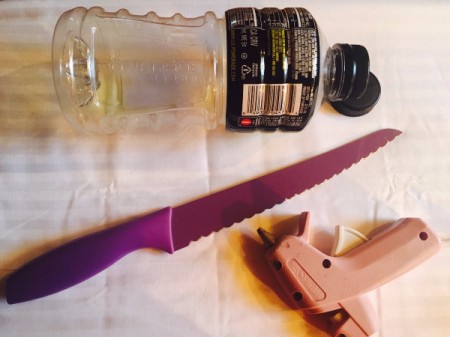 Steps:
Cut off the top of the plastic bottle at the neck. I used a serrated knife because the bottle I used was thick. You can use scissors if you have a thin bottle.

Warm up your glue gun. Line the inside of the unattached bottle cap with hot glue.

Attach the bottle cap to the other side. Squeeze to secure and let dry a minute or two. This will be the base of the container, untwistable.

Decorate the top that you will be twisting. I used a sticker in this demonstration. You can paint, bejewel, or write "open" to remind yourself that's the accessible side.

Fill your cute little container, twist on the top, and enjoy!
February 5, 2016
1

found this helpful
I love your idea, but be careful with meds. You should always carry meds in prescript bottles for legal reasons. I do like the idea. Many small things like beads pins for crating.
February 6, 2016
0

found this helpful
Cute!
February 6, 2016
0

found this helpful
I'm going to have try this! Looks like a great idea!
February 8, 2016
0

found this helpful
Cool idea.
February 8, 2016
0

found this helpful
Neat idea
February 10, 2016
0

found this helpful
Thank you, all! They are definitely handy. :)
February 26, 2017
0

found this helpful
What a great idea! I can think of all kinds of uses for these little containers, and will have lots of fun making them. Thanks!
Videos
August 9, 2016
0

found this helpful
Make handy containers for pills or other small items with recycled plastic bottles. Learn how to make them in this short video.
January 15, 2017
1

found this helpful
Another use I saw on Youtube was; Leave the cap on the bottle, cut around the bottle down a few inches from the top. Insert into a plastic bag and secure the bag with a rubber band around the top under the cap. Now you can remove the cap and use a funnel to pour liquids like left over broth or soup into the bag and refrigerate or freeze for adding to other foods or making gravy.
January 15, 2017
0

found this helpful
You can use a 1 or 2 liter plastic bottle to hold string or crochet thread or yarn for needlework. Cut around the middle section of the bottle twice, removing a section to shorten the bottle to the size you need. Sew or glue a recycled zipper around both halves of the bottle. (You can machine sew the zipper if you use a leather or Extra heavy duty sewing machine needle.) Drill or better melt a hole in the lid and insert the end of your tread or yarn. (For melting a hole, a small soldering iron used outside works great.) Place thread or yarn inside and zip up. I like adding a handle to the smaller three size bottles so I can hang it on my wrist as I crochet or knit. To add a handle, melt 2 holes just a little ways down from the lid, opposite each other. In each hole, insert an end of a washed recycled shoe lace, or ribbon, etc., tie a knot in each end so it won't pull threw the hole, adjusting the length so the holder hangs down a comfortable length for you. If your using these for yarn or large balls of crochet thread, or more than one color you can tie several bottles together instead of hanging them from your wrist. This keeps them from falling over as you do your needlework. Or cut the bottom of 2 bottles sew in or glue the zipper and just used as a container. Here's a link from Pinterest. https://www.pin 546424812744371/ Be creative!!
Related Content
In This Guide
Categories
Guides
More
Categories