When I adopted my two Poms in June, I had to have them shaved completely because they were terribly matted and there was no way around it. My female is starting to get her wonderful coat again, but the male is just getting hair on his back ; his legs and part of his rump have hair. Is this the way it sometimes grows back? Can someone help me ease my mind? I am terribly worried that my "Rusty" will not have all his lovely coat as before. Thanks.

Kathy from VA
August 7, 2007
0

found this helpful
Best Answer
I knew a woman 2-3 years ago who had a pom with a ratty looking coat; the dog was old, had been checked by a vet, nothing wrong. She looked at skin closely, thought she saw slight inflamation around hair follicles, started to use emu oil shampoo, and then emu oil. I came by to visit after some months and thought she had bought a new pup (figuring old dog had passed). Not only was it the same dog, but she had done same for husband (bald, nearing 80) and he had fuzz all over his head. They showed me....
August 12, 2007
0

found this helpful
Where can we buy Emu shampoo and oil?
August 13, 2007
0

found this helpful
I know you can find it on Amazon, but you might want to try a few other places first. I would start with the local farmer's market and the local natural foods store. They would be the most likely places. After that, try a beauty supply store. They might also have it.
Good luck!
December 27, 2008
0

found this helpful
Is your male pom neutered? If not, then this could be the cause. Look up either a typical cushings disease, or alopecia x. Usually neutering, along with certain supplements takes care of the problem. You can obtain more information by looking up Dr. Jack Oliver at the University of Tennessee.
I have a purebred Pomeranian that seems to have problems growing her hair. I have confirmed that she is a purebred pomeranian. Are they any ways that i can encourage her hair to grow? The attached picture is not of my dog but that exactly what she looks like but with shorter hair.
Sam from Rockhampton QLD
May 26, 2008
0

found this helpful
GIVE HER RAW EGG
MAYBE SOME FLAX OIL
MIX IN HER DOG FOOD
GOOD LUCK
CONFIDE IN GOOD NUTRISTION
PET CO
CHECK IT OUT
WATCH
WHAT U FEED HER NATURAL DOG FOOD NO CHEMICAL
IN HER DOG FOOD MAKE HER HAPPY READ YA INGREIDENT GOOD DAY TO U
MAKE SURE U
READ LABEL NO ANIMAL CRUETY
Meow I KITTEN
Doggone Funny Where That Dog lol
GOOD DAY TO U!
BLACKIE- N -
SPUNKY BOY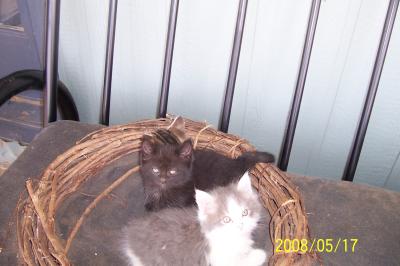 June 5, 2008
0

found this helpful
I have a pom and her hair is coming out in patches on her back. The vet give her an allergy shot but it did not help.This has been going on since winter.
August 29, 2008
0

found this helpful
Hi. If any of you want to email me directly with your problems I will do all I can to help you with possible answers and things to try.
zoe xxx www.pommania.co.uk
September 9, 2008
0

found this helpful
i had my pom groomed about 3 months ago and it is not growing back on his back. i am going to try the omega 3 oil in his food but i see that a lot of you had this problem but didnt state as to whether it was after a cut or not. he has been neutered for about 4 years now. the last haircut i noticed it didnt grow back as fast as the rest of his hair but this time it is just not growing out at all. any help would be appreciated.
thanks,
delores
September 10, 2008
0

found this helpful
I am having the same problem with my pomeranian. I shaved her, and now her hair is growing back in patches. I found some information on the internet. Apparently, sled dogs (close relation to poms) are prone to post-clipping alopecia. I took my dog to the vet, as well as this theory to the vet, and she told me this was correct. It is counter-intuitive, because apparently it is the skin's exposure to colder temperatures that slows/stops the hair growth....when you would think the cold temperature would make them grow more hair. My vet said the hair will eventually grow back, but in the mean time I can give my dog some Melatonin vitamins (you can get these at any natural food store). I have attached the information from the website....see below:
Post-clipping alopecia is a common condition found primarily in sled dogs (Samoyeds, Siberian Huskies and Alaskan Malamutes), Keeshonds and Chow Chows. After the hair is shaved closely, like when shaving the hair for venapuncture, surgery or wound management, regrowth is delayed for up to 6 to 12 months. Two theories are proposed as to why this occurs in sled dogs:
The hair no longer insulates the skin and the blood vessels constrict causing loss of blood flow to the hair follicles. This may be an adaptive mechanism to reduce the loss of heat from the exposed skin area in harshly cold climates.
Loss of the hair may cause a drop in temperature in the area that adversely affects the blood supply to the area.
Hair that eventually grows back in may be darker in color.
References:
Mordecai Siegal (Ed.) The UC Davis Book of Dogs. 1995, HarperCollins Publishers.