Preserving Old Prints
We have two printed pictures that are about 50 years old. They were my husband's grandfather's. I don't care for them, however, I'll never get rid of them : ) My husband loves them and we are trying to find a place to hang them. Is there a way to preserve them so we can hang them in the garage?
We live in central Oregon (non rainy side) and it gets hot, cold, and little humidity. Any sites to look this info up at? I found a lot of suggestions, but most didn't seem plausible. Thank you.

By Mindy from Terrebonne, OR
Answers: Preserving Old Prints
Read answers for this question below.
Thank you for the ideas. I never thought of making a copy of the print (both are very large) or a photo. My main concern is the pictures drying out - where we live moisture isn't the problem, it's the lack of it. But I think the first two posts have solved the issue. Thank you
I'd make a copy of them and hang the copies in the garage. That way, the humidity won't ruin the originals.
Mindy: I don't know how to preserve the photos, but I do know how to minimize the humidity. You can go to any Dollar Tree and find what is known as DampRid. It's crystals that collect the moisture in the air and converts it into a liquid chemical that is sealed in the bottom. The photo I am sharing is not from the DT but you can get this stuff anywhere that sells home improvement, it will just cost you more.

Another idea is to take a close up photo of it, donate it to somewhere that would be able to keep it dry. Then print out an 8by10 shot of it, frame it and keep it in the house.
I have done that with an over sized portrait I did and still have the art without the size.
I hope that helps.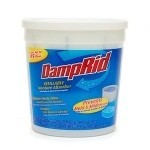 Answer This Question
Add your voice to the conversation. Click here to answer this question.
Related Guides
Related Posts