Pumpkin Walnut Loaves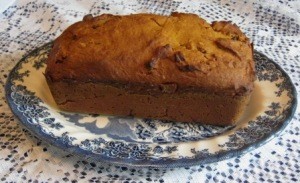 Just the right texture for a pumpkin loaf, the walnuts add a nice compliment to the pumpkin. Enjoy with a cup of tea! And you will be glad this recipe makes two loaves.
Ingredients:
3 cups flour
2 tsp. baking powder
1/2 tsp. baking soda
1 tsp. salt
3 tsp. cinnamon
1 tsp. ginger
1 3/4 cups white sugar
1 cup chopped walnuts
4 eggs
1 1/4 cups cooking oil (Crisco)
1 (19 oz.) can of canned pumpkin (not pie filling)
Directions:
Sift together the first 6 ingredients listed. Stir in the nuts.
In another large bowl beat the eggs very well, add oil, and pumpkin. Beat a couple minutes. Beat in the dry ingredients, adding a bit at a time.
Grease and flour two loaf size pans, bake in preheated oven of 350 degrees F for approximately 50 minutes or until done in center.
Cool in pans for five minutes before removing. Cool completely.
Wrap well, can be frozen.
Servings:
10 slices per loaf
Source: From an old cookbook called "Confederation Cookbook"
By linn from Canada
Feedback
Post Feedback
Add your voice to the conversation.
Related Guides
Related Posts