Read and rate the best solutions below by giving them a "thumbs up".
Mower Won't Start
My mower won't start and my lawn is getting out of control. It has gas. Anyone have some tips? I used it a few months ago. It's a 10 year old gas mower.

Thanks

Amy
---
RE: Mower Won't Start
Amy, Check the spark plug. Make sure the connection is tight with the age of the mower the plug wire may have gotten widened and needs pinched together to make the proper connection. Or you my just need a new spark plug. Hope this helps. (05/28/2004)
By Melissa1968
RE: Mower Won't Start
Change the spark plug & the air filter if it has one. WalMart & other places have them.They don't cost much.It's worth a try.It will have a spark plug,they don't all have air filters. I have to get a new filter for mine,it actually needs a carburetor too but right now money is a tad tight for that. Take name & if possible Model Number of mower with you to the store. (05/28/2004)
By Linne Dodds
RE: Mower Won't Start
It could be the spark plugs. Try making sure they haven't been knocked out of place. Also try cleaning or replacing them. I don't know the details cause I don't do this type of thing. You could also ask this questions at repair.com (05/29/2004)
RE: Mower Won't Start
Check the spark plug. Take it out and clean it and put it back. This usually works for mine. Also, the battery could be low.....hook up your jumper cables to the lawn mower battery and your car battery (Whatever you do, don't crank the car. The car battery is too strong for the lawn mower battery when crunk.) Or even better...if you have a battery charger, hook it up to it. Leave it hooked up a few minutes and then try cranking it. (06/02/2004)
By Needa
RE: Mower Won't Start
The air filter. If it is dirty you can crank on and have a really hard time getting it started (if you do) and most of them can be cleaned by washing them with gas, sgueeze out, replace and your ready to start and go. (06/09/2004)
By Wright
RE: Mower Won't Start
I took my mower in for service for this same problem. The fuel line was clogged - had to take off a plastic cover, remove some wires and then poke a long thin wire into the fuel line to clean it out. If you take it in, make sure the repair person shows you how to do this to avoid paying for a future repair. (08/21/2004)
By CarolP
RE: Mower Won't Start
If your gas is a little old, that can keep it from starting, too. Last season's gas never worked for me. Try getting fresh gas. (09/12/2004)
By David Graham
RE: Mower Won't Start
My mower is doing the same thing.. I changed the gas, spark plug, rebalanced the gas float, checked the oil, changed the oil, spit on it, beat it, played with it.. The darn thing won't start.. I assumed the lotus position to meditate and a voice spoke to me from above, it said, "Take the mower to a repair shop." I concurred, but later found out, it was my mother who told me.. Not some heavenly advisor. (07/22/2005)
By Murai
RE: Mower Won't Start
Try putting some fuel on the end of your spark plug, this can help it start (especially when it is cold). (01/01/2006)
By lawnmowerman
RE: Mower Won't Start
Push mower won't start? After eliminating foul gas, fouled spark plug, the fact that you are getting adequate spark to the plug, etc, try some of these. Look at your mower's air filter. In many cases your primer bulb ( if so equipped) is adjacent. Look beneath these and you should see a metal bowl with a nut under it. Remove this nut (the mower on it's side makes this alot easier) and gas should start to pour out. If not, the carbuerator should be overhauld by a repair shop. Be sure that any gas that does pour out is carefully caught and disposed of but make sure the gasoline is not old or corrosive. If so, flush the system with clean gasoline through the tank through the bowl. This might solve your problems, if not take it to the shop for a little experienced service. (03/11/2006)
By bubba mechanic
RE: Mower Won't Start Turn the mower over... clean all the gunked up grass off the bottom of the mower deck. You should do this every 2-3 times you mow. If there is too much grass built up it will not allow the blade to spin when you pull the rope, to start. ,P> Also some times tiny pieces get into the fuel line and will cause the mower to cut in and out unless you are a mechanic, find some who bleed the fuel line. ,P> Make sure the oil reserve is full this to on some mowers will not allow it to start. Lastly get a book on home improvement. Go ahead and laugh but they are so easy to use. I got one as a gift and have repaired my dryer, a washer a mower and my dishwasher. I have saved us hundreds of dollars in the past 10 years. I even made a few bucks helping neighbors with their appliances. (01/04/2007)
By Firedancer67
RE: Mower Won't Start
First of all,does the spark plug is firing? To check for this, unscrew the spark plug from the engine, let it plugged to the rubber boot and put in in a way that you can see if it creates a spark at the tip when you pull the starter rope softly (just to make engine move a little). Look for a semi-dark place to make it easier to see the spark.
If the spark plug fires try this. Put a little gas directly in the spark plug hole on the engine (this is over the piston). You can use about a teaspoon of fresh gas. Screw Spark plug in position and pull the rope several times to see if engines fires. If engine starts and stops immediately or if it at least makes a rough attempt to start, you have a carburetor problem. Check the reason why your engine is not getting enough fuel from carb. It may be dirt, stucked floater, kinked lines etc. Also, be sure to use fresh fuel and clean carb from old fuel. (03/26/2007)
By Josue
RE: Mower Won't Start
If you left your gas in for 6 months or more it has probably coated some parts with varnish (gas converts to a little varnish). First, try draining all old gas out. Then put in new gas. If it doesn't start, take it in to a shop. I don't know how you would clean it at this point but the engine has to be taken apart and cleaned. (04/02/2007)
By bulrush
RE: Mower Won't Start
On a 22" Craftsman 6.5HP - I tried what Rhonda suggested on the 4/7/07 post - pouring a bit gas into the filter hole - after a few minutes the mower started - Thanks! (09/23/2007)
By Tim
---
Mower Won't Start
My lawnmower won't start. I turn it on and it just keep spinning. I put a new spark plug in it. I checked the gas for water plus I drained it. Please help. Thank you.

Kimberly
---
RE: Mower Won't Start
Put a teaspoon of gas in the spark plug socket and it worked fine, Thanks (05/03/2008)
By Randy
RE: Mower Won't Start
FYI I have a 6.0 HP Briggs motor on my Snapper self-propelled mower. Engine model 12H802.
Thanks for these extremely helpful suggestions. After all of them I was still having issues and finally resolved this afternoon.
Replaced spark plug
Replaced air filter
Checked fuel line
Put gas into the spark plug hole and the engine fired up for 2 seconds with thick black smoke and then died.
Put gas into the carburetor after taking off the air filter. Same result. Engine started and died. So I knew that I had a fuel delivery problem. Took off the air filter plastic holder (3 screws). Be careful not to twist the hoses too much.
When the air filter holder is off then you can see the carburetor. I took off the carburetor (2 bolts) and flipped it over. You will see a metal bowl with a bolt in it. This 'bolt' is called the 'bowl nut'. Don't ask me why a bolt is called a nut. Take off the bolt carefully and slowly. Drain all the fuel out. Clean the holes in the bolt (one through from side to side and one from top to bottom which meets the side-to-side hole. Clean with a sewing needle very carefully. Also look into the carburetor area where you took the bolt out of and you will see two holes. Pierce those with the sewing needle and very carefully clean out all the gunk. If you have carburetor cleaner or can buy some, soak all these pieces in carb cleaner overnight (I did not do this). If you are feeling very adventurous take apart the entire carburetor, clean with carb cleaner overnight and then put back together (again, I did not try this).
Then finally put the bowl nut back and put the carburetor back. Fill fresh fuel, prime and it should all work.
The problem that I had was the very narrow (0.25mm) vertical shaft in the bowl nut was clogged (I had not used the mower in 2 years). (05/19/2008)
By burluasr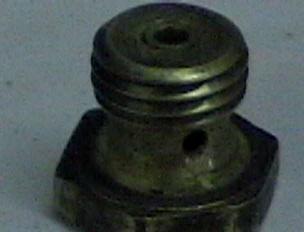 ---
Mower Won't Start
When I try to start my mower the first few times it seems to try to start, then the next time it's silent. What's wrong with it?
Shooter
---
RE: Mower Won't Start
Clean out the gas line; if this mower has been sitting awhile unused, it's possible the carburetor needs cleaning. (08/02/2008)
By Lorelei
RE: Mower Won't Start
If you do have a fuel problem (like leaving gasoline in the Lawn Mower for one winter season), flush the tank and lines preferably off of the engine. Remove the nut or bolt at the bottom of carb float bowl (leave carb on engine, if you can). Flush carb with fresh gas starting at where the gas comes into the carb till it comes out the bottom hole in float bowl. If the float bowl falls off, don't get excited. Clean it out while it's off and just make sure that you get the big round gasket back on the right way so the float bowl will not leak and put the nut or bolt back on.
Do not over tighten it. Finger tight, and if it still leaks use a 1/2 wench to snug it a little tighter till the leak stops. If you have left gasoline in longer than one season then you will most likely have to put a kit in the carb and that is not a problem, and they cost less than $5.00 (I paid $3.65 for mine). (08/13/2008)
By gas219
RE: Mower Won't Start
If it is a Riding Mower, such as a Craftsman, you might have to have the valves adjusted. They tend to loosen in a season. Some mowers may need to have carb. seated again. (10/06/2008)
By mike l
---
Mower Won't Start
I just tried to start my push mower and the cord is sticking, not pulling out all the way. Also gas is squirting out of the carburetor every time I try. The mower ran fine last week. What could this be?
Hardiness Zone: 8a
By Deji from Augusta, GA
---
RE: Mower Won't Start
My hubby says that the cord probably needs replacing. It could have grease on it or be worn. He also said that the diaphragm in the carburetor may need replacing. You might want to take it to a small engine place. (09/08/2009)
By quiltmum
---
Mower Won't Start
I have a Troy Built lawn mower. I have already used it this year, but when I went to use it today, it just sputtered and wouldn't start. There is gas in there, so I know that's not it. Any suggestions?
By L. Flood
---
RE: Mower Won't Start
We got it. Thanks anyway.
L Flood (05/16/2010)
By flood831
RE: Mower Won't Start
I have this trouble all the time. I remove the spark plug with spanner and see if the end is open and spray with CRC. Mine always works when I do this. Good luck. (05/18/2010)
By shellmax
---
Mower Won't Start
I have a 2010 Briggs and Stratton push mower that won't start. It has new gas, the carburetor is clean, and it has a new spark plug. Could it be the fuel filter, and where is that located?
---
Mower Won't Start
I have a pretty new lawn mower that won't start. The blade won't move and the cord won't pull freely.