Chinchillas can be raised as pets, but there are some special requirements to keep in mind if considering one of these beautiful small rodents. This is a guide about raising chinchillas as pets.
Read and rate the best solutions below by giving them a "thumbs up".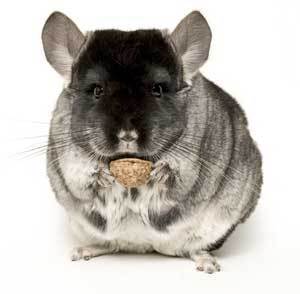 Description: Chinchillas are small rodents native to the Andes Mountain region of South America-Peru, Bolivia, Chile, and Argentina. Domesticated species have been bred from a species found exclusively in northern Chile that is easily recognized by its giant ears and long, bushy tail.
Size: Chinchillas weigh about 1 to 1.5 pounds.
Compatibility: Chinchillas should only be kept with other Chinchillas. Same-sex pairs are usually compatible, even more so if the pairs are introduced to each other when young or grow up together from the same litter. Adult males are very difficult to introduce successfully.
Appeal: Chinchillas are active and fun to watch and they have a soft, cuddly appearance. They are also clean and relatively odor-free.
Drawbacks: Chinchillas are less popular and less widely available than other small rodents. This, along with the scarcity of certain rare colors, can make them more expensive. They also require a more specialized diet. Although they look cuddly, they do not like to be stroked or handled as much as other small rodents like guinea pigs. They need suitable housing to stay safe from household hazards. They may bite if frightened.
Diet: Chinchillas require specially prepared commercial pellets designed specifically for them. They are often fed hay or alfalfa cubes to supplement their dietary needs. They should only be offered fresh greens in moderation or they will suffer from digestive upsets. Commercially prepared "small animal treats" are not recommended as they do not metabolize things in the same way as other small rodents.
Problems & Health Issues: Chinchillas can be susceptible to dental problems and may suffer from digestive upsets. Chinchillas are adapted to a mountain climate and may become overheated at temperatures above 75-80 degrees.
Lifespan: Chinchillas are long-lived for rodents, 10-15 years.
Interesting Facts: A Chinchillas gestation is about 111 days. Litters of 1-4 young are born and they are weaned at about 56 days.
By Ellen Brown
Give a "thumbs up" to the solution that worked the best! Do you have a better solution? Click here to share it!
<div align="right">
</div>
You may wish to consider a chinchilla as a possible pet. They are of the rodent family, (but it doesn't seem that way).

Also known as "chins" they have incredible velvety fur, and they resemble a chubby squirrel with Mickey mouse type ears. They are nocturnal, although they do get up and play a lot during the day. Chins are very smart and playful, and I'm told can be trained. They are also very clean, so their cage area doesn't tend to stink as many other types of caged animals can.

I got my first pair of chinchillas, as adults, a proven breeding pair. They were nice enough, but they never really did bond with us. We ended up having 3 litters total. They usually have 1-3 babies (also known as kits), and their pregnancy is 111 days (about 4 months), which is very long gestation period for an animal that size.

The babies are born fully formed, "ready to go" you might say. Fully furred, eyes opened, running around. They can even eat adult food almost from day 1, although they prefer to nurse.

Chinchillas eat prepared chinchilla food that comes in a pellet form. They also need 1 raisin a day (which they LOVE!). Every few days it's a good idea to give them a dust bath. You can purchase "chinchilla dust" at a pet store. You put it in a bowl and they dive in, roll and kick up a fuss, and is pure delight to watch. Company always love to watch "Ittle bittle" take her bath.

The real joy for us came as we kept one of the babies, we later sold mom and dad. She bonded really well with us, she was handled a lot from birth on. She has been one of the best pets I've ever had (of any kind of animal). She is playful, friendly, never bites, when she "barks" it's a quiet, cute kind of bark. A whole lot of personality and character she is.

Chins are more playful type pets, than a sit down lap type animal. I would recommend getting a baby if you decide to get a chinchilla. They usually run about $100 in the US for a pet, but that price can vary a lot. Try to purchase one from a reputable breeder.

Another very nice quality about chins as pets, is they have no claws or fingernails. They have these little soft pads on the bottom of their feet, so you don't get scratched. I wouldn't recommend them with small children however, as young children could easily hurt a chinchilla.

They have a life span of about 25-30 years. They do need to live indoors, or climate type controlled setting. Chins come in a variety of colors, but the standard gray color is the most common, and the other, more rare colors will cost more usually. Because of their very long life span, be sure you're ready for that commitment before getting one however.

I found when I was trying to sell the babies that most people had no idea of what a chinchilla was, or had even seen them. That made it a bit difficult to find homes at times, although with such few babies, this wasn't a problem. The people who did come to purchase a chin had this 1 thing in common: all of them had either owned a chinchilla previously, or had a close friend who did and had been around them. That really says something about this type of animal for a pet.

I would however, if you do decide to purchase a chinchilla, get only one and not a pair. If you have one, they bond much better to their human owner (you), than if you have a pair. That's probably the biggest reason why the original pair never bonded much to us, because they were so closely bonded to themselves.
About The Author:
By Valerie Garner - Mother, grandmother and candlemaker /owner of Joyful Designs in Soy. She loves to write on a variety of topics with a warm, and engaging style. http://www.joyfuldesignsinsoy.com
Feedback:
RE: Chinchillas As Pets
I have a chinchilla for a pet. Shay has been with me for four years now, and I have to say, I'm glad I got her. They may be a bit sneaky, but they're probably one of the best "rodent" type pets. I've actually trained mine to sit on my shoulder while I'm at the computer desk or in my lap, when I'm watching movies.

I completely agree with your statement about getting a pair and them bonding. My brother had 2 and he couldn't do anything with them. If I put Shay on the floor, he barely leaves my side! (02/24/2009)

By Syra Tempest