Do you get a blister on your hand when raking leaves? If so, try taping a piece of first aid cloth tape on your hand where the blister forms before you put your gloves on.
I have a callous on my thumb from many years of raking and blisters. Gloves have not prevented this from happening to me. This year, I put a piece of tape over that area beforehand. So far no blister and I have done a lot of raking.
I think this prevention method is going to work for me and I hope it will work for you as well.
By Litter Gitter from NC
November 18, 2011
0

found this helpful
I'm still using my big plastic baby pool for dragging the leaves off into the woods. The pool has a rope handle on it and it will hold a big pile of leaves. I also have a small pool that I use more often for cleaning up limbs, twigs and pine cones. I love my baby pools.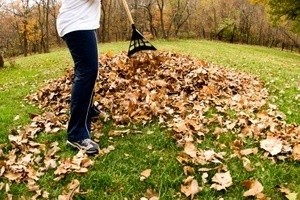 Part of keeping your lawn and garden healthy means that most of the accumulated debris, including fallen leaves, should be removed in the fall. Raking is still the most environmentally friendly option for removing fallen leaves, and the best way to get some exercise (the average person burns approximately 283 calories per hour raking leaves). Rakes are cheap, quiet, and they don't contribute to global warming. Here are some tips for making raking the lawn easier and more enjoyable.
Arm yourself with a good rake (and a good pair of leather gloves). A "clog-free" ergonomic rake with bent handles will put less stress on your shoulders and back because it helps you rake without bending over and leaves don't get stuck on the tines. There are also rakes with adjustable metal tines for reaching narrow areas like garden beds and in between plants, or rakes with wide fans to cover lots of lawn with each sweep. Make sure that the rake you choose has a comfort grip handle to reduce fatigue and prevent blisters from developing on your hands.
"Scrakes" are rakes designed to make detaching easier. In lieu of tine, scrakes have sharp, metal blades that cut through the thatch and help pull it to the surface. If you don't have a scrake, raking your lawn hard will work just as well. In fact, for thin layers of thatch (1/2 to an inch) using a rake is actually less damaging to your grass.
Not all leaves need to be raked up. Leaves left under trees and shrubs will provide winter protection and compost themselves. This means you'll need to use less mulch under trees and shrubs next spring.
For many people, raking and back-aches go hand in hand because suddenly you're using muscles you seldom use in your day-to-day activities. To help prevent back injuries, avoid standing in one spot while you rake. Instead, move your feet as you bend and twist. Try not to twist the trunk of your body as you rake. Instead, rake leaves straight back and move with the rake as you walk backwards. Switch hands often, take frequent brakes and drink plenty of water while you rake.
For easy bagging, rake leaves on to a small tarp. When the tarp is full, simply roll it up like a cigarette, stand the tarp on end, and funnel the leaves into a waiting bag.
The preferred way to dispose of fallen leaves is to compost them, or use them as mulch around landscape plants. To make leaf mold, simply collect fallen leaves, soak them in water if they are dry, then pile them in a corner of the garden and let them decompose. Rough, one year-old leaf mold makes a great mulch. After two years, leaf mold can be used as a soil amendment.
Lastly, if you have a small yard with only a modest amount of leaves, consider taking several passes over fallen leaves with your lawn mower. A thin layer of finely chopped leaves on the lawn will serve as a light protective mulch and will quickly be devoured by hungry worms.
October 25, 2008
0

found this helpful
This is good motivation for me to get out there soon with the rake.
Not to put too fine a point on it, but I think there must be some basic rules of leaf etiquette. For example --
Rule #1: if you get shade from your neighbor's trees in the summertime, don't complain when some of the leaves fall in your yard. Rake them cheerfully.
Rule #2: if you use chemicals in your yard, tell people that if they ask for your leaves for compost. Let them decide how organic they want to be.
Rule #3: Like snow, leaves can be slippery. Rake then off the sidewalk and steps so nobody slips.
Rule #4: Leaf blowers are obnoxiously noisy. Use a rake. Please.
Rule #5: Don't complain when the wind blows leaves into your yard. The same wind is blowing your leaves into someone else's yard.
Rule #6: Before you burn leaves, check with neighbors who might have asthma or other respiratory problems. Burn while they're not home.
Rule #7: Most important, watch for kids playing in leaf piles on the street and in driveways. Please.
Read More Comments