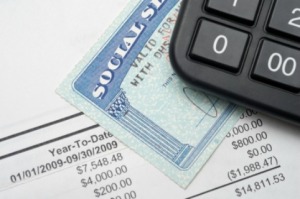 If a spouse or parent dies, you may be eligible for Social Security survivor benefits. This is a guide about receiving Social Security survivor benefits.
Ad
---
Questions
Here are questions related to Receiving Social Security Survivor Benefits.
My brother recently died and he has two children. Their mother receives their money now; she is not giving it to them. Can they switch it over to mother or I?
By KC
Ad
---
---
Best Answers

By April [185]02/16/2014
My children get ss since their father passed away. The money is for their food, their share of rent or mortgage, utilities, insurance, dental, eye glasses, class ring, yearbook, clothing, shoes, their share of a overnight trip if we take one, field trips.

If you look at the check, you will notice it is made to the adult whom they live with. Mine is made out to me, "on behalf of" their name. The money is not to be given to the children to blow. On the other hand, my kids are in high school now, so I am saving part for college, and I do give them each an allowance out of it.
---
Best Answers

By redhatterb [1]02/16/2014
Are the kids minors? As a whole the money is intended to support them, not for them to spend on whatever they want. Furthermore, it isn't needed for actual support, how do you know their mother isn't saving it for college? This is something like child support, which is intended to help provide the necessities that a kid needs, not to let them have all kinds of fun with it. Talk to your local Social Security Office and see what they say.
I am 18 years old with a 18 year old girlfriend. We have a beautiful daughter together that I love with all my heart. But here is the trick, I get a SS check for my father dying while I was still in school.
When my girlfriend gave birth I was forced to drop out to go to work to provide for them, but kept getting my check every month. I know this was wrong, but the check was the only thing getting us by. Now 9 months after I dropped out I have to file taxes for the year of 2013 and I'm worried.
What's the worst that could happen? and what are the steps to making it right? My family can't afford for me to be locked up and I just need advise. Please reply as quickly as possible. Thank you.
By a.m
Ad
---
---
Best Answers

By cybergrannie [30]02/28/2014
I certainly agree that you need to go to your SS office as soon as possible so you will know where you stand.

I would like to add that I applaud you for wanting to do the right thing as I know some people would not take this stand and just wait to see if they were ever "caught".

I do not know how much money you make each month but you may be eligible for some sort of assistance and even a small amount might help.

According to what solution the SS offers you, it may be wise to try and get some legal advise. Go to your local church and see if they can recommend someone to help you.

I hope they will let you pay it off in small monthly payments.
Good luck and please - go to your SS office and do not take advise from just "anyone".
---
Best Answers

By redhatterb [1]02/27/2014
Your best answer would be to talk to your local Social Security Office. My guess is you will be expected to pay all or part of it back. Didn't your mother advise you on what to do at the time you dropped out of school?
My father passed away when I was in the fourth grade. I'm just now graduating high school and am about to turn 18. I was receiving Social Security, he was also disabled when he died. Can I still receive it for college?
By Caleb from Chickasha, OK
---
Best Answers

By cybergrannie [30]02/28/2014
Hi - only the SS office can answer your question.
Be sure to take yours and your dad's SS numbers, as well as a copy of his death certificate.

You may not receive the same benefits but you may be able to get some money for college. Be sure to check with your school's counselor for the kinds of help you may be eligible for.

Good luck and please stay in college if you can.
---
Best Answers

By Brianna P.02/27/2014
You'll have to get proof of paternity through family court to get the father's name on the birth certificate. I'm going through it now even though my son's grandmother called right after his father died and they said to just come in. I don't need anything. Good thing when I got his birth certificate without his father's name, I called and figured out how to get it on there or I'd be waiting longer than I already have to. I have a court date next month then I have to make another SS appointment once I have the proof.
My niece lost her mother (my twin sister) 10 years ago, and we recently found out her biological father passed away 4months ago. I have guardianship of her now, and she is 15 years old. Can she receive benefits from her biological father as well or can she receive benefits in place of the amount she currently is getting from her mom's passing?
By Rachelle
---
Best Answers

By cybergrannie [30]02/25/2014
redhatterb is absolutely correct - the Social Security office is the only place that can give you the correct answer.

I can tell you this much from experience - You should be able to chose which person to receive benefits from so you should be able to choose the highest benefit. It will go smoother if you have their social security numbers.

You will only receive benefits from one person.
---
Best Answers

By redhatterb [1]02/23/2014
Call your local Social Security Office and talk to them. They are the only people that will know the correct answer.
My father died 3 years ago of cancer at a young age. Am I able to get his Social Security benefits? I am a single mom of two and I am having a hard time making ends meet. This would help me greatly.
By Julia
---
Best Answer

By redhatterb [1]01/21/2014
I'm not sure about this, but being you are an adult I honestly don't see how you would qualify for survivor's benefits from your late Dad's Social Security. It would be different if you had a spouse and he had died. Call your local Social Security Office and make an appointment to talk to them. You aren't the only one having a hard time making ends meet, there are a lot of people in that situation.
My father passed away 2 years ago and my mom receives survivor benefits for both me and my younger sister, who will be 16 next month. My sister is planning on getting engaged and the boy's mother will be her legal guardian. I don't understand much of the situation, so I apologize if this makes no sense. Will my mom still receive the benefits for my sister after this process takes place? She will still be attending school.
By Ash
---
Best Answer

By cybergrannie [30]04/21/2015
The persons involved in all of this will have to be the ones asking the questions - and - the Social Security office is the only place to get accurate answers.

Is your mother still receiving benefits for you as well?
It appears that your younger sister is almost 16 then your benefits will soon be ending?
Bear in mind that benefits are paid for care/support of the child until they reach 18-19 and are still in school.
I also believe the "guardian' has to be a legal action and benefits may change if the child marries.

All of these variables are the reason to go to the SS office for answers.
My brother is disabled and doesn't get a lot from a disability check of $740 monthly. He would not be able to live on it if something were to happen to my mother. If my mother were to die, can my brother collect her SS or survivor benefits? They live together now; my father is deceased.
By Denise
---
Best Answer

By redhatterb [1]04/19/2015
Your family should be getting your brother on a waiting list for a rent subsidized apartment. The rent for them runs roughly 30% of a person's income. Most apartments have a good portion of the utilities included in the rent. Also he should qualify for some food stamps.

Has he had any training on how to live independently? If not, he should be receiving some of that. He should know how to shop, do laundry, dishes, a little cooking. Is he working part time, which is something that he should be doing too, he should have a case manager to help him find a job. I have a 46 year old mentally handicapped daughter that lives with me and with our income combined, which both are Social Security, we get rent assistance for our apartment and when I am gone the rent assistance will automatically roll over to her. She has known how to do the laundry for about 20 years, it was a learning process because I knew someday she would have to do it on her own. She also knows how to shop for groceries and how to ask a store employee for help if she needs it. I have taught her how to load the dishwasher, and being she will be on her own in the near future, because I have a new health problem that will make it so that she has to become independent quite soon.

She also has a case managers that when I am gone they will help her pay bills, help her shop, etc. Being my health has taken a turn for the worse, I am also looking at different types of frozen foods that can be heated in the microwave so she won't have to mess with the stove. She has learned how to heat cheeseburger sliders that are in the frozen food department, you can buy french fries that can be heated in the microwave, single serve size pizzas that can be done in the oven or microwave, there is also something called scramblers that are scrambled eggs with diced bacon on some type of a crust.

You can buy small containers of potato salad in deli departments, franks can be heated in the microwave. There is a lot your brother is going to have to know, unless you are planning on taking him in. I don't know what kind of training he has had, but I get the idea from your complaint that he hasn't had a lot of training. My daughter is capable of living alone with the help of her case managers.

As far as help from Social Security goes, if your parents worked enough to draw Social Security when they die, your brother should receive a certain percentage in Survivor's Benefits. I don't know exactly how that is figured, I am going to have to call our SS Office and talk to them about that matter too. I do know the parents have to work a certain period of time in order to qualify.
My daughter's father died and she receives death benefits. I was wondering if she will still receive them if my new husband adopts her?
By Cyndie from Boone, IA
---
Best Answer

By cybergrannie [30]03/06/2015
Get correct answers at your Social Security office. Very easy to do but may entail a short/long wait - sometimes you can call and make an appointment but still may have a "wait".

I believe that if your daughter is adopted by your present husband her legal status will change and she will no longer be eligible for benefits from her "former/biological" father.

Rules change in all government services so please get your answers from the SS office so you can make an informed choice as to whether this is a good idea. I believe you really need to think about why/reasons you want to do this. Maybe discuss this with a representative of the family services division in your city as there may be other ways to accomplish your "reasons".
My father passed away and I received something in the mail that he is entitled to a little more Social Security, however they require my birth certificate which I can not find. It also states something about wanting the birth certificates of next of kin which would be my siblings, so could I just possibly use one or all of theirs and not mine?
By Jeff. O
---
Best Answer

By redhatterb [1]01/22/2014
Look up your state online and when you look at different parts of the site, it will tell you how to go about obtaining different certificates. There will probably even be a form that you can print out, fill out and send it to the proper address. Some states also have it set up that you can go to your county courthouse and apply for the certificates that you need. There will be a fee to obtain the copies and where I live that is $15.00 for each certificate.
I divorced my daughter's father 10 years ago. About 4 years ago I found out that my daughter qualified to received SS benefits because, I believe, her father was mentally disabled. The woman at the SS office wouldn't reveal what the circumstances were, but she had a look on her face like something was extremely unusual.
The ex was receiving SS and did not pay child support. My question is this; my daughter is turning 18 in June and intends on attending