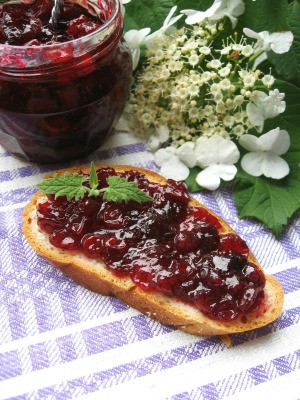 Cranberry sauce and relish is not just a condiment for holiday turkey. This page contains recipes using cranberry sauce.
Ad
---
Solutions: Recipes Using Cranberry Sauce
Read and rate the best solutions below by giving them a "thumbs up".
You can use canned cranberry sauce for the following ideas but I make my own and it works just as well. I absolutely love cranberries so I've naturally done all the ideas listed.
Soak raisins and chopped dried apricots in rum or brandy for half an hour. Add to cranberry sauce. Heat and drizzle over ice cream or frozen yogurt.
Season sauce with Worcestershire, chopped garlic, and basil or sage. Great over pork or turkey burgers.
Top a cocktail bread square or large, thick cracker with a slice of sharp cheddar. Spoon on a little cranberry sauce mixed with sliced green onion.
Stir cranberry sauce with chutney to give an added layer of flavor. Sprinkle with chopped cilantro. Serve with pork.
Finely chop candied ginger and stir into sauce. Spoon atop a big wedge of warm brie.
Partially fill frozen mini-tart shells with crumbed blue cheese or a flavorful grated cheese. Bake as directed. Top with sauce. Sprinkle with chopped fresh mint or parsley, if desired.
Mix in generous pinches of cinnamon, nutmeg and allspice to the sauce. Fill the centers of cored pear or apple halves and bake for about a half-hour at 350 degrees F.
Simmer sauce with a little curry paste. Excellent as a dipping sauce for kebabs.
Stir coarsely chopped clementines and finely chopped apple or pear into sauce. Does wonders for rotisserie chicken or pork chops.
Add dashes of Tabasco and a few drizzles of balsamic vinegar. Heat frozen meatballs and coat with sauce.
Source: Chatelaine magazine
By sooz from Toronto, ON
Editor's Note: What other uses have you found for cranberries and cranberry sauce besides turkey? Post them here!
I tried it the other day when I needed some cranberry juice, so, I tried it in the blender with one can of cranberry sauce and 3 cups of water, and it tasted great, it had a foam at the beginning, but, overnight, the foam was gone. The juice is still good tasting and clear.
Anyway, if the cost is good, try making a quart of cranberry juice. It has mostly only cranberries in there, and some corn syrup, so, some may not want that, but, in a pinch, and the price wasn't too bad, give it a try.
Source: I just thought I'd try it, and it does work well.
By kas2 from Rockford, MI
Last year Woman's Day magazine printed a fantastic holiday recipe made with jello, cranberry sauce, pineapple, etc. All ingredients were poured into paper muffin cups. Help. I lost the recipe.
By libra47 from Lisle, IL
Recently, someone posted a recipe for slow cooker pork chops in which one dumps a can of whole berry cranberry sauce over the chops and cooks it in a slow cooker. I thought I had saved it, but and can't find it. It was so easy and now I have the ingredients! Help!

CayC from Green Cove Springs, FL
Give a "thumbs up" to the solution that worked the best! Do you have a better solution? Click here to share it!
Archives
Thrifty Fun has been around so long that many of our pages have been reset several times. Archives are older versions of the page and the comments that were provided then.
I need (quickly) recipes to help use up some leftover cranberry sauce. I was to take 3 cans worth to a church dinner. I had some left over, and so did another lady who then put hers into my bowl.