There are many items that can be reused or refashioned to decorate your yard and garden. This guide is about recycled garden and yard art.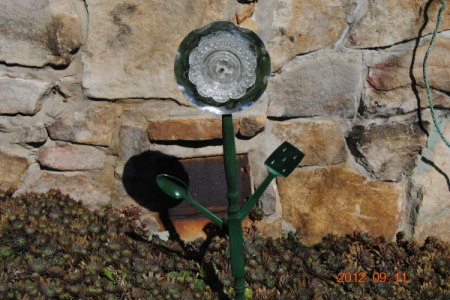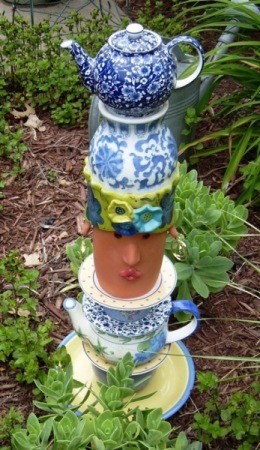 I had a corner of my garden that needed some color this spring. I saw some garden totems made of glass, but I wanted something with more color. I scavenged garage sales, thrift shops, and my own home and came up with this interpretation of my own. It gives my dull corner some brightness until the flowers start blooming. You can see a photo on my gardening blog under "Totem, Love'm":
By yoder178 from Elkhart, IN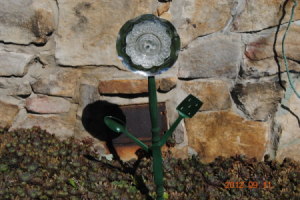 My brother made this for me out of my dishes from the attic, a spatula, spoon, and old spindle from a banister. Gotta love it. His touch was the metal around the flower.
Approximate Time:
Supplies:
spindle
2 dishes
spatula
spoon
metal for background
spike at the bottom
a few screws
spray paint
Instructions:
Drill holes in center of 2 plates and the metal.
Put a screw thru all 3.
Add spoon and spatula at angles an secure with tiny screws.
Spray paint it.
Now you have a cute yard decoration.
By bali from Summerhill, PA
Is there any way I can use hubcaps as yard art?

Betty from Lubbock, TX
---
Most Recent Answer
---
Does anyone know how to make yard art out of old broken rakes, shovels, etc?

Rolayne from Beasley, TX
---
Most Recent Answer
By Judy = Oklahoma 60 750 Flag
February 7, 2008
try this website, they have some of the most wonderful, creative ideas for making garden stuff out of junk. You can search their archives for what you want, or post a question for ideas -this is a great website, I spent days & days reading back through all the messages when I first found it - alot like I did with this group too,LOL!!
http://forums2.gardenweb.com/forums/junk/
---
I was going through the unsold items from my yard sale. I found some wooden art frames. They were beautiful. I used some of them as flower garden borders, and some I wrapped thread, yarn, etc. around and made a trellis out of it, it is leaning against the porch. I planted some morning glories.

I also stuck some dead branches I had cut off one of the trees, they were about two feet high and pretty thick, into the ground for a trellis. I like using natural things for trailing plants.

I am going to use some old shoes as hanging planters and hang them in the trees also.

By Racer