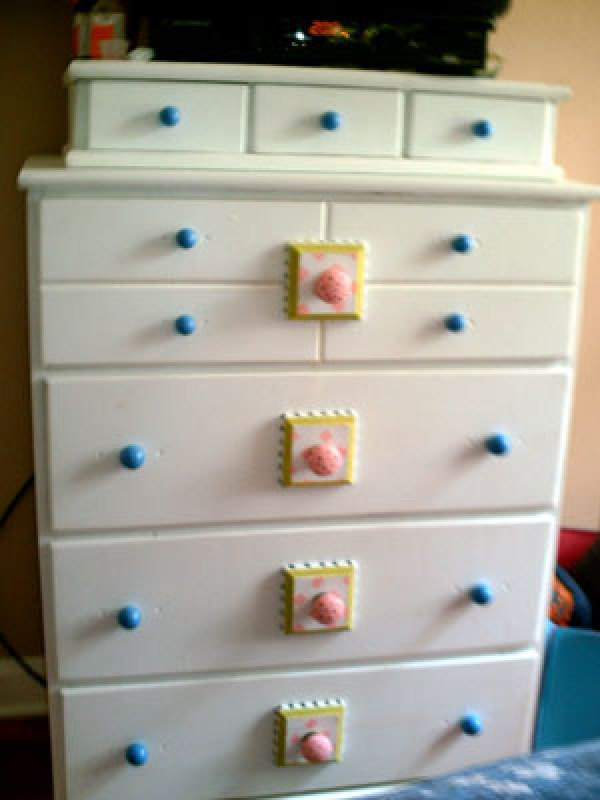 This dresser happens to be over 30 years old and was a hideous shade of brown. I simply painted the entire dresser white and removed all of the previous hardware. The knobs were purchased for about $3 for a bag of 12 or so. The decorative middle is a wooden square with another wooden knob glued onto the middle. This is now in my daughter's room.

By April from Albany, GA
Answers:
Refurbishing a Dresser
April - the dresser looks so cute! I have a similar one and want to do refinish it. What type of paint did you use? Did you sand and prime it first.
Thanks in advance, Mindy (05/17/2007)

By Mindy
Refurbishing a Dresser
Hi Mindy! I sanded the surface with the Black and Decker Mouse. Nothing hardcore....just surface sanding. I put one coat of Kilz primer on it, then one coat of some really cheap white paint I found at Big Lots. ($7 a gallon). Hope this helps...and good luck! Be sure to post pics!
~April (05/18/2007)
By Cali's Mom
Refurbishing a Dresser
I love that! (05/18/2007)

By Anonymous
Refurbishing a Dresser
Good job, I have a great appreciation for using a creative mind to recreate. (05/19/2007)

By Janet from Toronto
Refurbishing a Dresser
What a lovely dresser! I just saw a dresser that was at the curb for trash pick-up, I wish now that I had picked it up! (05/21/2007)