Remembering Birthdays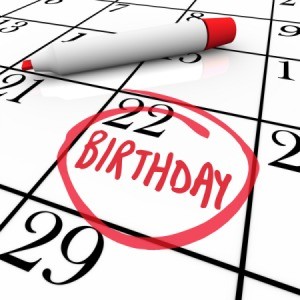 There are calendars, software programs, and other products sold to help us keep track of birthdays. This is a guide about
remembering birthdays.
Solutions
Share on ThriftyFunThis guide contains the following solutions. Have something to add? Please share your solution!
December 12, 2004
1

found this helpful
When the new year gets here, take a few minutes and go through your whole calendar writing in the Birthdays of people you will send cards or presents to. You can keep rolling this forward by using last years calendar to remember.

By Melanie
I send out a lot of birthday cards throughout the year, and have found this tip to be very helpful. At the beginning of each month, I check my calendar to see who all has a birthday that month. Next, I go to The Dollar Tree to purchase all the cards for those people (cards are 2/$1.00). I bring the cards home and fill them all out at one time.
I don't put the stamp on until the day I mail the card. The reason for this is: I use a pencil and write the date I want to mail the card right where the stamp goes (for example 12/22). You get the idea. I keep all the cards in a particular place, and add the stamp the day I want to mail them.
By Judy from Birmingham, AL
February 12, 2008
2

found this helpful
I went online to www.realsimple.com and they had a birthday organizer that you could download and print out, then I put the names and the dates of the birthdays on the months that were posted. I hung mine on the bathroom wall.
My daughter has some autistic problems and one is she likes to tear paper and she has killed my address book or calendar so many times. So now I carry a small calendar in my purse and have a small one by the microwave where I can get to and she doesn't really bother with it.
By Barbara from Shoemakersville, PA
Editor's Note: Here is the direct link to the birthday organizer:
Do you ever get to the store and wonder who has a birthday this month ? I have found to take a calendar with plastic cover works great. Inside the plastic, slip in the word BIRTHDAY so you can see at a glance what the calendar is for. Look at the month and, at a glance, you will see who all you need to buy a card, gift, etc., for. This way you will never think why did I not remember to pick up something for (name) birthday this month. You also might like to include anniversaries too
By Jodi from Texas
Questions
Ask a QuestionHere are the questions asked by community members. Read on to see the answers provided by the ThriftyFun community or ask a new question.
Does anyone have any good ideas about how to be sure you remember all the birthdays you want to send cards for? I put them on a calendar but then forget to look at the calendar!
Read More Answers
I am looking for a form to print to keep track of Birthdays, year at a glance style. Thanks for any help.
By guest (Guest Post)
July 29, 2006
0

found this helpful
i myself have it written on the calendar. when the new year comes i've copied any birthdays on new calendar from previous one.
By guest (Guest Post)
July 30, 2006
0

found this helpful
I keep track for family and friends by doing a list on Excel...I put in the months and then under that I list who's birthday it is and then the day beside it like: January
Tony-2nd
Bill-14th
So on....then I print it out. I keep it in an accordian file with holiday cards, envelopes.
Hope this helps.
August 5, 2006
0

found this helpful
I just write all the birthdays on my calendar. I am always checking my calendar anyway. That has worked for me. I usually go to Dollar General or some place such as that and buy up quite a few cards I'll be needing at once. I get the .50 ea kind but they are very nice. I also make some on the computer and I figure with card stock and envelopes, they probably cost me 11 cents plus a little of my time!
As part of my Mother's birthday gift in Feb. I had bought her this nice accordian type of file from Wal-Mart. It is vinyl coated I guess....it has atleast 12 areas. I also bought her a bunch of nice Birthday and other greeting cards at Dollar General. She sends lots of cards. Well let me tell you, she was very excited about this gift and thought I'd chosen some really nice cards that she'd be very proud to send. This file thing also had tabs where she could fill out the months of the year and then organize her cards by the month. I think this makes a good gift-giving idea but it works for anyone to keep on top of buying cards and sending them!
August 24, 2006
0

found this helpful
If you are good with the computer, or scrapbooking. You can make a book that does not contain the year, as calendars do. You only print the days of the month and leave space beside each day to jot down birthdays, aniversaries and any other dates you want to remember. Since it isn't an actual yearly calendar, it will work for every year and additions are easily jotted down. Be sure to include the extra day in Feb.!
I worked at a print shop and we made these birthday books for free gifts to customers. Very handy.
I also keep a box of various cards for occasions when I might not feel like getting out to buy a card. Most of the cards are blank on the inside and I write a sentament individual to the person.
August 2, 2007
0

found this helpful
You use a computer everyday so use the www.birthdayalarm.com it is free and it will e-mail you 2 weeks or a week in advance. you can add everyone. I use it and love it. I never miss a b-day
November 14, 2007
0

found this helpful
Elizabeth,I know your request is a little old but if you are still looking I got mine at:www,realsimple.com/birthday If you found a better one let me know but this on works fine.A hint:I use pencil on mine because I can erase and insert another.Happy Holidays,Keeper
I used to have a small book that had monthly pages where I could quickly see the special reminders and it had pockets to insert the cards needed for that month. I would like to know if anyone can help me find one?
Read More Answers
Related Content