Removing Melted Plastic from a Stove Burner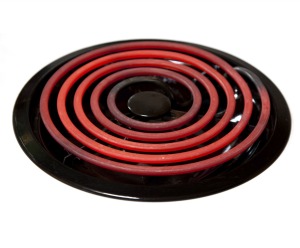 It happens, the burner on the stove is still hot and you accidentally put a plastic bowl, spoon, or even a bag on the burner. Too late you get it off, but the damage is done. This is a guide about
removing melted plastic from a stove burner.
Questions
Ask a QuestionHere are the questions asked by community members. Read on to see the answers provided by the ThriftyFun community or ask a new question.
My flat top stove had a spatula melted on the hot surface. How do I get it all off?


April 11, 2010
2

found this helpful
Best Answer
I laid a plastic grocery bag with 2 loaves of bread in it on the stove not knowing it was recently turned off. I went to get more groceries out of the car and came back to a very smokey kitchen and melted plastic all over the burner, the bread was also burnt. I had no idea how to clean it up. The next day I found this site and I am still amazed and relieved how easy it was to clean up with alcohol and a razor blade from my utility knife! I am also relieved I am not the first person that made that mistake! I felt pretty stupid!
By guest (Guest Post)
March 30, 2008
0

found this helpful
My daughter just placed a plastic paper plate on a burner I had just turned off. We only had our flat top a week! We just about had a stroke. However, I waited for it to cool down completely....jumped online and found this article. (Thank god!) I opted for the alcohol. After it cooled down I dumped alot of rubbing alcohol on it, barely touched it with a straight edge knife, and it flaked up like it was nothing! Thank you for the suggestions! Worked like a charm!
By guest (Guest Post)
December 9, 2008
0

found this helpful
Thank you guys so much! Not only does Alcohol work but, since I did not have any, I used some acne astringent that had 40% SD alcohol, & WORKED LIKE A CHARM. The melted plastic sort of crystallized and flaked right off.
October 28, 2009
1

found this helpful
Thank you! I managed to melt all the plastic off of a teapot. Alcohol, a razor blade, and baking soda made clean up less than an hour. BTW. If you have burning plastic on your stove top, baking soda will put it right out.
How do you clean a stove that has had a plastic bag melted on it?
July 25, 2015
0

found this helpful
Removal method depends on the surface type-glass, metal, etc. "how to clean stuff.com" has several methods.
January 16, 2015
0

found this helpful
I have an electric stove top burner with melted plastic on it. The plate is solid and not easily removed. I would like a solution that does not require burner removal.
By Martin J from Tucson, AZ
I had a plastic bag on the electric stove and I accidentally turned on the wrong burner. Now, I have bits of melted plastic on one of the electric rings. I have scrubbed and scrubbed and it won't come off. Please help!

Kate from Melbourne
By guest (Guest Post)
March 4, 2008
0

found this helpful
That has never happened to me, but if it did I would be tempted to take a straight-edged razor and carefully scrape away at the burnt-on plastic. I wonder if the remnants that are left could just be burned off by running the burner for a while (with a ventilator fan on, of course).
March 4, 2008
0

found this helpful
Have you tried using steel wool and Comet or Ajax?
By guest (Guest Post)
March 7, 2008
0

found this helpful
That's a tough stain to get rid of, what I did, and it worked pretty well, was to get the burner hot as heck and use a full sized wire brush to clean the burner, I won't say that it will take all os it out but it sure got rid of a lot of the stain.
March 7, 2008
0

found this helpful
How about a new burner ring?
By guest (Guest Post)
March 7, 2008
0

found this helpful
I did the same thing and tried almost everything to get it off with out much luck. It accidently slid into a sink full of soapy water with the dishes. I didn't notice it until I was almost finished. When I found it, the plastic was gone. I put it back in the receptical, after letting it dry for a couple of days and it worked fine. I wouldn't suggest dropping it in the sink, but you could try standing it up in a pan of hot soapy water and letting it sit until the water cools. Making sure you keep the element dry. It worked for me and it wouldn't hurt to try it.
Read More Answers
November 30, 2013
0

found this helpful
How do I remove melted plastic from electric stovetop?
By Richard
I melted a plastic strainer on the burner of my stove.
By Renee from Flushing, NY
February 13, 2010
0

found this helpful
I know this may sound awful, but what I usually do is turn the burner back on and while it is hot I get a wet dish cloth or a metal meat turner to remove it very quickly. It smells bad but it works for me, good luck.
A plastic freezer bag somehow got on a very hot burner of the smooth top stove and melted and burned. I tore away as much as I could, but still have lumps and streaks of the plastic on the top. I'm afraid to try to scrape it off lest I scratch the top.
By Virginia C.
April 22, 2013
0

found this helpful
Well, I have a slightly different problem. I had a plastic bag melt on my stove burner because of the heat from the oven. I thought I could get it off while it was warm, but didn't work. Any suggestions?
By Doris H
Related Content