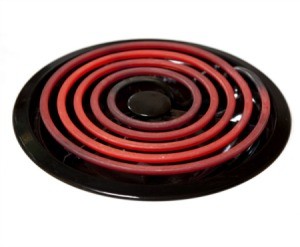 It happens, the burner on the stove is still hot and you accidentally put a plastic bowl, spoon, or even a bag on the burner. Too late you get it off, but the damage is done. This is a guide about removing melted plastic from a stove burner.
Ad
---
Questions
Here are questions related to Removing Melted Plastic from a Stove Burner.
My flat top stove had a spatula melted on the hot surface. How do I get it all off?


Ad
---
---
Best Answer

By Guest04/11/2010
I laid a plastic grocery bag with 2 loaves of bread in it on the stove not knowing it was recently turned off. I went to get more groceries out of the car and came back to a very smokey kitchen and melted plastic all over the burner, the bread was also burnt. I had no idea how to clean it up. The next day I found this site and I am still amazed and relieved how easy it was to clean up with alcohol and a razor blade from my utility knife! I am also relieved I am not the first person that made that mistake! I felt pretty stupid!
I had a plastic bag on the electric stove and I accidentally turned on the wrong burner. Now, I have bits of melted plastic on one of the electric rings. I have scrubbed and scrubbed and it won't come off. Please help!

Kate from Melbourne
Ad
---
---
Most Recent Answer

By (Guest Post)03/08/2008
HEAT THE STOVE RING AND WIPE WITH A THICK HEAVY DAMP RAG ONCE IT IS HOT IT SHOULD WIPE RIGHT OFF
How do you clean a stove that has had a plastic bag melted on it?
---
Most Recent Answer

By Dinah Ackerson [3]07/25/2015
Removal method depends on the surface type-glass, metal, etc. "how to clean stuff.com" has several methods.
I have an electric stove top burner with melted plastic on it. The plate is solid and not easily removed. I would like a solution that does not require burner removal.
By Martin J from Tucson, AZ
---
Most Recent Answer

By Dinah Ackerson [2]01/17/2015
A search online brought up many suggestions; you can try this site to start: http://homeguides.sfgate.com/melted-plastic-off-stove-burner-24706.html
I melted a plastic strainer on the burner of my stove.
By Renee from Flushing, NY
---
Most Recent Answer

By kathleen williams [23]02/13/2010
I know this may sound awful, but what I usually do is turn the burner back on and while it is hot I get a wet dish cloth or a metal meat turner to remove it very quickly. It smells bad but it works for me, good luck.
How do I remove melted plastic from electric stovetop?
By Richard
A plastic freezer bag somehow got on a very hot burner of the smooth top stove and melted and burned. I tore away as much as I could, but still have lumps and streaks of the plastic on the top. I'm afraid to try to scrape it off lest I scratch the top.
By Virginia C.
Well, I have a slightly different problem. I had a plastic bag melt on my stove burner because of the heat from the oven. I thought I could get it off while it was warm, but didn't work. Any suggestions?
By Doris H
Solutions: Removing Melted Plastic from a Stove Burner
Do you have knowledge about this guide topic? Feel free to share a solution!