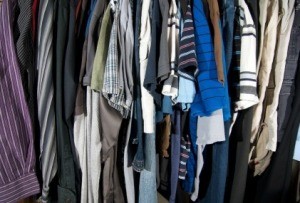 It is great that there is no moth damage on those clothes, but getting rid of the smell can be a challenge. This guide is about removing mothball odor from clothing.
Ad
---
Questions
Here are questions related to Removing Mothball Odor from Clothing.
How do I get rid of the moth ball smell on clothes?
By Scott from Boise, ID
Ad
---
---
Most Recent Answer

By Ms. Hattie11/25/2014
I had washed this winter shirt about 5 times & could not get the smell out. You suggested vinegar & someone else also said baking powder! I did them both and it worked! Thank you so much.
How can you get the smell of mothballs out of a natural sheep's-wool lining of a leather jacket?
By Fitschen from IN
Ad
---
---
Most Recent Answer

By Sheilah Link [5]11/05/2010
Just hang the item somewhere with air circulation, nearly empty closet, doorway, etc. and the odor will disappear in a few days. It might help to turn the jacket inside out.
I bought brand new Playtex bras second hand. The catch is I can't get rid of the mothball smell. I've tried vinegar and left it in water over night. Yet the smell is still there. Any answers?

Manon
---
Most Recent Answer

By Lyn11/12/2008
To clean the moth ball smell from scarves, I used Johnson's Bedtime Bath cleanser for babies. I put some in a sink full of water and soaked the items for about 30 minutes and then scrubbed and rinsed. They came out smelling pretty strong at first, but I let them air dry and after the second washing in the machine, smelled like everything else.
I bought the most adorable purse and it arrived reeking of mothballs! The purse is made of plastic. All suggestions are appreciated!

---
Most Recent Answer

By Donna [245]05/27/2015
Yeah, they are stinky aren't they? You need to remove the smell rather than try to mask it... since it may only smell worse!

I would try airing it outside for as long as possible, then possibly filling the bag directly or make a cheesecloth full of baking soda, tying it shut and leaving it in the bag to absorb some of the odors. You may need to change the baking soda a few times.
Leaving it in a sealed plastic bag in the freezer with the baking soda may help as well.
Good Luck!
I have a fur jacket that has been handed down to me, but it smells of moth balls. How can I get rid of the smell?
By Christine S
---
Most Recent Answer

By suesieQ11/05/2014
Spray with vinegar & water, 50/50 mixture until it's well wet. Then, leave it out in the fresh air to dry. Repeat the process until the odor is gone. However, if this doesn't eliminate the smell after a couple of tries you could also try using baking soda water, again, a 50/50 solution and let it air dry as well. Leave it out in the air for several days, as fresh air helps more than anything else. The combination of both treatments should work, but then dry cleaning would be an easier remedy - just a lot more costly.
How do I get rid of mothball smell on clothing? I have tried lots of fresh air, but the jacket still overpowers the senses. It is dry cleanable, but I do not want to spend the money if it won't come out.
By Bobbie D
---
Most Recent Answer

By Ace [3]07/29/2013
Hope this works: Put the coat on a hanger and put it outside on a nice, sunny day. The sun will help. I had lost my leather jacket and when I got it back, it smelled awful. I did not want to dry clean it. I put it in the sun for a day or two and it was fine! Try it to see if this works. It can't hurt!
How do you get mothball odors out of your clothes?
By Christelle
---
Most Recent Answer

By Sheilah Link [5]06/11/2012
Usually just airing them for a few days will take care of the odor. I have heard that using a clothes dryer set to air fluff will speed the process. I usually put mine on hangers and hand them where the air will circulate around them. I suppose you use a fan to help.
Solutions: Removing Mothball Odor from Clothing
Do you have knowledge about this guide topic? Feel free to share a solution!
Archives
Thrifty Fun has been around so long that many of our pages have been reset several times. Archives are older versions of the page and the feedback that was provided then.
Last night while visiting my sister-in-law in her new home, she asked if I knew of any way to remove the smell of moth balls. Having their clothing packed for a few months, she added moth balls, not thinking of the consequences of that awful smell. She is now desperate to get rid of the odor from their clothing. Any Suggestions?

Lorri from Cumberland, MD

Answers:
--
10/30/2004
Have you tried Frebreeze? hanging them outside in the rain? taking the to the cleaners? I would try the first two before taking them to the cleaners. I had a comforter once like that. I think I hung it outside through a couple of rains. GL
By seeled (Guest Post)
--
02/08/2006
try washing with added baking soda and rinsing with added white vingar in the rinse water. it has always worked for me to use these to remove odors in laundry.
By brenda thompson
I put a bunch of clothes in a plastic container and then put in some moth balls since I was storing them in the basement. Now that I need to get into them they stink and washing them does not remove the smell. Can I soak them in anything to remove this smell permanently?
Misslilly from Holden, MO
---
Request: Removing Mothball Smell From Clothes and Coats
RE: Removing Mothball Smell From Clothing
The smell is actually a gas so airing them out is the best way I would think. I have the same problem and I am going to hang them out for a few days. (09/25/2006)
By kathleen
How do you remove the Moth Ball smell from clothing? I have just purchased some nice second hand clothing, which have been stored in moth balls. I have washed them in washing powder and Eucalyptus Oil but the smell is still there.
Jackie Y from Adelaide, Australia
---
RE: Removing Mothball Smell From Clothing
(format_html) How do you remove mothball smell from clothes?
VJW from Lakeland, FL
---
RE: Removing Mothball Smell From Clothing
The best and least expensive way to remove mothball odor is to put them outside and let the clothes air. It may take some time but the smell will go away. (11/02/2006)
By Dean
RE: Removing Mothball Smell From Clothing
Put them in your dryer on air dry with no heat, and toss in a few sheets of fabric softener and tumble for 20 minutes. The clothes will not smell of moth balls. (12/19/2006)
By Donna
RE: Removing Mothball Smell From Clothing
I bought some beautiful sets of sheets at a garage sale a few summers back and just packed them away in a plastic bin. When I went to go use them they wreaked of mothball smell! I washed them, put them in the dryer and hung them out side on the clothes line! Nothing worked. So I just packed them away again. Several years later I had to move and needed to decide what to do with these beautiful but very smelly sets of sheets! So just just dumped them on the front porch for a while, in freezing cold temperatures! Now they don't smell anymore! Fresh air, and lots of it seems to be the best thing! (10/26/2007)
By A. Verdonk
RE: Removing Mothball Smell From Clothing
Mothballs, Febreeze, fabric softeners, and dryer sheets are all very toxic. It will not protect you from the toxicity of mothballs to cover up the smell with other toxic scents. The best remedy is hanging outside but a vinegar rinse is a good start before hanging. I hang my things in the garage during winter months and even that seems to help. Add the vinegar to the rinse water as it will "fight" with any soap or detergent you use if you wash the item first. (10/30/2007)
RE: Removing Mothball Smell From Clothing
Use baking soda, it takes a while to get rid of the odor, but it works. (07/31/2008)
By Old Man
RE: Removing Mothball Smell From Clothing
Oh my, the hardest odor to remove, and very toxic. I just fill the washer, add a couple of cups of white vinegar, add the clothing, rotate a few minutes, then stop machine and let soak for an hour or two. Since you have already washed, just turn the machine on to complete the cycle. Have never heard of vinegar "fighting" with soap, but if some scent is still left, hang outside.
I have to laugh at people who spend their good money on all those odor remover products. I buy a gallon of white vinegar for about $1.75, and leave it by my washer. Anytime I detect odor in the laundry, I just add maybe a quarter cup, and all my laundry is odor free. I have also used it many times when shampooing carpeting, and any other odor problem. The owner of the Vinegar Co. says the law will not allow them to say it deodorizes and disinfects, but it's great and cheap. I have rental property and when they move, I grab the vinegar with my other cleaning products. LOL Ellen (08/20/2008)
By Ellen
How to remove the smell of moth balls from clothes. It's easy and costs nothing (providing you have a steam iron). Wash the garment then iron at the relevant setting.
I cannot get the smell of mothballs out of my clothing. I've washed them twice, hung them outside for 2 weeks, and just washed again with vinegar in the wash to no avail. Help!
By DorisB from Taylor, MI
How do I get the mothball smell from my clothing? I've washed them 4 times.
By Donna from Athens, AL