Removing Mothball Odor from Clothing
It is great that there is no moth damage on those clothes, but getting rid of the smell can be a challenge. This guide is about removing mothball odor from clothing.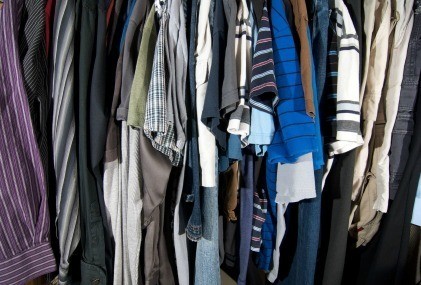 By Scott 1
How do I get rid of the moth ball smell on clothes?
By Scott from Boise, ID
---
Most Recent Answer
By Ms. Hattie 1 Flag
November 25, 2014
I had washed this winter shirt about 5 times & could not get the smell out. You suggested vinegar & someone else also said baking powder! I did them both and it worked! Thank you so much.
---
By Fitschen 1
How can you get the smell of mothballs out of a natural sheep's-wool lining of a leather jacket?
By Fitschen from IN
---
Most Recent Answer
November 5, 2010
Just hang the item somewhere with air circulation, nearly empty closet, doorway, etc. and the odor will disappear in a few days. It might help to turn the jacket inside out.
---
I bought brand new Playtex bras second hand. The catch is I can't get rid of the mothball smell. I've tried vinegar and left it in water over night. Yet the smell is still there. Any answers?

Manon
---
Most Recent Answer
November 12, 2008
To clean the moth ball smell from scarves, I used Johnson's Bedtime Bath cleanser for babies. I put some in a sink full of water and soaked the items for about 30 minutes and then scrubbed and rinsed. They came out smelling pretty strong at first, but I let them air dry and after the second washing in the machine, smelled like everything else.
---
By Michelle68 1
I bought the most adorable purse and it arrived reeking of mothballs! The purse is made of plastic. All suggestions are appreciated!

---
Most Recent Answer
May 27, 2015
Yeah, they are stinky aren't they? You need to remove the smell rather than try to mask it... since it may only smell worse!
I would try airing it outside for as long as possible, then possibly filling the bag directly or make a cheesecloth full of baking soda, tying it shut and leaving it in the bag to absorb some of the odors. You may need to change the baking soda a few times.
Leaving it in a sealed plastic bag in the freezer with the baking soda may help as well.
Good Luck!
I have a fur jacket that has been handed down to me, but it smells of moth balls. How can I get rid of the smell?
By Christine S
---
Most Recent Answer
November 5, 2014
Spray with vinegar & water, 50/50 mixture until it's well wet. Then, leave it out in the fresh air to dry. Repeat the process until the odor is gone. However, if this doesn't eliminate the smell after a couple of tries you could also try using baking soda water, again, a 50/50 solution and let it air dry as well. Leave it out in the air for several days, as fresh air helps more than anything else. The combination of both treatments should work, but then dry cleaning would be an easier remedy - just a lot more costly.
How do I get rid of mothball smell on clothing? I have tried lots of fresh air, but the jacket still overpowers the senses. It is dry cleanable, but I do not want to spend the money if it won't come out.
By Bobbie D
---
Most Recent Answer
July 29, 2013
Hope this works: Put the coat on a hanger and put it outside on a nice, sunny day. The sun will help. I had lost my leather jacket and when I got it back, it smelled awful. I did not want to dry clean it. I put it in the sun for a day or two and it was fine! Try it to see if this works. It can't hurt!
How do you get mothball odors out of your clothes?
By Christelle
---
Most Recent Answer
June 11, 2012
Usually just airing them for a few days will take care of the odor. I have heard that using a clothes dryer set to air fluff will speed the process. I usually put mine on hangers and hand them where the air will circulate around them. I suppose you use a fan to help.
© 1997-2016 by Cumuli, Inc. All Rights Reserved. Published by
ThriftyFun
. Page generated on February 6, 2016 at 11:02:17 AM on 10.0.1.70 in 1 seconds. Use of this web site constitutes acceptance of ThriftyFun's
Disclaimer
and
Privacy Policy
. If you have any problems or suggestions feel free to
Contact Us
.