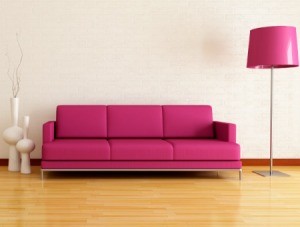 Certain shoes can leave black marks on your floors. This guide is about removing scuff marks from hardwood floors.
Ad
---
Solutions: Removing Scuff Marks from Hardwood Floors
Read and rate the best solutions below by giving them a "thumbs up".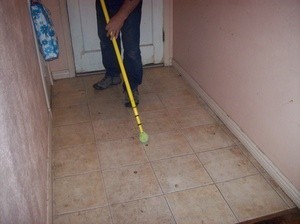 This is a simple tool that you can make to remove scuff marks from tile floors. We use these at the school I work at to remove the children's slide marks on a brand new floor. Our school maintenance guy has a hard time keeping the kids from sliding on his beautiful shiny floors so he made these erasers so that he did not have to get on his knees to clean them off and it also makes it easy for those "small offenders" to clean them off themselves.
Time to complete: 10 minutes
Materials
old broomstick or dowel or extension rod
one tennis ball
Instructions
Cut an "X" in the tennis ball and slide on the end of the broomstick.
To use: Rub the tennis ball over the black scuff marks and watch them disappear.
After I made this my grandson was playing with it and we found out that it also works great for cobwebs in corners of rooms. They stick right to the tennis ball and come right down.
Hope this saves on your back and your knees.
By Debra Frick
Give a "thumbs up" to the solution that worked the best! Do you have a better solution? Click here to share it!
Questions
Here are questions related to Removing Scuff Marks from Hardwood Floors.
I have marks on my wood floor caused by rubber sole shoes. How do I remove them? I've tried wood cleaner but it doesn't work. We did the floors from laying them, staining and then putting a hi-gloss finish on them. I'm hesitant to use the tennis shoe trick since this is what actually caused the scuff marks. These are real wood floor stained with gloss finish. Any suggestions? How do I remove the marks?

Debbie from Marianna, FL
AnswerWas this interesting? Yes No
Ad
---
---
Best Answers
By Jill [4] 09/07/20080 people found this helpful
Try rubbing it with a tennis ball! At church, we have one that they cut an X in, and keep on the handle end of the broom for just that use. It won't scratch your floor, either!
---
By (Guest Post) 09/08/20080 people found this helpful
We have linolium on our floors at work and when there is scuff marks from the girls black soled shoes, I use a dry paper towel and it comes right off. You could try this first before buying any products.
---
By LEONA LABINE [46] 09/08/20080 people found this helpful
Try using white toothpaste (not the clear stuff). Put it on the scuff and wipe it off. For stubborn stains leave it on a little longer.
---
By Krikit 09/17/20080 people found this helpful
I've always found that a tiny spray of WD-40 on a cleaning rag (or paper towel) applied to the mark for a few secronds & then gently rubbing it away does the job. I've never hurt a floor in 30+ years of domestic residential services using this technique.
---
I have wood floors and I have those felt pads on the legs of my chairs in the dining room, yet I have scuff marks on the floor from where the chair gets moved. They are not scratches in the wood, just scuffs. What do I do to get rid of them?
I have black scuff marks on the hardwood floor. They look like scratches. How do I remove them from a hardwood floor? Please advise. Thank you.
Can someone tell me how to remove scuff marks from my wood floor that was installed in 2010. I'm not talking about "black" scuff marks, just scuffs that show on the floor.
When moving furniture such as a sofa, scuff marks were made on the newly polished wood flooring. How do I remove the scuff marks and then I can rewax?
By Rose C.
After a couple friends came over, in the areas where shoes were worn, there were black scuff marks and slight indentations on the hardwood floor. Please help ASAP.
By Josh
How do you remove scuffs from a hardwood floor?
By Mandy