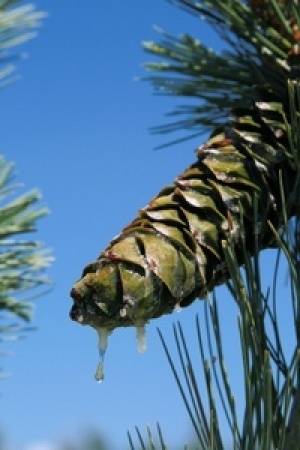 Spring and late summer are the prime seasons for sticky, gooey, tree sap. The stuff seems to ooze onto everything with ease. Getting it off, however, can be a whole different matter. Here are some sure fire methods for removing tree sap from just about anything.
Let the Agent Do the Work
The most efficient and effective way to remove sap from any surface is to allow the removal agents to do the work. In the case of alcohols, that means letting them dissolve the sap, and in the case of oils, letting them soften the sap before rubbing the remainder of it off.
To avoid damaging the surface covered in sap, AWAYS test removal agents on an inconspicuous area first. Only when that area has been treated successfully should you proceed to a larger area. Always wear gloves and use precautions when using any type of chemical.
How To Remove Sap From Vehicles
Note: When removing sap from a vehicle, the goal is to use the least amount of pressure possible to reduce the risk of scratching the paint. After the sap is removed, treated areas should always be buffed with a high quality polish or re-waxed in order to clean up any marks created during removal. As always, test the method in an inconspicuous place before applying to a broader area.
To remove the tree sap from your vehicle's surface, use finger nail polish remover on a cotton ball. After removing the sap, make a paste from water and baking soda to wash the affected area, then polish or apply wax.

Another method to remove sap from your vehicle is to use mineral spirits or denatured alcohol (also removes tar). Use a soft towel or wash cloth dampened with mineral spirits. After removal, wash the car and apply polish/wax to the affected area.

WD-40. Spray some on the sap, let it sit for a while and wipe off with a soft cloth. Repeat if necessary then wash, polish/wax as usual.

Buff the affected area with lard or bacon grease and wipe clean with a soft cloth diaper or terrycloth towel. Wash and polish/wax and usual.

Make a paste out of baking soda and water and cover the affected area. Wipe clean with a soft, damp cloth.

Applying mayonnaise to the area is also said to remove tree sap.

Another technique is to use citrus-based solvents and children's molding clay. Apply a small amount of the solvent and rub with the clay. It is abrasive enough to scrub off the sap (which has been broken down by the solvent) without damaging the paint.
How To Remove Sap From Wood (including decks and wooden patio furniture)
Try applying non-diluted Murphy's Oil Soap with a mop (large area) or pour directly onto the affected surface. Allow the soap to sit for 15 minutes before scrubbing it clean with a soft brush. Rinse and allow to dry. Supposedly, this method works best on sealed wood.
How To Remove Sap From Clothes (including fleece, polyester, and cotton)
Apply a liberal amount of hand sanitizer to the area, and gently work it into the fabric. For really stubborn spots, brush the area with a soft bristled toothbrush. Rinse and dry.
How To Remove Sap From Leather
Rub creamy peanut butter into the leather. The oil conditions the leather while softening the tree sap. Simply rinse with warm soapy water and allow to dry.
How To Remove Sap From Skin
Oil-based Agents:
baby oil
tea tree oil
Avon Skin-So-Soft bath oil
mayonnaise
Alcohol Agents*:
*Caution: these can cause skin irritations with some people
Apply to the skin with a soft damp cloth, then rinse with warm, soapy water.
How To Remove Sap From Hair (including pet hair and paws)
Hair is one of the hardest things to remove tree sap from, but the task can be made somewhat easier if the sap is still soft. Short of getting yourself a new haircut, try the following:
Creamy peanut better (the oilier the better). Apply it liberally to the hair and soften it using a hair dryer on the lowest setting (careful to avoid burning the skin). Let the softened peanut butter sit for a few minutes before combing it through the hair with a large-toothed comb. Shampoo and rinse with warm water. If you can't stand peanut butter, substitute mayonnaise.
I have multiple areas with sap on a few window screens, will nail polish remover work?
By Lady Lucy from NY
May 20, 2013
0

found this helpful
To remove sap with nail polish remover effectively you'd want to use a nail polish remover with acetone because the non-acetone won't even cut through price tag adhesive in my experience. You should test a very small area of the screen to see if the nail polish remover will remove the sap without melting the synthetic material the mesh is woven from-acetone can 'melt' plastics.
I think you'd have safer and better results using one of the automotive sap removing products. The car care products for removing sap from car finishes, windscreens, and headlamps (all car parts or finishes being made with synthetic polymers nowadays) will remove the sap easily without 'melting' your screen mesh.
May 20, 2013
0

found this helpful
I would use rubbing alcohol.
How can I remove tree sap on a vinyl awning? It is on a Travel Trailer. We were able to clean the top, but the under side is vinyl and we think it has tree sap on it where it is rolled up when not in use.
By Babychiane from Longs, SC
May 4, 2009
0

found this helpful
Have you tried using WD-40? It worked on tree sap on my windshield. Good luck!
May 4, 2009
0

found this helpful
Tree sap only dissolves in alcohol so try soaking the stain with vodka (I'm not sure whether rubbing alcohol would be too strong-but think of that if the vodka doesn't work). Luckily I saw a feature on the TV recently where tree sap was used in a homemade remedy for varicose veins! I hope it works.
Kind regards, Monique