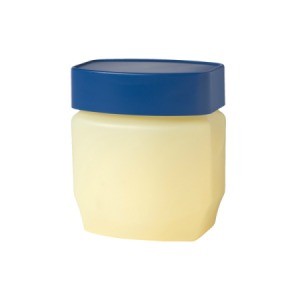 Vaseline is a petroleum based ointment, consequently, you need to treat it as an oil based stain when trying to remove it from fabrics, carpet, furniture, or other items. This is a guide about removing Vaseline stains.
Solutions
Share a solution for this guide today!
Questions
Here are questions related to Removing Vaseline Stains.
How do I get Vaseline stains out of fabric furniture? The stains are about a week old and I've tried dish soap, rubbing alcohol, steam cleaning and Shout. Nothing works. Any ideas?

Kristi from Lethbridge, AB
---
Most Recent Answer

By Lardin Finkle (Guest Post)09/16/2008
Rub toothpaste on it.
How do you get a Vaseline (regular) stain out of clothing? I would like to know what pre-treatment is necessary before washing.

Wendy from Georgia
---
Most Recent Answer

By MsPatricia03/01/2009
I have never actually tried this for Vaseline, but I have gotten many very stubborn stains, including lipstick, grass stains, and black grease from a car by wetting the stain with cold water and rubbing it down really good with a bar of Ivory soap....let it sit for a long while before washing as usual. If it is a really bad stain, it might take more than one treatment. I like this much better than spray and wash. Works great on baby formula stains too.
How can I get a streak of Vaseline off of a velour type of fabric?
By Mary from MO
---
Most Recent Answer

By DarcyJayne07/05/2011
Try a degreaser. I know that Dollar General makes a wonderful Degreaser called "Mean Green" it is safe on clothing and upholstery and even will remove tobacco from walls. :-)
How do I get Vaseline off a satin pillow?
By Ed
---
Most Recent Answer

By Suicidalady09/14/2011
Use Dawn, Lestoil or some other grease cutter.
A friend of mine wanted to know if anyone knows how to get Vaseline out of carpet. She had put some on her heels and forgot and walked across the carpet. Thanks!
By Pam T from Storm Lake, IA
---
Most Recent Answer

By metroplex08/14/2010
I can't say for sure, but I have two suggestions:
1. Try Dawn liquid dish washing soap. it cuts through grease.
2. Lestoil, a great grease cutting detergent.
Good luck!