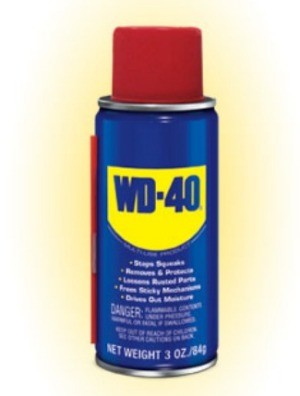 Oil can be a difficult substance to remove from fabric. This guide is about removing WD-40 stains from clothing.
Ad
---
Solutions: Removing WD-40 Stains from Clothing
Read and rate the best solutions below by giving them a "thumbs up".
I used WD40 to get rid of an oil/fat stain from a dress and was left with the WD40 stain instead. The only way I could remove this stain was to drench the whole dress in Sard Wonder Soap Oxy Action liquid spray so that it would not leave a spray area mark. I left it on for 3-5 minutes, then washed the dress in a good detergent and rinsed well and hung out to dry. I was very happy with the outcome, no stain and no spray marks - as new.
Editor's Note: Sard's Wonder Soap is made by the Colgate company in Australia. There does not appear to be an American version but I think it is similar to OxiClean.
By dihunt45 [1]
Give a "thumbs up" to the solution that worked the best! Do you have a better solution? Click here to share it!
Questions
Here are questions related to Removing WD-40 Stains from Clothing.
I read that WD40 would take tomato stain out of clothes, and it did, but now how do I get the WD40 oil stain out?

Penny from, Jackson MI


Ad
---
---
Best Answers

By Jowita (Guest Post)02/22/2008
I use Goo Gone product on stains like oil, butter etc. Just pour some on the stain and leave it on for a while (couple of hours at least) than wash it in the washing machine.
---
Best Answers

By Beth [25]01/29/2008
Lestoil gets out all kinds of stains. It actually got the car door jamb grease out of my light colored rain coat.
---
Best Answers

By elizabeth (Guest Post)01/28/2008
Greased Lightening is awesome. Spray and let soak a few minutes and then scrub it with an old toothbrush or something and keep repeating (about 5 or 6 times). This stuff is awesome and it works well with Magic Marker on clothes and ink as well. The only place around my area that sells it is a Dollar General store.
---
Best Answers

By amy [3]01/28/2008
As a steel worker, I tend to get alot of oil on me. Let's not even get into the smell! lol! Now I don't work w/WD40, but I have found that (idea from my dad) pouring in a full can of dark soda (aka Coke) will help out. Keep in mind, full load setting, and nothing else in washer. ( I know, what a waste!!) Hope that helps!
I used WD-40 to remove a grease stain from a t-shirt. Now the WD-40 won't come out. What will work to remove the new stain?

Connie from Imperial, MO
Ad
---
---
Best Answers

By Max Odell [1]06/04/2008
I use Zout, no I didn't misspell Shout. I use it on ALL my stains... red wine, spagetti sauce, grease. It will even take out stains that you have missed, laundered and dried. Just spray it on, rub it in and toss in the washer.
---
Best Answers

By sodagirl (Guest Post)06/04/2008
Dawn dish detergent works very good on any oil stain, they use it to clean up after oil slicks so it must work ! I use it instead of a pretreater.
---
Best Answers

By Cyinda [214]06/04/2008
Try using GOOP, the hand cleaner. Scrub it in really well with an old toothbrush.
I read somewhere that you can use WD40 to get melted chap stick out of clothes, but now I have WD40 stains on my work clothes. Any idea how to get the WD40 out now? Help!

Molly from Minnesota
---
Most Recent Answer

By Renee Schuhmacher03/12/2009
Dish soap is made to get grease off of your dishes and does a great job on any oily stain on clothes.
How do you get WD40 out of satin without leaving a water stain?
By Linda S