Whether it's from a pizza box, a coffee cup or some other hot item, heat stains on a wood table can be difficult to remove. This is a guide about removing heat stains from a wood table.
My husband and I just got this table and I was serving dinner and put a hot serving bowl on it, and now there is a white ring on it. I do now know what kind of wood it is, but it has a cherry finish, I think. Please help me find a solution to get the ring out, please.
By Jen from Schroeder, MN
Most Recent Answer
December 2, 2013
Use a hair drier. Keep it moving and in a minute or 2, presto!
By khaps77 1
Using an iron with old shirt idea worked 100% for a bad one that I had. Thanks for the tip. The key is not to use too much heat as I tried that once before and made the problem worse. Be patient and then use olive oil after to condition the wood.
Great trick. I've done the mayo and ashes thing. Not even close to same results
How do I remove white marks from dark wood tables?
By Mr. M. Carr
Most Recent Answer
November 10, 2011
I had/have this problem on light-colored wood. Some guests left their "sweating" drink glasses on the end table and terrible marks were left. I've tried every hint offered on ThriftyFun, but nothing has worked so far. I may just have to remove the finish from the entire table, sand it all, and then apply a new coat of stain. I was hoping to avoid this painstaking chore!
How do I get white rings marks, caused by heat, from my dining table?
By Lorraine from Edmonds, WA
Most Recent Answer
April 2, 2011
A product I was recommended called Liberon worked wonders for me. Failed with the iron, just got another mark!
I've been using an iron to remove them like some people are suggesting. I was wowed by this solution. This solution works temporarily. The white stains keep coming back! I've used plastic plates and cups. All my plates are white, I was wondering if this is reason why?
By wahwong62
Most Recent Answer
January 1, 2015
I tried the Mr. Clean Magic Eraser and I can't believe it really worked! The white stain is gone.
Can I remove white marks from waffle type plastic table cover that got imbedded in my dark pine table?

Joan from Rutherford, NJ
Most Recent Answer
By guest (Guest Post) Flag
October 23, 2008
If you can put the table out in the sun, try rubbing it with a suitably colored furniture polish then setting it out in the sun for a while. I've gotten water marks out of maple chairs that way.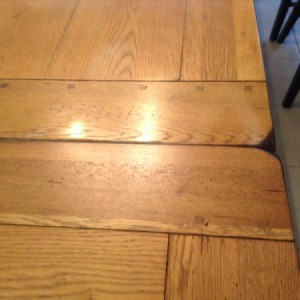 I doubled a blanket on my dining table, and was ironing a large table cloth on it. Now I have several iron marks all over my table. I don't think the iron will work, since this is how I put them on there. Any other suggestions?
By Cindy R. from Hattiesburg, MS
I have a white stain on my dresser. How do I get it out?
By Diana
Most Recent Answer
By Louise B. 6 2,509 Flag
November 27, 2012
It would be useful to know what the stain is. Many white stains are caused by water or heat. These can be fixed, although I have not done so. Try googling removing water stains from cherry wood, and see if you get info. If the stain is something else (paint, for example), the method of removal will be different
I have just used a Magic Cloth to remove heat stains and it worked a treat. They are available at Lakeland in the UK and well worth the price.
I steam stained my polished wooden dining room table by ironing (steam iron) on it. How can I remove this stain?
By Reg N
Would a steam mop work?
By Katy