Making decorative covers for Renuzit air fresheners is a popular craft project. This is a guide about Renuzit air freshener crafts.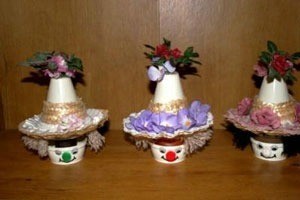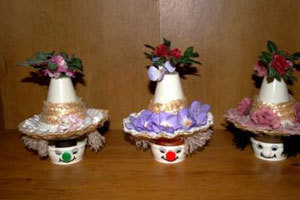 One dollar and a few scraps will get you a cute gift.
Approximate Time: 30 Minutes
Supplies:
one Renuzit air freshener
scraps
glue gun
wiggle eyes
pom pom
small straw hat
Instructions:
This is a very easy craft.
Make the face on the base.
Cut the top off the straw hat, decorate and slide on the Renuzit bottle.
Glue silk flowers to the top.
If you go to http://www.renuzit-crafts.com
select: Category
select: Project
There are wonderful ideas.
Remember the jell can be replaced when it is gone and you will still have the cute exterior.
Enjoy giving some for many occasions or use as a scented centerpiece!
By Tedebear from San Jose, CA
By Josephine 1
Angel doll is an air freshener. You can use it in any room of your house. I crochet the dolls in all colors. This doll has silver trim with silver wings. She could also be made with gold wings and gold trim.
By Josephine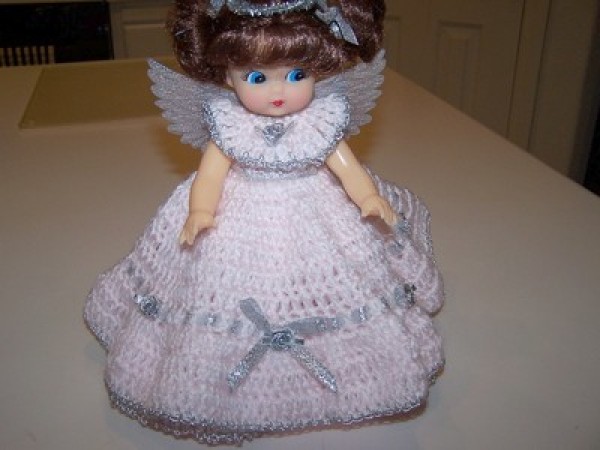 By Katherine 2 1
I am looking for the Sunbonnet Sue Renuzit air freshener cover sewing pattern. Does anybody happen to have the pattern? I have seen them and they are so precious. I would like to make a couple for my daughters-in-law for Christmas.

Kathie
---
Most Recent Answer
October 18, 2012
I have the sunbonnet Sue redwork pattern and stashed away I also have the Christmas tree sunbonnet pattern by the same author Pearl Louise. Have to look for the ornament pattern in storage and will let you know when I locate it. I have the Redwork sunbonnet here.
---
I would really like to get a copy of the pattern that was posted for the Renuzit doll shown on 3/16/11. It was the project at this link: Angel Doll Air Freshener. Thanks.
By Bernadette from Tucson, AZ
---
Most Recent Answer
---
I used to have a Doorstop Darlins book in Plastic Canvas. It had holiday doll dresses for air freshener dolls. I lost it in a move and can't find another copy. Anyone know where I can get a replacement?
By Lori from Pahrump, NV
---
Most Recent Answer
By Karen 1
I am looking for Renuzit Air Freshener patterns. Does anyone have a pattern for the Renuzit Air Freshener dolls? I believe it is crochet, but would like any. I had a pattern years ago and now my youngest sister wants to make some for Christmas and I can't find mine.
By Karen from St Louis, MO
---
Most Recent Answer
By Pam Miller 3 71 Flag
October 28, 2010
Just go to Google, type in Renuzit and several websites come up or go to Renuzit.com/crafts. Couldn't be simpler! Have fun!
By gillian 3
Does anyone has the pattern for the Renuzit bunny? When I lived in the US I think I got it out of the Crafts n Thing magazine. It had a fabric head not the styrofoam ball. I have been to the Renuzit craft site, but it's not there. I am making things for the P.T.A fair at my grandkids' school here in Scotland. They need all the help they can get. I would be most grateful. Thank you.
By gillian55 from Scotland, UK
---
Most Recent Answer
In the late 90s or early 2000s there was a pattern book for Renuzit air freshener covers. They were usually constructed from fabric and glue, not crochet. In it I remember a pattern for a ghost, a shaman, and a sorcerer/wizard. I made my dad the sorcerer from the book, but unfortunately it broke.

I have been unable to find my own copy of the book so I can repair the air freshener cover or make a new one. Does anybody know how I can track the book down or have a copy themselves? Google searches and eBay hunting have not helped. Thanks for any help you can give.

Arwyn from Columbus, WI
---
Most Recent Answer
By guest (Guest Post) Flag
December 9, 2008
This site has several patterns
By Cindy 1
I am looking for the instructions on using the Renuzit air-fresheners and making teddy bears with them. I saw one and it was very cute and I want to make some for Christmas gifts. If anybody has the instructions, please send them to me I would greatly appreciate it.

Thanks a bunch,
Cindy from Bassett, VA
---
Most Recent Answer
By Margaret 13 124 Flag
January 8, 2009
Go to www.Renuzit.com. On the home page look at the list on the left. Under Resources click on Crafts. They have many, many, many Renuzit freshener "characters" for all the holidays and for general purpose. I didn't have time to look at all of them but I did see one for Americana Bear. By changing the colors, the possibilities are unlimited. Good Luck.
Margaret from Denton, Texas
Can I get a writtern pattern for the Christmas bear, Thanksgiving turkey, Halloween witch, and the Easter bunny?
By Jean
I am looking for a pattern I use to have. It is for a Renuzit air freshener cover. It is made completely from muslin fabric. It has two layers of lace around the bottom and a lace trimmed muslin bonnet.
I am sure it was a pattern packet. It may have been the late 80s, early 90s when I had purchased it. Thanks.
By Zelda from MI
I am looking for a crochet or sewing pattern to make a dress for a Renuzit air freshener doll. I've got the doll body that fits over the air freshener. Now all she needs is a pretty dress.
By Louise from Port Charlotte, FL