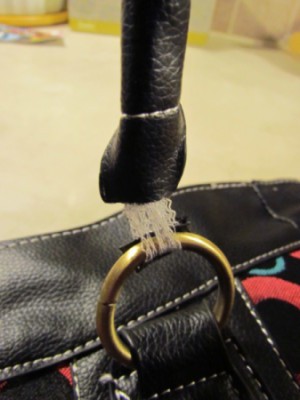 I have a brand new fake vinyl Coach purse. The straps are stretched to thread and vinyl is broken where the end wraps around metal ring. What to do?
By Nancy from Elkton, MD
Ad
---
By cybergrannie 32 882 12/03/20130 people found this helpful
Hi - I believe this would difficult for you to repair and suggest you take it to a shoe repair shop. Be sure to get an estimate before you leave the purse!

Just for information:
Most people do not know that it is illegal to sell, buy or have in your possession a "fake" item of any brand name.
By Linda 45 301 12/04/20130 people found this helpful
I have used E-6000 glue and even gorilla glue to glue the strap back in place. If you use gorilla use very little as it "grows" or foams up. Just put a bit into the strap, vise it - with a clothes pin or gripper vise til it sets and it will be good as new. Good luck.