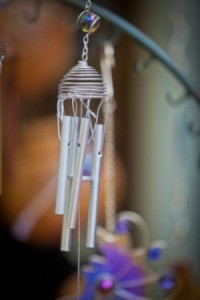 Wind and sun can wreak havoc on your wind chimes. This is a guide about repairing wind chimes.
Ad
---
Solutions: Repairing Wind Chimes
Read and rate the best solutions below by giving them a "thumbs up".
Don't throw out that wind chime when the strings break, go to your local craft store and in the jewelry department you will find elastic cord to make bracelets. I repaired one of our wind chimes last fall and it is still making its sweet sounds. It comes in different sizes, clear and black so you have some choices.
The elastic takes the stress much better than cord without stretch. It hasn't broken one string yet and we get some mighty strong winds. You can tie it in knots but the crimping beads made for jewelry making also are really quick and handy.
By latrtatr from Loup City, NE
Give a "thumbs up" to the solution that worked the best! Do you have a better solution? Click here to share it!
Questions
Here are questions related to Repairing Wind Chimes.
I have a heavy 5-cylinder (metal) wind chime with dry-rotted strings. I am at a loss as to re-stringing it. I mean, what kind of string should I buy? Anything strong and durable is then too thick to re-thread through the holes.
I even tried "Venetian blind"' string (too thick also). Should I use fishing line; and what strength should I buy? Also, what do I use for the part at the top where the strings go through, before attaching it to the main hanger?
It has sentimental value to me, so tossing it in the dumpster would break my heart. Any help would be greatly appreciated. Thanks.
By Lois Jean from Brandenburg, KY
AnswerWas this interesting? Yes No
Ad
---
---
Most Recent Answer
By Mawmaw3 1 10/14/2015 0 people found this helpful
My lighthouse wind chime thread broke and I don't like fishing line. What thread should I use?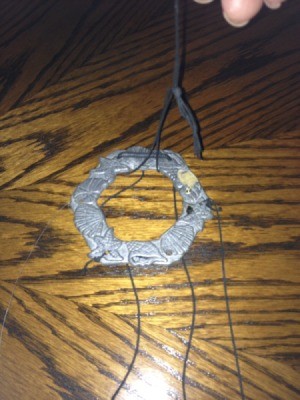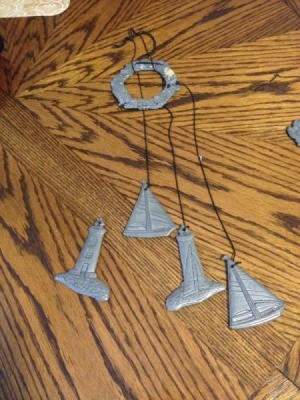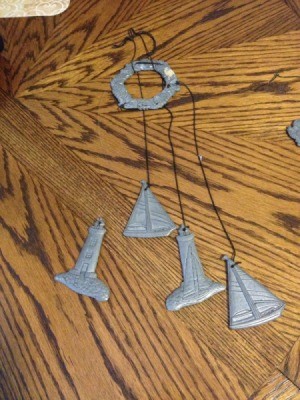 ---
What is the name of the string and where can I buy it?
By Caroline
AnswerWas this interesting? Yes No
Ad
---
---
Most Recent Answer
By Sandi/Poor But Proud 451 2,086 08/19/20130 people found this helpful
I am not sure but you could replace it all with fishing line or waxed dental floss. Good luck.
I can't find instructions, specific instructions as to how to string the wind chimes, which holes first, etc. Most just say to put the string through the hole. Mine were all on one string when I purchased the wind chime and not 6 separate strings. Any help?
By Joanne P
AnswerWas this interesting? Yes No
---
Most Recent Answer
Where can I find a service or person that will repair my wind chimes in the Minnesota Twin Cities area?
By David P.
Archives
Thrifty Fun has been around so long that many of our pages have been reset several times. Archives are older versions of the page and the comments that were provided then.
I have a wind chime that I love. The strings holding it together and the wooden part that holds the strings fell apart from dry rot. I cut the strings to keep the metal chimes. How can I restring it and provide a holding for the string? I have no access to a saw. Thank you.
By blondrosecat from Cedar Bluff, VA

Feedback:
RE: Restringing a Wind Chime
Use fishing line to restring the chimes then tie onto a dowel, stick, or even a wooden coat hanger. (04/27/2009)

By pamphyila
RE: Restringing a Wind Chime
How about poking holes in a jar lid and stringing fishing line through it? (04/27/2009)

By vguy
RE: Restringing a Wind Chime
You can buy a wooden disc that would work at Hobby Lobby, Joanns, or Michaels. Use fishing line, it won't rot. (04/27/2009)

RE: Restringing a Wind Chime
You didn't state what type of wind chime you own, so here's a link to specify what you need and where to buy new string.

windchime.com (04/27/2009)

By Lorelei
RE: Restringing a Wind Chime
Find a old tin pan lid, unscrew the top knob to attach a wire hanger that you can make out of strong wire, or purchase a "eye" bolt at the hardware that will fit the hole. Put washers on each side for stability and to keep the eye bolt from pulling through. Then drill holes evenly spaced according to how many chimes you have and their width (they will have to touch slightly). Attach fishing line to chime, measure length desired, run through lid hole and tie onto a small washer. Will last for many years. (05/03/2009)

By Lgoff15
RE: Restringing a Wind Chime
If it is just for the part that holds the strings in place, try a larger plastic lid, like from a large Cool Whip, or can of coffee. You can then poke holes in it with a heated needle, and if needed slice through from the outer edges to the holes. This would only work for the spreader part, not if it was a part that strikes the chimes. (05/06/2009)