Your beautiful leather couch is starting to show its age, with worn spots, wrinkles, and more. Before you go buy a new one, consider repairing and rejuvenating it yourself. This is a guide about repairing a leather couch.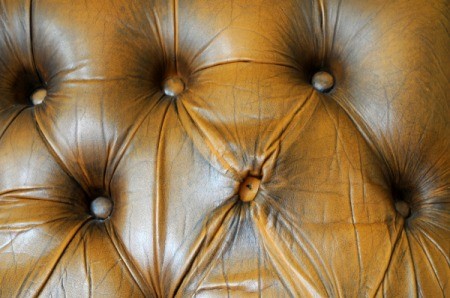 By dudedwards 1
What do you do with a 10 year old, leather couch that is starting to look wrinkly and cracking? Is there any product we should be using on our couch? Leather conditioner?

Thanks!
---
Most Recent Answer
By guest (Guest Post) Flag
February 5, 2009
I had a tiger (real Bengal) try to sharpen claws on leather arm of couch so there are puncture marks all over sofa. Help me!
---
My leather sofa looks so horrible. I hate it. It has two seat cushions and two back cushions (attached to the sofa) and the back cushions just sag into two big lumps when you sit down and the seat cushions are like a pile of wrinkles. When I sit down, the seat cushions slide out and drive me crazy. Should I just get a new sofa or can I fix this? Help!
By R.L.H
---
Most Recent Answer
August 14, 2013
When my Mom needed her sofa fixed. We fund a lady throwing an old (but clean) sofa away. We took the filling out of the seat and back of the couch. My Moms couch had zippers in the back of her cushions so it was easy to unzip, fill fluff and rezip. If your sofa doesn't have zippers you have to cut the cushion or back cushion open in a unconspicuous place. The opening has to be big enougn to get your arm inside to spread and evenly distribute the fiberfil. After the cushions are stuffed use button thread and a curved needle to sew the place,you cut open, closed.My Moms sofs looked like a brand new one wen I finished. I did overstuff somewhat because I knew the cushions would smoosh somewhat as we sat on them.
---
I had Resolve spill on my leather couch and the color came off. Is there a product that can help me?
By Jill
---
Most Recent Answer
October 4, 2014
My husband and I just bought a really beat up leather chair and ottoman hoping we could rehab it.
We used dark brown shoe polish on it and it looks fabulous! There were even places that the surface of the leather was rough and light colored and it took the polish. We only paid $60.00 and it looks like we paid hundreds! Finished over polish with conditioner. So far so good!
---
By Diane 1
Does anyone have any idea how to repair dog scratches on leather furniture?
By Diane from Morrison, IL
---
Most Recent Answer
March 6, 2011
My dog ruined my weekend when I came home Friday to find that she scratched the heck out of the bottom of the couch trying to get her tennis ball. After reading all the remedies here I decided to try Kiely's first since this person is a pro and i did not like the idea of using food products. So I used hot water and a clean dish rag and began wiping back and forth. I have soft Italian leather, and this process seemed to loosen oils and spread into the mass of scratches after about 60 seconds of wiping back and forth. This completely worked. I only wish I did this a couple days ago.
I often question the number of products on the market that claim that they designed specifically to clean this or that, when really they are just doing the same thing that water would do or another simple household product. For example I spend lots of money on different products to clean the grout in my tile shower. Nothing worked. Then we had a cleaning lady (a pro) come by and she just grabbed a $1 bottle of bleach and it practically cleaned itself.
Thanks Kiely for adding some practical advice to the conversation.
By Donna 1
How do you cover or fix faded spots on a leather sofa?

Donna from NJ
---
Most Recent Answer
March 23, 2009
Have you tried shoe polish? I'd use the solid kind.
I have a taupe leather love seat. I am looking for a creme consistency dye/tint to blend worn areas and scratches. The furniture manufacturer is no help. Has anyone used shoe dye cream, or another product, for a similar problem?
By Susan from Albany, NY