Replacement parts for George Foreman grills and ovens are not available at the stores of purchase. This is a guide about finding replacement parts for George Foreman rotisserie oven.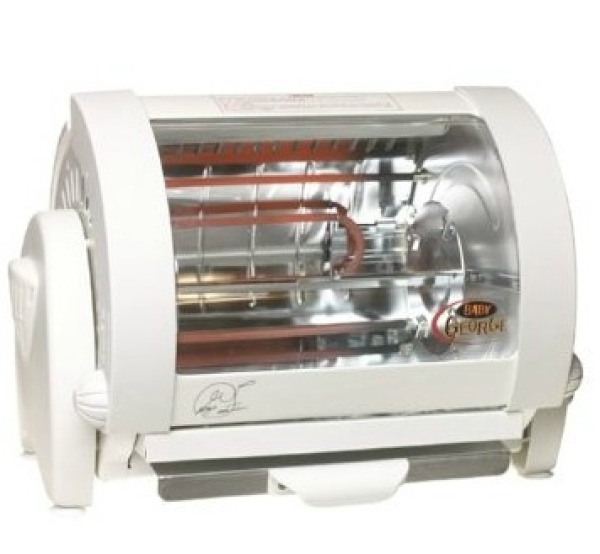 Filter

: All Articles
Sort

: Relevance
Anyone know where I can buy a drip tray for my George Foreman oven?
By Kimberley from Duarte, CA
August 2, 2013
0

found this helpful
I use an old butter dish.
August 3, 2013
0

found this helpful
Hi - there are so many different sizes of George Foreman grills! Try going to their web site and find the one you have. They sell all sorts of things - parts etc.
Read More Answers...
Where can I get and how much is a new control panel for the Big George Rotisserie? I cannot set the hour button, only the minutes.
By Bruce M
February 14, 2015
0

found this helpful
George Foreman web site has a lot of information and usually a list of parts for each item they sell now and in the past.
Where can I purchase a replacement element for a George Foreman GR59 Roasting Machine model No 100039.
By Roy W.
November 5, 2014
0

found this helpful
My son has several George Foreman appliances and he always Googles" his question or goes to their web site as they have most of their products listed with a parts catalog.
A lot of parts are sold by stores on line so I believe you will be able to locate whatever you need.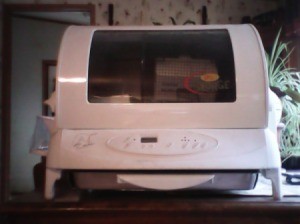 I bought a George Foreman rotisserie oven at a yard sale. The only thing missing is the rotisserie bar with grooves (P/N 20897). I would like to find one. I really want to try this out. I can't do anything without that bar.
By Kathy
June 23, 2014
0

found this helpful
Try looking for your item on Google. Find the George Foreman web page and you will be able to order the part.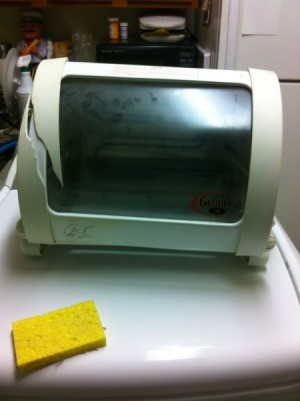 I have a George Foreman Jr. rotisserie model: GR82B and I am in need of the lift up cover with viewing window, P/N 21191.
By Freda C.
March 9, 2014
0

found this helpful
I broke the cover handle on the left side on my George Foreman George Jr. Model GR82B. Can anyone tell me were I can get one?
I have the Big George Rotisserie and lost the spit rod. Where can I find one? It has an 11 inch opening.
By Joanne C
March 16, 2012
0

found this helpful
1-800-233-9054 Is the customer service number for ordering replacement parts.
Have a great day!
I have lost the rotisserie rod for my George Foreman GR80 rotisserie and would like to purchase a new one. Where can I buy one and how much do they cost?
By Bill
May 31, 2011
0

found this helpful
If you have your book in the back is a phone number and address: if not Google George Foreman Grills Books etc.
June 1, 2011
0

found this helpful
http://dl.owneriq.net/7/7522a81e-4281-4cae-89ad-ded33292a944.pdf
Is a link for an online manual. It lists part numbers, and should have a number that you can call to order the replacement rod. I believe what you need is part number 20897.
Service and Repair
Should the appliance malfunction, you should first call toll-free 1-800-233-9054 between
the hours of 8:00 am and 5:00 pm Central Standard Time and ask for CONSUMER SERVICE
tating that you are a consumer with a problem. Please refer to Model #GR80 when you
call.
I would call that number, if it isn't the right one they should be able to give you the correct number or connect you directly to order the part you need. There are also recipes in the manual, might want to check those out too. Hope this helps!
I need a drip tray for the George Foreman rotisserie oven, model GR 80.
By Jo B.
May 25, 2011
0

found this helpful
If you email the company, you can buy it. However, if you want to save some money, simply use a tuna/cat food/potted meat can as it's generally low enough. If not, a mayo lid will work nicely.
Good luck.
May 25, 2011
0

found this helpful
I set my George Foreman grill on top of a large platter or you can set the drain part on a plate & let it drain onto the plate.
I have a George Foreman (baby George rotisserie) and need a timer control knob. Salton Inc. is no longer in business. Any suggestions?
By Deborah
May 13, 2011
0

found this helpful
Have you tried using Internet search terms like 'george foreman rotisserie replacement parts'? Have you tried finding one in a second hand shop to sue for parts?
Have you checked yard/flea/jumble/boot (UK term, same as a car truck sale in the US) sales? Have you posted a note (asking if anyone has one for parts) at the local laundromat, second hand shop, community bulletin board?
These are things my husband and I have done with good success when in need of something specific. Good luck, I hope you find what you're looking for!
May 13, 2011
0

found this helpful
I see George Forman products constantly at the Goodwill. I am sure you could find a part there.
I have a big George Foreman rotisserie model #GR80, with a lift up cover and viewing window. The glass broke so I need to replace it. Where can I find replacement parts?
By Cathy from Nova Scotia, Canada
December 14, 2010
0

found this helpful
www.goodmans.net
December 15, 2012
0

found this helpful
I have one that the glass is good and I am getting ready to discard. Let me know if you want the door. We will be in Canada next summer. Joe
We had moved and misplaced our bar for the large George Foreman rotisserie. Can you tell me where I can find a replacement?
By Jan S.
I have a George Forman Jr, rotisserie model GR82B. The thumb screw that holds the end wheel of the rotisserie broke and I cannot buy a thumb screw anywhere.
Please help as now I cannot use the the rotisserie.
Thanks.
By Lynda M.
June 19, 2011
0

found this helpful
Take the pieces to your local big box home DIY store (Home Depot, Lowes, etc.) and show them, I bet they can fix you right up, for under a dollar!
I need a rotisserie bar remover for a GR80C Big George rotisserie (part no.20906). Can anyone help?

By Mary from Buffalo, NY
Answers:
Replacement Parts for George Foreman Rotisserie Oven
You can try these numbers:

info@salton.com

(800) 233-9054

(09/14/2010)

By Linda :o)
I need parts for George Foreman #GR80 rotisserie oven.

By Carroll from Atlanta, GA