If you don't use shams on your bed, there are lots of ways to get some use out of these fabric bags. This is a guide about repurposing pillow shams.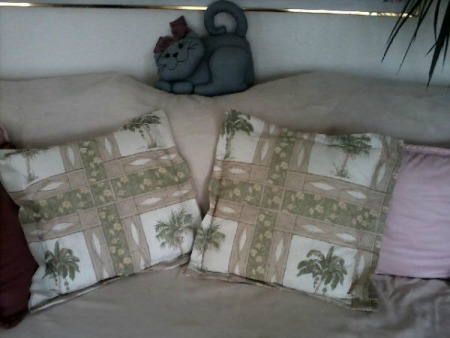 By Rita Haas H. 1 17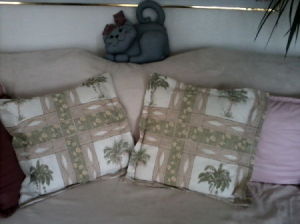 I had two pillows that were used a lot! I had washed them several times and finally the covering just almost disintegrated. The inside pillow was still good so I decided to recover them (since new pillows are $15.00 and up when you buy them). I found some pillow shams that I never used in my closet. I cut them to fit the pillow stuffing, sewed up the sides, stuffed the pillows in and sewed up the remaining side. I now have two brand new pillows. Cost was nothing to me.
By Rita from University Place, WA
I have a number of pillow shams (some with zipper and some without) that are new or "almost new". Does anyone have any ideas on how I could use these shams other than putting them on my bed? Many of them don't match any longer.

Any and all ideas would be appreciated.

Thanks.
Anjeena
---
Most Recent Answer
By Bailey36 10 21 Flag
December 20, 2009
I cut up special fabrics of some of the prettiest ones to make laprobes to give away, I'm always on-the-prowl for cheap fancy fabrics for my small blankets, and some have nice cording around them to use for my other crafts.
---
We don't use pillow shams and I bought 2 king size summer quilts that came with 2 free shams each. Any ideas on what they can be turned into?
By Maryeileen from Brooklyn, OH
---
Most Recent Answer
April 14, 2012
Oops, I see it should be ck384 (not ok384). Sorry!
---
By Carol Young 89 39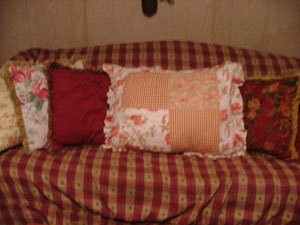 Use pretty pillow sham covers as pillows on your sofa or as throw cushions! I see these all the time at Goodwill for a buck or two, and I decided to make use of them. My kids like to use them as floor pillows, as well. Plus if your sofa is kind of tired looking you can add a couple and give it a whole new look.
By Carol from Landisville, PA
By Susan Capps 7 5
Whenever I buy sets of bedding many times there are two pillow shams that go with the bedding and I never use them. The last time I got some, instead of just packing them away, I went through my linen closet and pulled out any small items that I could fold and put inside of the shams. Anything that I did not use on a regular basis, but wanted to keep.
I now had two pillow shams filled with many of my seldom used items and then put these filled shams on top of the bed in our quest bedroom. This way I used the shams and did not need to buy additional pillows for them, and also freed up some storage room in my very small linen closet.
By Susan from Mulberry, FL