Ritz Cracker Dessert Recipes
Solutions: Ritz Cracker Dessert Recipes
Read and rate the best solutions below by giving them a "thumbs up".
This is a fun, yummy dessert! Bananas and Ritz crackers together? Yes!
Ingredients:
3 egg whites
1 cup sugar
20 crushed Ritz crackers
1/2 cup chopped nuts
1 large banana
1 (8 oz.) container Cool Whip
1/4 cup chopped nuts
Directions:
Beat egg whites until stiff and then beat in sugar. Add Ritz crackers and 1/2 cup nuts. Spread in square pan. Bake 30 minutes at 350 degrees F. Let cool, then cover with sliced banana and Cool Whip. Top with 1/4 cup chopped nuts.
By Robin from Washington, IA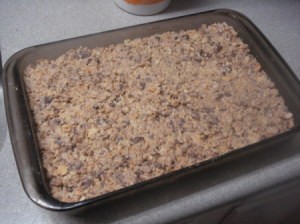 What I do is I take the crackers and put them in a ziplock bag (I leave them in their bag), then close the ziplock, and use a rolling pin to squish them down right in the bag. Then open and remove the packaging, reseal the ziplock, and use the rolling pin again to roll out any large clumps. I then have my prepared pan with my greased bottom and pour the cracker in the pan. I add the other ingredients, stirring right in the pan, and bake. It is so easy and there is no mess. Hope you find it helpful.
Ritz Bars:
Ingredients:
2 tubes of Ritz crackers, crushed (see above)
1 can sweetened condensed milk
1 pkg. of Heath caramel chips
Directions:
Mix ingredients and bake at 350 degrees F for 20 minutes. It is easy to double the batch. This recipe is for a 9x9 pan.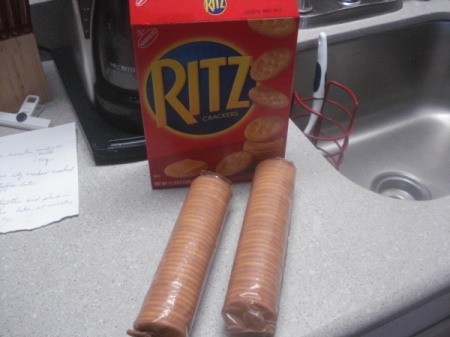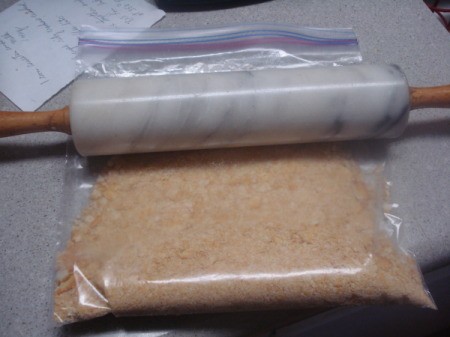 By Bonnie from Brownsville, TX
Ingredients
16 Ritz crackers, crushed
1 tsp. baking powder
3/4 cup nuts, chopped
3 egg whites
1 cup sugar
1/4 tsp. vanilla
Directions
Beat egg whites stiff, add 1 cup sugar gradually, add baking powder and continue to beat. Add one-fourth tsp. vanilla. Fold crackers and nuts into egg mixture. Place in 9 inch pan, grease just bottom. Spread batter toward center. Bake at 345 degrees F for 30 minutes.
Serve with ice cream or cool whip.
By Trudy from Springfield, IL
Share Your Feedback:
Once you try any of the above solutions, be sure to come back and give a "thumbs up" to the solution that worked the best for you. Do you have a better solution? Click "Share a Solution" above!
Questions
Do you have a question related to this page?