Roast Chicken Tips and Recipes
Roasting is an easy way to prepare a delicious whole chicken. This page contains
roast chicken tips and recipes.
April 7, 2017
0

found this helpful
A vertical roasting rack is a nice alternative to the traditional type when making roast chicken. This way the entire outside is nice and brown and crispy. This is a guide about roasting a chicken using a vertical roasting rack.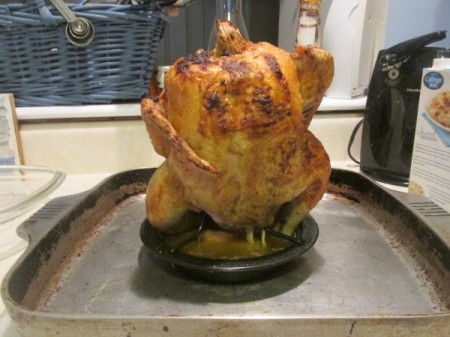 April 6, 2017
0

found this helpful
If you like the skin on your roast chicken very crispy, then this is the recipe for you. This page contains a crispiest roast chicken recipe.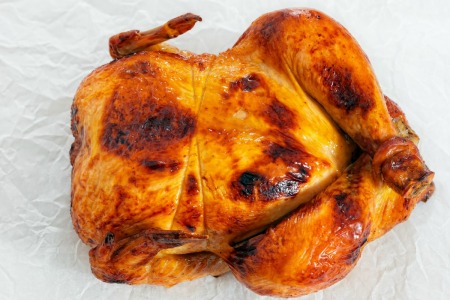 Recipes
Share on ThriftyFunCheck out these recipes. If you have made this recipe please submit a photo and let us know how it worked. Or, add your own recipe variation.
Ingredients:
2 Tbsp. butter, softened
2 tsp. paprika
2 tsp. freshly ground pepper
1 tsp. salt
1 (4 to 5 lb.) chicken
40 baby carrots
12 cippolini, or 40 pearl onions
2 ribs celery, cut into 1 inch pieces
5 garlic cloves
2 cups dry white wine
Directions:
Mix the butter, paprika, pepper, and salt in a bowl. Pat the chicken dry with paper towels. Loosen the skin of the chicken carefully and place 1/2 of the butter mixture beneath the skin. Rub the remaining butter mixture over the outer surface of the chicken.
Place the chicken, carrots, cippolini, celery and garlic in a roasting pan. Roast at 425 degrees F. for 40 to 50 minutes, or until the chicken is brown and crisp, and a meat thermometer registers 180 degrees F.
Remove the chicken and vegetables to a serving platter, reserving the pan juices in the roasting pan. Let chicken rest for 10 minutes before carving. Add the wine to the reserved pan juices and mix well. Heat over high heat until the liquid is reduced by half, stirring frequently and adding any collected juices from the chicken to the sauce. Serve carved chicken with roasted vegetables and pan juices on a platter.
By Jodi from Aurora, CO
When I roast a small chicken (5 lbs.) in a same sized roaster, I add about 4 cups of either chicken broth or boullion to the roaster with the chicken already in it. I rub softened butter or margarine on the chicken first and add a few shakes of poultry seasoning on top of it. As it cooks (for at least an hour at 420 degrees F), you can use a turkey baster every so often to squeeze the juices from the bottom all over the chicken.
As the broth reduces, you're left with a nice thick sauce to make gravy from. Just remove the chicken and put the roaster on a burner on about medium heat and start making your gravy. I just add a couple of tablespoons of flour, maybe a few dashes of Worcestershire and some salt and pepper. Strain the gravy to get out the leftover bits and pieces.
Lots of gravy for roasting a small bird. Yum!
By melissawas from Manitoba
Yummy main dish.
Ingredients:
2 fryers (3lb. size)
1 tsp. salt
1 tsp. pepper
2 cloves garlic, crushed
5 Tbsp. melted butter
6 medium potatoes, peeled, cut into wedges
2 medium onions, peeled, cut into wedges
1/3 cup fresh lemon juice
1/2 cup water
Directions:
Preheat oven to 425 degrees F. Rub chicken with salt, pepper, and garlic. Place breast-side up in large roasting pan. Brush with 3 Tbsp. butter. Coat potatoes with remaining 2 T. butter. Arrange with onions over chicken. Roast for 25 minutes. Reduce heat to 325 degrees F. Roast for 45-50 minutes or until tender. Pour lemon juice over chicken. Remove chicken, potatoes and onion to warm serving platter. Slice chicken. Serve with gravy.
By Robin from Washington, IA
Ingredients
1 broiler-fryer chicken (3-4 lbs.)
1 medium potato, cut into 1/2 in. cubes
1 medium onion, sliced into 8 wedges
2 medium carrots, sliced 1/2 inch thick
1 garlic cloves, pressed
1 Tbsp. olive oil
1/2 tsp. dried thyme leaves
1/2 tsp. dried rosemary, crushed
salt and pepper, to taste
Directions
Preheat oven to 350 degrees F. Rinse chicken; pat dry with paper towels. Place chicken, breast-side up, in 9x13 inch baking dish or roasting pan. Arrange potato, onion and carrots around chicken.
In small bowl, combine garlic, oil, thyme, rosemary, salt and pepper; brush over chicken. Pour water over vegetables.
Bake, uncovered, 1 hour to 1 hour and 15 minutes or until meat thermometer inserted into thickest part of thigh, not touching bone, registers 180 degrees F. Remove from oven; let stand, covered, 10-15 minutes before serving.
By Robin from Washington, IA
Solutions
Share on ThriftyFunThis guide contains the following solutions. Have something to add? Please share your solution!
To prevent a chicken from drying out while it is roasting, place a whole apple inside the chicken. When the chicken is done, just throw the apple away.
By Sandy from Graettinger IA
When roasting a whole chicken, turkey or turkey breast use a "basting" cloth and roast breast-side down for a flavorful moist chicken/turkey. Roasting breast-side down keeps the breast moist because the juices will go down and keep the breast from drying out. The cloth will "baste" while the chicken/turkey roasts so basting is not needed.
Clean and liberally season the chicken/turkey. Use cheesecloth moistened with cooking oil, cut in size to cover the top and sides of the chicken/turkey. You can stuff it if you wish. After roasting, remove cloth and throw away.
Cheesecloth is a thin cotton mesh-type material that can be bought usually in the paint department or supermarket. It is cheaper to buy in the paint department. It is safe to use for cooking or straining.
I usually mix my spices that I use to roast chicken/turkey together and keep in a labeled shaker spice bottle. I sprinkle the mixed spices all over and inside the chicken/turkey. I also add a cut up onion and at times a lemon in the cavity and around the chicken/turkey. My family's favorite spice mix for chicken is one teaspoon of paprika, one teaspoon of poultry seasonings without salt, 1/2 teaspoon garlic powder, one teaspoon of salt, and 1/4 teaspoon of black pepper. When roasting turkey, I double the recipe for the seasonings.
Save the juices in the pan from the roast. Strain, using cheesecloth, into a container. Refrigerate. When the fat has hardened, remove it and throw away. The "juice" can be frozen. The "juice" should be solidified so freeze it flat enough that it can be easily broken off when you need some. The next time you need flavorful chicken broth, break some off and thaw. Mix with water and you will have a flavorful broth to use.
Source: A combination of a 1920's cookbook and my own idea.
By mkymlp from NE PA
I never understood what exactly a fryer chicken was, until I read this explanation in our local newspaper a while ago: " a roasting chicken is a large fryer, relabeled and sold at a higher price. Find the biggest fryer for roasting."
By mother of 5 from Nova Scotia
Questions
Ask a QuestionHere are the questions asked by community members. Read on to see the answers provided by the ThriftyFun community or ask a new question.
How long do I need to roast two chickens (1.8KG) at the same time? What oven temperature?
By Colleen from Bundaberg, AUS
December 22, 2010
0

found this helpful
I will try to give you some help, but I think you are talking metric measurements so you will have to translate the numbers I give you. For a moist, juicy chicken cover and cook slowly, about 375F about 45 minuters to an hour or so. Test by trying to wiggle the legs; if they wiggle easily, the chickens are done. Also, cut the skin between the leg and the body; if the juice runs clear, they are done. Uncover and raise over temperature to 450F for about 10-15 minutes until browned. Recover. Turn off heat, open over door partly, and let sit for about 10 minutes. Hope this works for you.
Related Content