Sadie (Pony)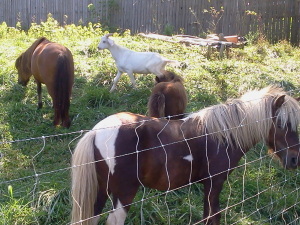 Sadie is 3 years old. My husband bought several ponies for my daughter about a month ago. They were at a home where the kids were mean to them and shot them with BB guns. My husband felt bad for them and bought them all.
We have 4 grown ponies and two baby ponies and one of them is pregnant, so were about to have one more. We truly love and enjoy them. They like to run around in the fields together and rough house with each other. They love to be brushed and petted. They also like to be sprayed with the streaming mist of water. They will roll around and play when you spray them. They are all very cute :) and are very loved now.
By Rhonda from TN
Feedback
Read feedback for this post below. Click here to post feedback.

By
10/08/2012
Thank you all for your comments and concerns. I was shocked when I returned from vacation and saw all the responses to Sadie. She is a very sweet pony.

Thank you and bless you all.

By
09/11/2012
Any kind of cruelty to animals is a shame. You'll have a special place in heaven for rescuing these sweet ponies. Best wishes to you and your family, and please post photos of the newest pony after it's born!

09/11/2012
Thank you so much for rescuing these precious ponies. You are a wonderful family and they are so lucky now!

By
09/11/2012
Bless you Rhonda, and your husband. You make the world a better place. Your ponies are adorable. Thanks for sharing with all of us.
Post Feedback
Add your voice to the conversation.
Related Guides
Related Posts