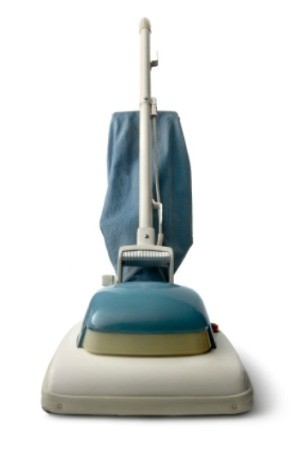 If you have a vacuum that uses dust collection bags, you know that they can be expensive to replace. This is a guide about saving money on vacuum bags.
Ad
---
Solutions: Saving Money on Vacuum Bags
Read and rate the best solutions below by giving them a "thumbs up".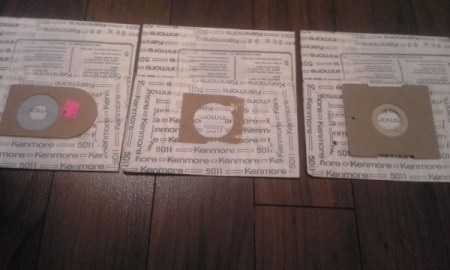 A pack of 3 vacuum cleaner bags costs $10.00 & tax. That's over $3.50 for one bag! I never buy the original bags anymore. Instead, I buy any bags that are roughly the same size at yard sales and Thrift Stores. Salvation Army has baskets full of those bags in all sizes, for 25 cents a bag!
Before I discard a full bag, I remove the cardboard piece that fits my model of vacuum. I remove the cardboard piece of the Thrift store bags, heat up my glue gun, and glue the original piece from the used bag in place. I have reused the same pieces about 30 times each. This is saving me more than $150 a year!
If the bags were not exactly the same size as the originals, it has not made any difference. The important piece is the cardboard fitting. This is way more hygienic than opening a full bag, cleaning it out and resealing it, as some people do.
Just remove that cardboard piece shortly before you throw the full bag in the dumpster. No mess, no dust. My picture shows 3 of those thrift bags. Left: with their original piece, middle: original piece removed, and right: with my vacuum`s specific piece glued in place. It takes only seconds to make, after the glue gun is heated up.
Source: I came up with that myself, tried it out and it worked perfectly. Doing this since 8 years now.
By Tanja V. [2]
I have an expensive vacuum cleaner that takes expensive bags. To save on buying new bags for my vacuum, I simply cut the bottom off the bag, empty it, and duct tape the bottom shut. Voila! I have a recycled vacuum cleaner bag.
By Dee from Salem, VA
When your vacuum bag is full, cut open the end of the bag to dump. Then staple it back together and use it again.
Source: A book, cannot remember which one!
By coville123 from Brockville, Ontario
Re-use vacuum cleaner bags to save money! Instead of throwing the bag away when it gets full, follow these simple steps:
Unroll the bottom of the bag and empty the dust into a trash can.
Roll the bag back up tightly.
Secure well with duct tape.
If you are unable to unroll the bottom of the bag, just cut the bottom off close to the seam, roll it up about 2 inches and secure well with the duct tape. I've been able to re-use the same bag 4 or 5 times this way!
By PNoll from Louisville, KY
Vacuum cleaner bags can get expensive and I found a great tip. When the bag is full, unfold and cut the top or bottom of the bag out, empty in another trash bin. Using a stapler fold and staple the bag back together and replace just like a new one.
Source: My mom told me.
By Janace Lynn M. from Lawton, OK
I have an expensive vacuum that has cloth-like HEPA filter bags that I must purchase. In order to get more use out of them, I cut open the top of the bag and dumping the waste, then stitch it shut on my sewing machine. Works great!
By apm127 from Long Branch
Give a "thumbs up" to the solution that worked the best! Do you have a better solution? Click here to share it!
Archives
Thrifty Fun has been around so long that many of our pages have been reset several times. Archives are older versions of the page and the comments that were provided then.
Most disposable vacuum bags can be emptied and reused more than once.

- Sarah

Feedback:
RE: Thrifty Tips for the Week of 2/21/2002
To Sara, thanks for the vacuum cleaner tip: I thought I was the only one who cleaned and dusted them off for another use. Also, I have to laugh at your clothes-out-of-dryer tip because when I was working and my husband retired, he would do the laundry and fold everything! in neat little square packets: my dresses, skirts, towels; everything and when I would get home from work, the folds would be "SET" and I would have soooooo much ironing to do. I did not have the heart to complain (but I finally did) Thanks, Rose Keys (02/22/2002)

By rogo